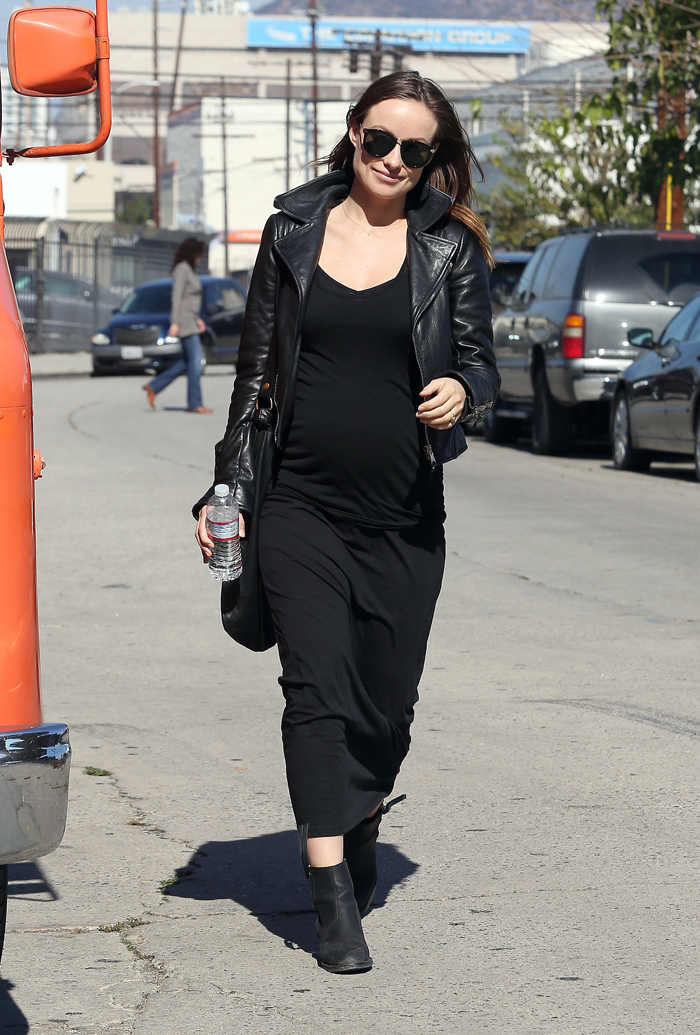 Olivia Wilde occupies a certain "sexy female sidekick" niche in Hollywood. Or she did until last year when she announced her pregnancy with Jason Sudeikis, and you know how Hollywood feels about pregnant women. Which is fair enough … I guess. One can't play a hot girlfriend or femme fatale type while visibly knocked up by some mysterious offscreen source. Men never have to worry about that stuff. They can knock up their wives, girlfriends, and randoms, and the roles shall continue unabated. Sort of like the real world.
I have grown to like Olivia even if her days are numbered (pregnancy or not) as an onscreen presence. I'm so glad she and Jason stopped making sh-t up about their zomg awesome sex life because nobody wants to hear that stuff. Olivia seems acutely, painfully aware of her waning marketability. Part of that is because she's made some really bad role choices. Nobody thought The Incredible Burt Wonderstone would do well. Okay, maybe someone thought it would do business, but nobody actually wanted to see it themselves. Another reason for Livvy's downswing is that Hollywood grows tired of the same starlets. Out with the old, and in with whomever is waiting in line.
Female roles are also so stereotypical. Women usually get stuck with "girlfriend" or "sassy sidekick" and nothing else.Other than Bridesmaids and The Hunger Games, I can't think of any female-driven films to really make a mark in the past few years. Olivia is tired of this crap. She's calling Hollywood out for a State of Female Justice panel on GRITtv.org. What she says makes complete sense:
"I'm offering up my voice here as a representative of the media, which is often (I think) fairly criticized for being a big part of the problem when it comes to justice for women, equality for women, how women are objectified, how we objectify ourselves. I think a lot about where that problem is stemming from. Our responsibility is to be storytellers, and why aren't we telling the stories to empower the masses, to educate them to avoid a lot of these situations. It seems like that's really part of the healing process — the community coming together and empowering themselves through the power of the group and understanding that they don't have to put up with that sh-t anymore.

Why isn't that coming from the media? Why aren't women in particular being empowered from a young age from the media. So I'm really interested in that. It's not entirely surprising that within the media, in Hollywood, they can't even figure out their own system of injustice. And that is something that I confront on a day-to-day basis. Any woman working at any level in any part of Hollywood will tell you … it's really hard to get any stories made that are about women … not just women being obsessed with men or supporting men. And it's really hard to get men to be a part of films that are about women in a leading role.

I'm really interested in how we can adjust that considering that it's all based on the demand. Movies are made based upon what people are asking for. Magazines are sold based upon what they think people are asking for. So really the power is in our hands, and it's really just a matter of asking for it much louder.

I don't know if some of you have been to these live reads at LACMA, where a classic film is read live on stage by actors who just sit and read the script. We did one recently of American Pie, but we reversed the gender roles. All the women played men; all the men played women. And it was so fascinating to be a part of this because, as the women took on these central roles — they had all the good lines, they had all the good laughs, all the great moments — the men who joined us to sit on stage started squirming rather uncomfortably and got really bored because they weren't used to being the supporting cast.

It was fascinating to feel their discomfort [and] to discuss it with them afterward, when they said, "It's boring to play the girl role!" And I said, "Yeah. Yeah. You think? Welcome to our world!" It was also fascinating to see how the movie was just as entertaining and hilarious and exciting with women getting these roles. It clearly should be done more often. When we switch the roles, which has been done with movies, many of you probably know already that in Aliens, Sigourney Weaver's role was written for a man. In Salt, Angelina Jolie's role was written for Tom Cruise. These things, when reversed, have proven to be just as exciting and entertaining with women in leading roles.
[From GRITtv]
What's amusing about this topic is that both Amber Heard and Rashida Jones have been complaining about the dearth of interesting female roles, but Livvy really drives the point home. I think the most convincing part of her speech is where she admits that audience "demand" is the biggest obstacle in seeing better roles for females. Do people really want to see kick-ass females? I hope so.
Here's a video clip of Olivia's speech. I'm sure she rehearsed it and prepared ahead of time, but she executes it in an "off the cuff" manner. She's amazingly good at arguing her point. I hope filmmakers are listening.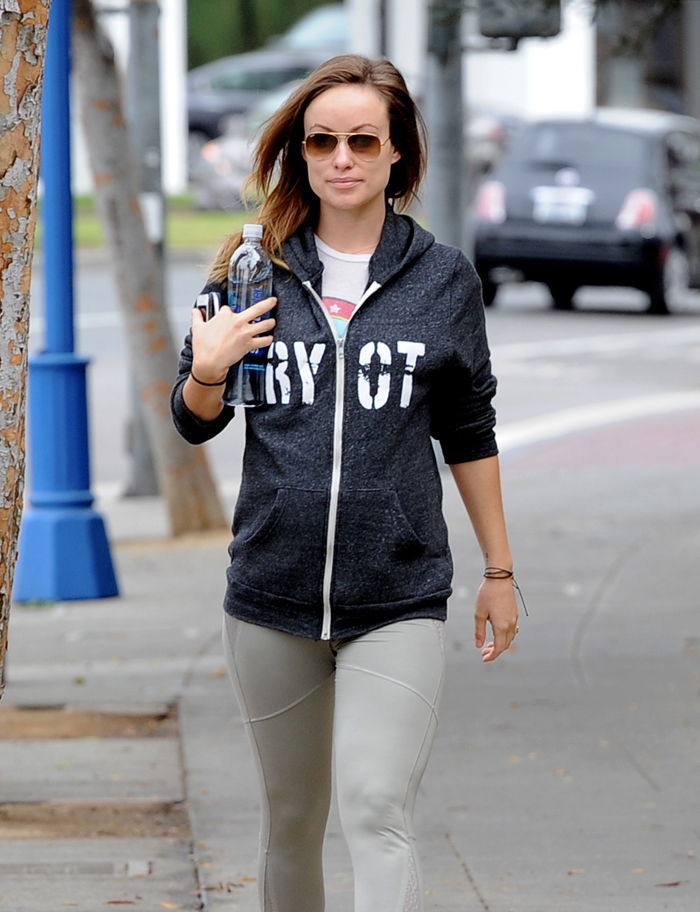 Photos courtesy of WENN