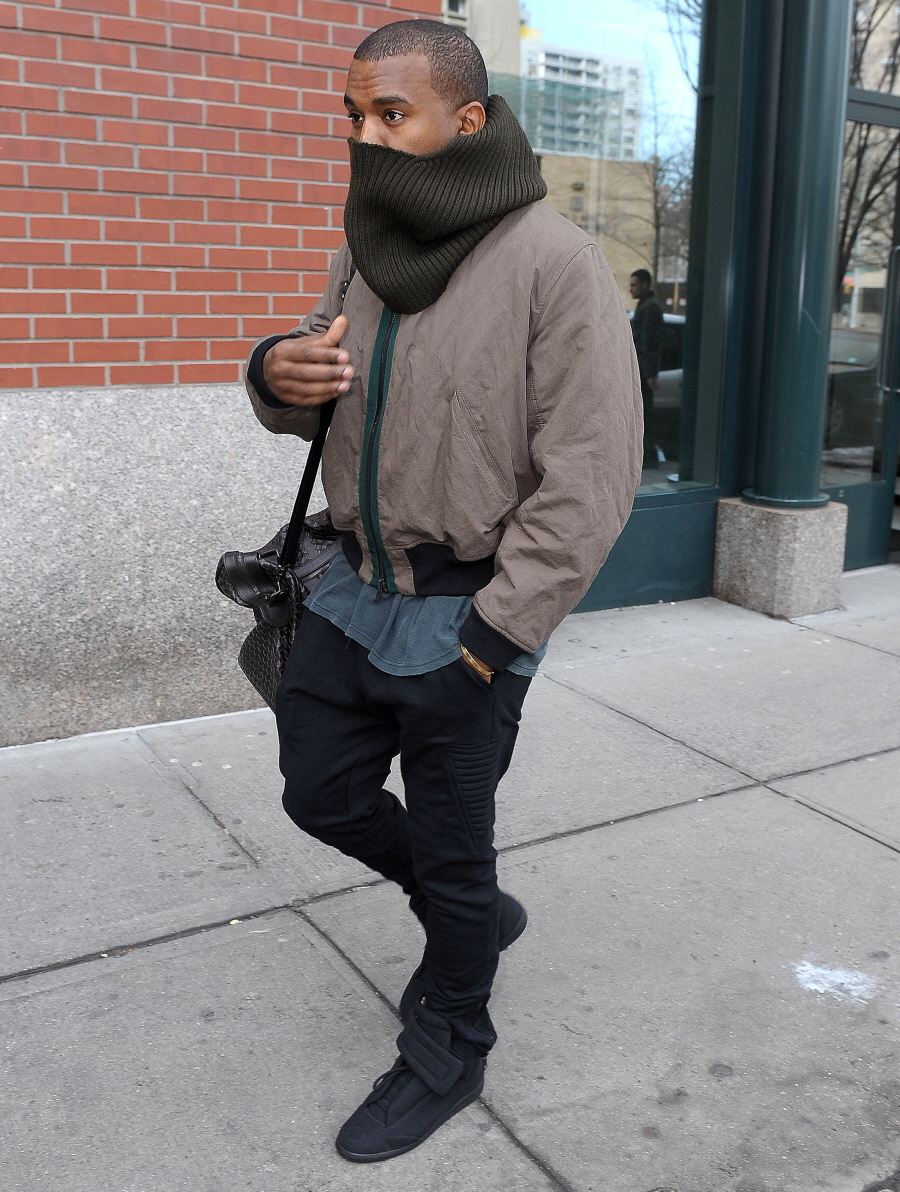 At this point, I don't even believe the stories about Kanye West hating Lucifer's Homegirl. I think they get along fine. I think that Yeezington and Kris Jenner actually agree on a lot of things, and that Kris gives Yeezington a free rein on "managing" Kim's newest transformation. Does Lucifer's Homegirl miss the good old days when she was the only one pulling Kim's strings? Probably. But Kris also knows that Kanye gives the whole clan an added cachet. But Radar claims that Yeezington and Lucifer's Homegirl are in some sort of death-match about who has more control over Real Doll Kim.
Kanye West knows best! The rapper has done what once seemed impossible, seizing control of fiancée Kim Kardashian's career from her controlling "momager," Kris Jenner, RadarOnline.com has exclusively learned.

"Kanye is now totally in charge of Kim's career and his non-stop wheeling and dealing is leaving Kris out of control," a source with close business ties to Kardashian revealed. "Kanye has managed to get Kim to cut her magazine and media appearances by a shocking level and that's going directly against Kris' plan to seize every publicity opportunity offered to her daughters."

The singer, who, as Radar recently reported, has become a groomzilla while planning every detail of his upcoming wedding to Kardashian, is taking a similar approach to her business "brand."

"Kanye has ordered Kim to run out the clock on several of her fashion endorsement projects, including the lucrative deal with Sears which she shares with her sisters," the source told Radar.

"His goal is to get people to respect Kim and take her seriously — it's basically the same kind of thing he did when he was launching his rap career after being known primarily as a producer."

The insider added, "Kanye encouraged Kim to pursue the baby clothes line for kids she has just announced."

But the source said in advising his fiancée, mom to their daughter North, West is butting heads with a determined Mama Bear!

"He's alienating Kris and that's going to be a long-term problem for him that won't go away," the source said.

It's just the latest in a series of skirmishes between West and his soon-to-be mother-in-law. Although Jenner was seen praising West and joking, "He's mine now!" during Sunday's episode of Keeping Up with the Kardashians, which detailed his engagement to her daughter, they've been at odds off-camera, the source said. As Radar previously reported, West is reportedly tired of living at Jenner's house with Kardashian and baby North as their own home undergoes renovations.

"Kris loves money, but she can't be bought out of Kim's life no matter how much Kanye is helping her 'get to the next level,' which are his words exactly," the source concluded.
Well, Lucifer's Homegirl still gets her manager's cut of all of Kim's deals, so maybe there is some anger there. If Kim begins to limit her appearances and endorsements, that's less money for Lucifer. But still… my guess is that Kris knows Kanye is right. This is Kim's attempt at "going legit" and Kanye's instincts are probably right. Actually, the list of stuff reminds me of what Victoria Beckham did to "legitimize" herself as a fashion designer. And Posh is still trying to get into Vogue too. Ha. Nuclear Wintour will freeze over before Posh OR Kim gets a Vogue cover.
By the way, Kim had a Twitter hissy fit about this week's In Touch cover, she claims that it's all tabloid lies and people are making fun of her weight and it will damage young girls, blah blah. This from the woman who Photoshops her Instagram photos.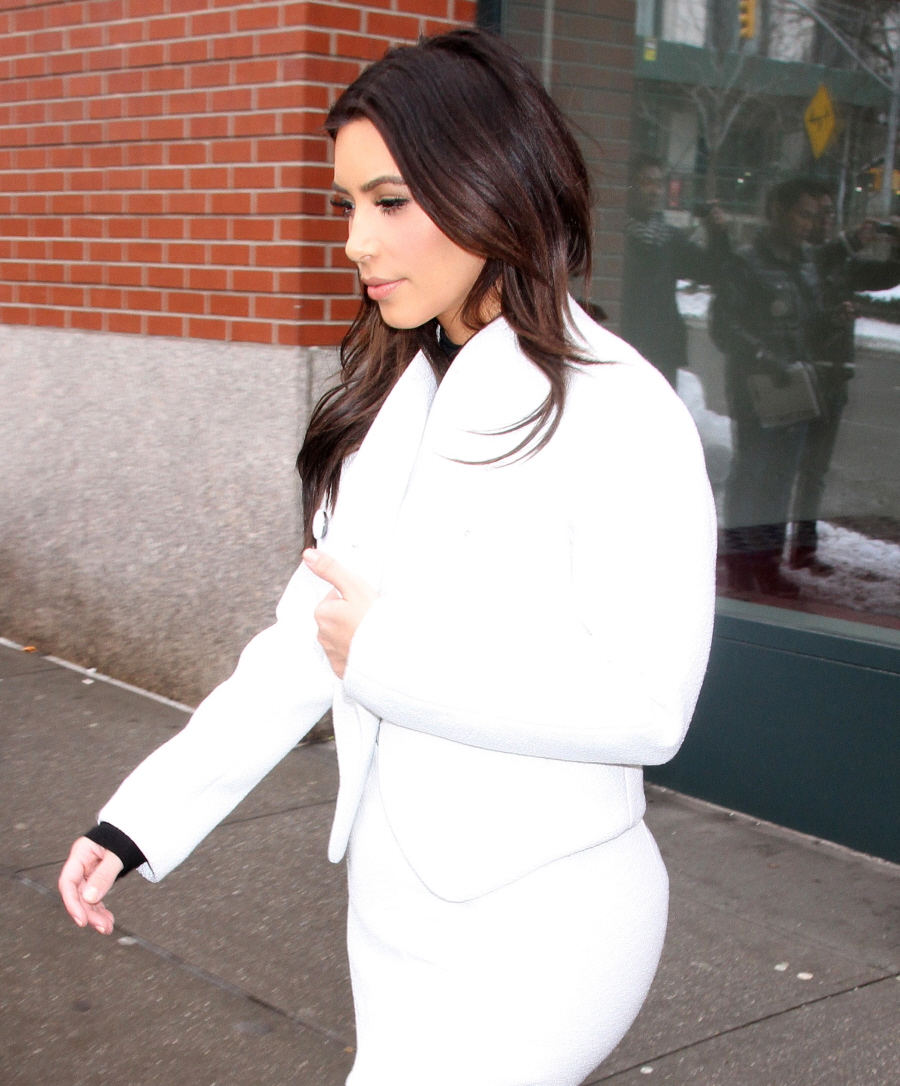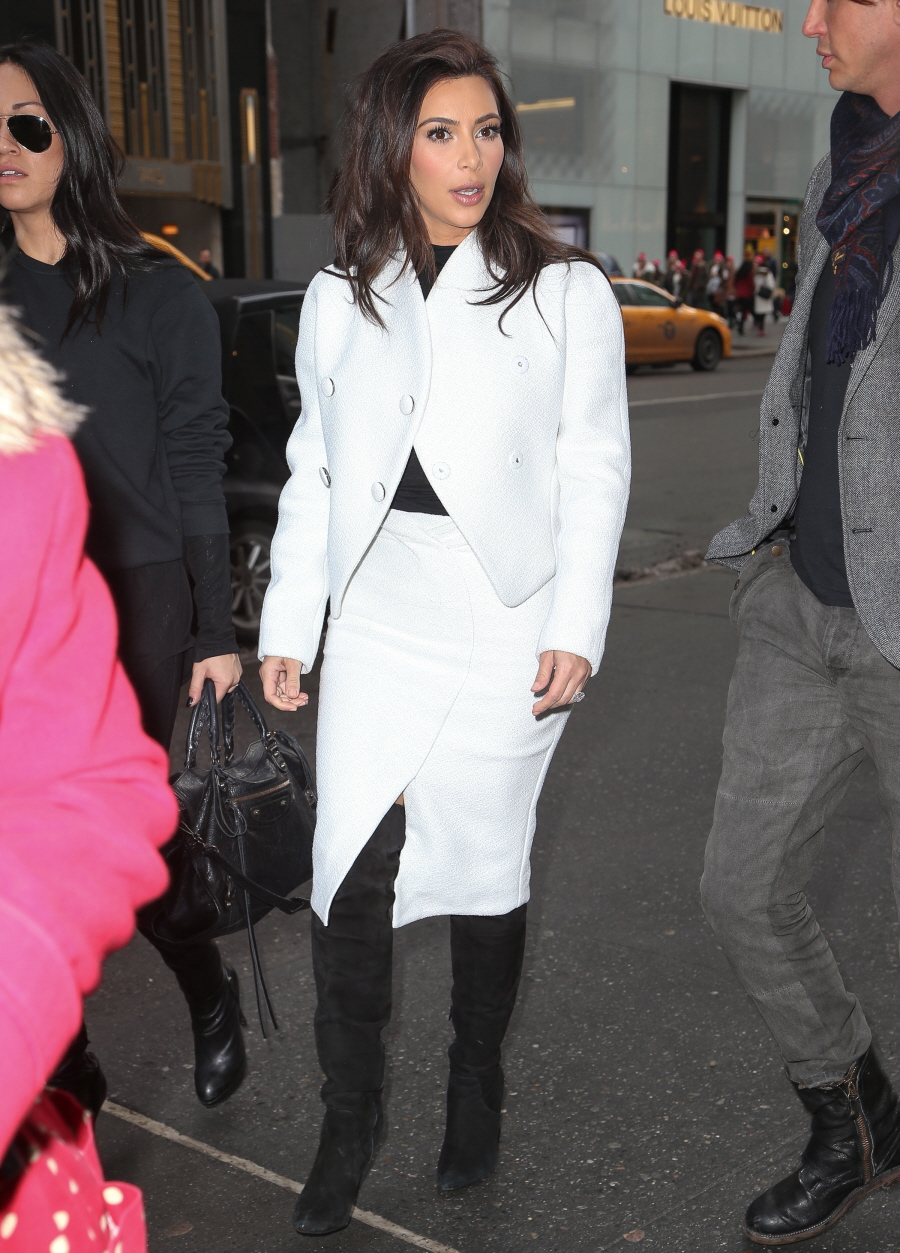 Photos courtesy of Fame/Flynet.