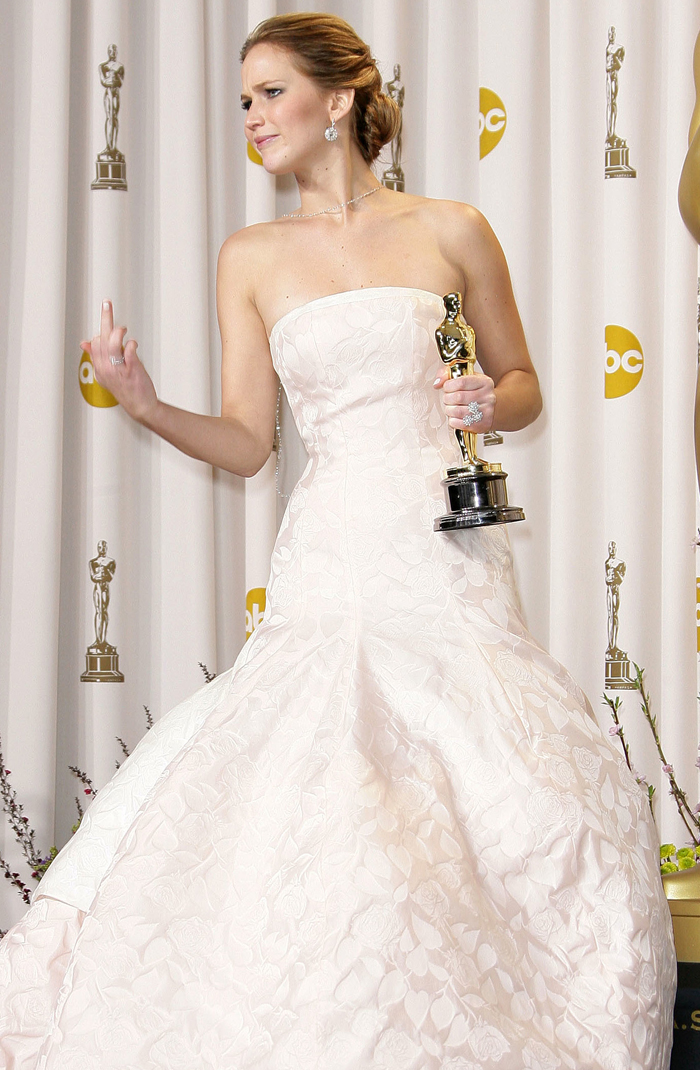 Jennifer Lawrence has the great fortune of being a young actress in demand. She struck while the iron was hot by signing up for two franchises (The Hunger Games and X-Men) at once. She won an Oscar at the age of 22, and decided she needed a bit of a break. She went and smoked some pot in Hawaii before Catching Fire reshoots. Then David O. Russell came calling again with the role of Rosalyn in American Hustle, and JLaw couldn't say no. That's the picture painted by a new interview with Deadline. This awards season is a curious one because JLaw has been absent. She's showed up for the mandatory events, but she's not "working the room."
Many of you have said Jennifer needs to get over herself with the exhaustion and overworked talk. I get it. Most of us work nearly every day of the year in some shape or form. We don't have assistants or stylists or publicists to help us out. It's easy to look at the life of a millionaire actress and wonder why they'd need a break from what looks like a fun, jet-setting lifestyle. I feel for JLaw because she's dealing with an incredible amount of public scrutiny. She tried to warn us that the backlash was coming. I don't have a problem with her laying low this season. JLaw says she was surprised that she won the BAFTA at all. She even forgot they were happening. Do you believe her?
On her BAFTA win: "Oh, it was a big surprise. I didn't remember that the BAFTAs were happening that day. I certainly did not think I was going to win one so I put it out of my mind. So there I was, in the middle of being painted blue, and someone said, 'You just won the BAFTA!' And I said, 'Oh, go f— yourself!' And then it turned out they were serious."

On skipping this season: "It has been a bit of a blessing to be away, and not really aware of what has been going on. It actually has been really nice." She has just begun thinking about all that pageantry, the dress fittings, coming up with interesting things to say on the red carpet. It has begun making her nervous. "Exciting? I'm trying to go back to that place where dress fittings seemed exciting. I've had one fitting here in Atlanta and I think I have the final fitting on the day of the awards. So I just hope it fits."

Will she be relaxed at this year's Oscars? "Ha! Have you not seen my last Oscar moment? I handled myself so well. I think it's really unfair to make a person speak in front of the entire world at a moment like that because it is just so overwhelming. It was terrifying and what I regret now is not doing what you're supposed to, which is even having a few words, something, that you can say, or even some idea if they do call your name. Every time my mind when there, I would feel so much anxiety that I couldn't think about it. Then when they called me, I got up on stage and said happy birthday to Emmanuelle Riva from Amour, and then I walked off without even thanking David, or Harvey Weinstein. It looked like I was drunk. I did learn, though, not to let the dress gather in the front when you walk up the stairs."

Why she did Hustle: "I had been working a lot and a vacation seemed important until I met Rosalyn, and then there was nothing in the world I wanted to do more and I realized this would be more refreshing than an actual vacation. David sent me the script, and then we just started creating her piece by piece. He has this amazing contagious energy that makes me feel like, whatever he asks, you go for it. Even the kissing scene with Amy. I said, David, no. He says, trust me, it will work. No, David. Even after we did it I thought, no way. And then I see it, and it absolutely does work. I can't explain [the dynamic between us], but his incredible fire just pushes you to do things you didn't know you were capable of."
[From Deadline]
Do you think JLaw is being rude by ducking out of the awards circuit? She's in Canada now for X-Men, but if she wanted to campaign, the studio would have worked it out with her. I do think Jennifer is utterly terrified of presenting at the Oscars. She's s so "nitro" in her everyday personality, which could be a front for social anxiety. Oscars tradition holds that JLaw will be dealing out little anecdotes to the Best Actor nominees. That's enough pressure already, but she knows everyone will be thinking about last year's fall.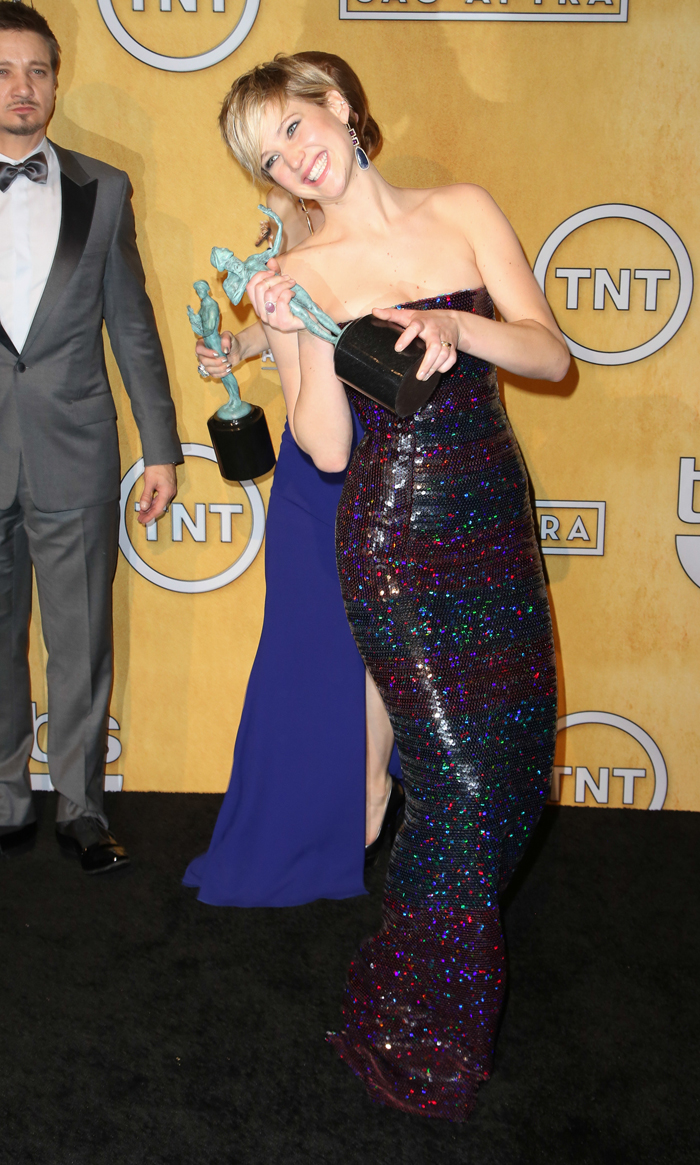 Photos courtesy of Fame/Flynet & WENN