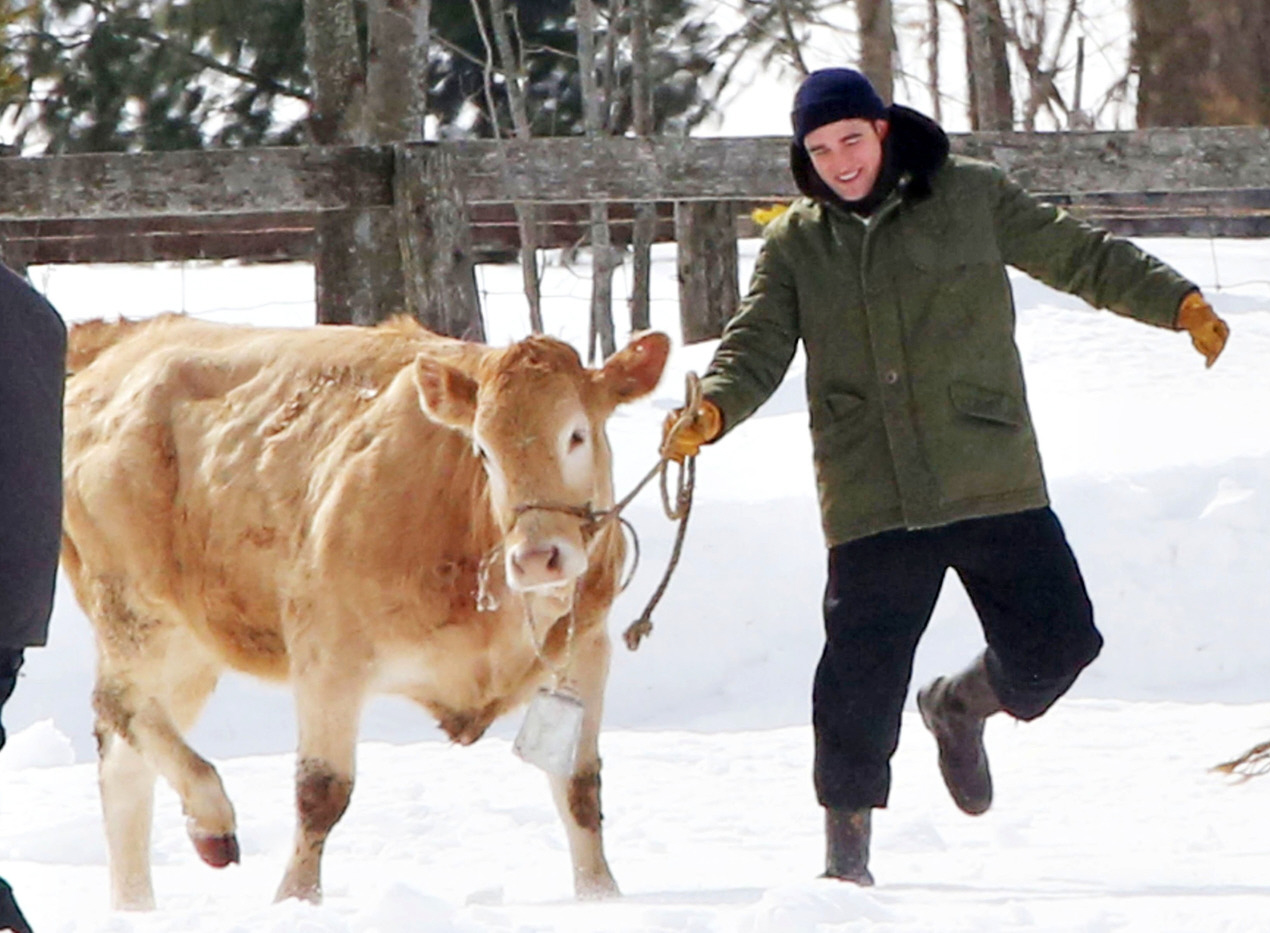 Is it wrong that I looked at these photos of Robert Pattinson and some pretty cows and my first thought was, "The headline should be: 'K-Stew and Sparkles reunite!'" Cheeseball, I know. And insulting to both Kristen and the cows. Is it also wrong that I think the cows are the real stars of these photos? They're SO pretty. These pics are from Ontario, where Sparkles is still filming Life, that film where he plays the photographer who was assigned a photoshoot/road-trip with a then-unknown actor named James Dean. I'm not sure where the cows come in. But I'm sure they're union cows. And Rob looks like he's having a great time with them too. Sweet Rob, he loves animals so much. He should do more films with animals.
Anyway, Rob has a new interview with Teen Vogue, to promote his Dior Homme endorsement. To me, this is bad marketing. You don't send Rob to do an interview with Teen Vogue! If you're aiming to get young women to buy their boyfriends the Dior Homme cologne, make Sparkles do interviews with, like, ELLE or InStyle. The target market shouldn't be high school girls, it should be college girls. Here's the interview:
Few male fragrances have managed to capture female attention quite like Dior Homme Eau for Men. Perhaps that's because the scent—classically masculine according to perfume tradition—gives a couple nods to the ladies with notes like grapefruit and iris. Or, perhaps more realistically, it has to do with its spokesman: The painfully handsome Mr. Robert Pattinson.

"The idea of revisiting a classic fragrance was very attractive," says the star, who imagines the scent's wearer to be "a free spirit who does whatever he wants, and is fearless about it." Indeed, the fragrance's film campaign, directed by Romain Gavras, depicts just that: Viewers can watch as he races a vintage car along the beach, runs on rooftops, kisses (Twilight style!) in an elevator, and more. These various scenes embody a guy who's a lot less Edward Cullen…and a lot more James Dean.

For R.Patz, it's fitting that the fragrance he's fronting is all about rebellion. "When I was 12, I remember being on holiday in Portugal and watching teenagers going into bars," he says. "I believed that splashing cologne would convince everyone I was an adult. I thought wearing perfume was the cool thing to do." Reluctantly, he adds, "That…and hair gel."

But, Rob acknowledges, it's totally possible that the dude who wears this scent may be slightly outdone—by the ladies. In fact, he seems undeterred by the female fanbase the fragrance has garnered. "She's a girl of her own mind," he imagines, "refusing to smell 'pretty' or do what's expected of her. And clearly someone who isn't confused about her idea of femininity."

Luckily, this free-spirited lady is a familiar figure in the actor's life. "My mum's quite a dominant personality," he explains, "so I've always been very comfortable around girls."

Somehow, we think the feeling might be mutual.
"She's a girl of her own mind, refusing to smell 'pretty' or do what's expected of her. And clearly someone who isn't confused about her idea of femininity." What? That sounds pretty much like Kristen Stewart. Or, it sounds like K-Stew's front, like how she wants to be seen. But I don't get the whole "I want to be with a girl who refuses to smell pretty." How avant-garde! He wants a girl who smells bad so he can lick her armpits. Sparkles, you nasty. I mean, it's one thing for a guy to be into tomboys and independent women who refuse to conform. But what does he have against a girl who bathes regularly and smells like coconuts?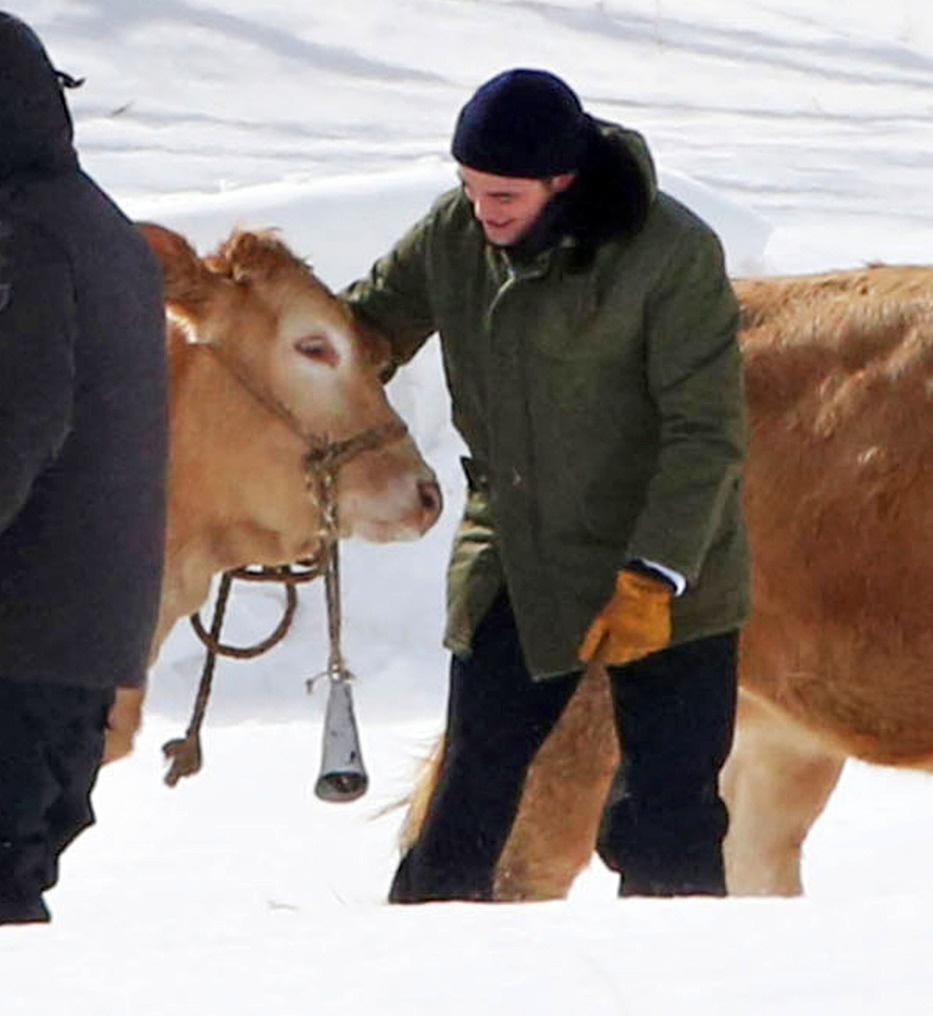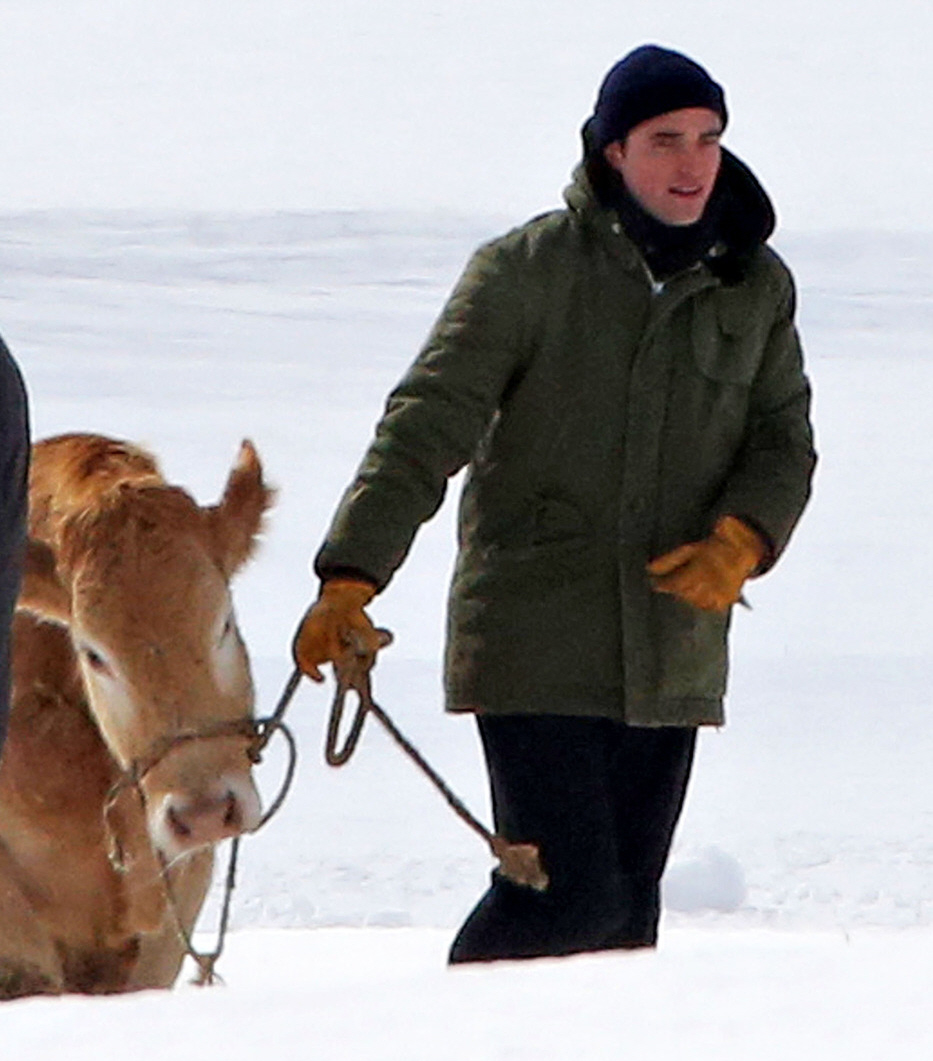 Photos courtesy of Pacific Coast News.