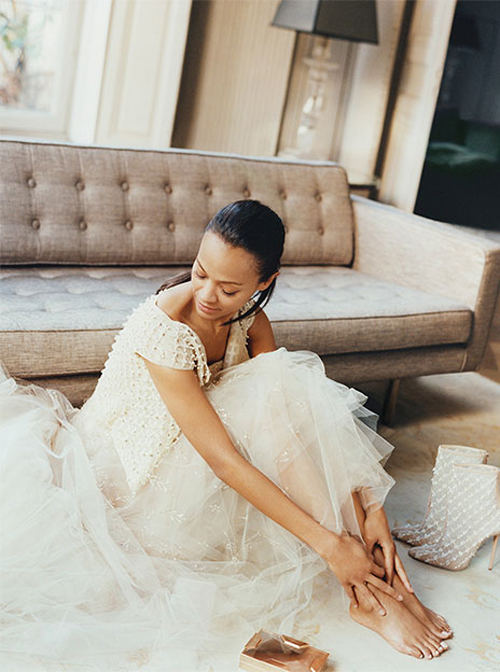 Zoe Saldana covers the latest issue of Net-a-Porter magazine. I think she's promoting her role in Guardians of the Galaxy. She doesn't talk about that movie, which is a wasted opportunity. Da ladies are hot for Rocket Racoon. I'm assuming that Zoe and her ex-boyfriend, Bradley Cooper (who only did voice work for Rocket), did not cross paths on set. If they did, that would be supremely awkward. But I doubt it happened. Maybe they'll see each other at the premieres, which would be interesting.
Zoe's shoot is gorgeous. She wears all sorts of confections from the Oscar de la Renta, Valentino, and Thakoon. The interview isn't as pointedly judgy as Zoe's usual magazine jabber. Zoe talks about dumping her gym stints and raves about J.J. Abrams. Everyone loves J.J. Abrams, so that's no surprise. Zoe also addresses her quickie marriage to Italian artist Marco Perego (they dated for five months). I'm simply grateful she didn't talk about her jar-opening skills again. Here are some excerpts:
Her low-key wedding ceremony: "I'm not a private person, but I am discreet, so it felt right. I'm fortunate to be challenged by an artist who also pushes himself."

On working with J.J. Abrams for the Star Trek movies: "It's great to work with women. But it's very awe-inspiring when you meet a man who has absolute neutrality with a woman. It's a rarity, but to work with men that give you that respect…"

She's not into gym culture anymore: "I've been an active person my whole life. The past year has been the only time in my life I haven't been to the gym. I've been LAZY instead of training for something and pushing myself. Not because I am trying to be skinny. I just like to know how much endurance I have. But this past year I've let myself go. I've been eating a lot of Chinese, pasta, rice, beans…"
[From Net-a-Porter
I didn't add the caps for "LAZY." That's how the word appeared in the interview. Does that quote sound weird to any of you? I don't see a problem with eating pasta, beans, or Chinese food either. Zoe's physique is the same in this shoot as it's been for several years. It could be that she eats more when she works out, and maybe she's simply reducing the quantity now that she's not hitting the gym. That makes sense. Zoe looks lovely, and she makes a great model.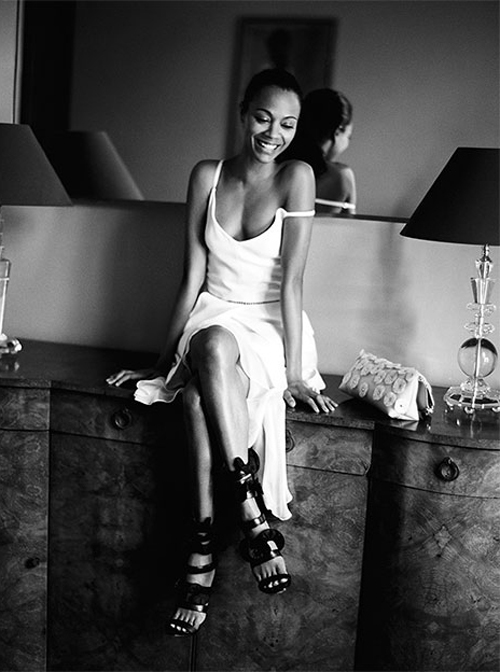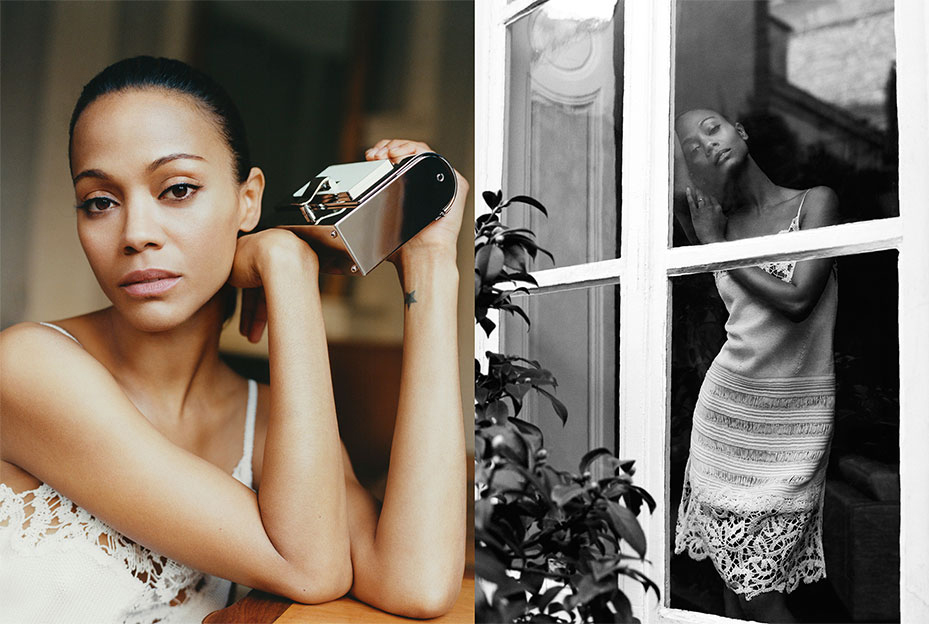 Photos courtesy of Net-a-Porter