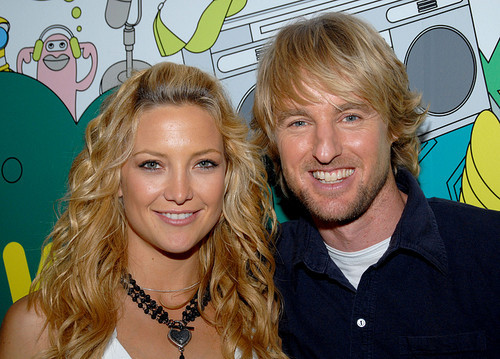 According to X17, Kate Hudson and Owen Wilson have rekindled their friendship – and perhaps their relationship. It's important to note that X17 isn't always the most reliable source, so take their report with a grain of salt. But they claim their photographers have spotted Kate's SUV coming and going from Owen's house on numerous occasions over the past few weeks – and she's even brought her young son Ryder along.
Kate and Owen back together???!!! Could it be???

The blondies broke up in June, 2007, after having dated for about nine months. They met on the set of 2006′s You, Me, and Dupree.

Of course we all remember what happened after the pair broke up … in August, 2007, Wilson reportedly attempted suicide.

We never found out — was it really a suicide attempt? Was he depressed after losing Kate? Well whatever the case, the two are hanging out again!!!

We've spotted Kate's black SUV entering Owen's new Malibu compound numerous times over the past two weeks. She even brought her son Ryder along last weekend and this weekend, to visit Owen.

And X17 photog tells X17online, "Kate has been coming religiously. She's here at least a couple times a week and she's been sunbathing in the back yard, hanging out by the pool."

Is this Kate and Owen Part Deux? Is Kate good for Owen or is he better off without her?
[From X17]
If Kate and Owen were getting back together, it would actually be their third attempt at a romance. After their first time around, Owen did attempt suicide, as X17 mentioned. They broke up for the second time last May. Kate immediately started dating Lance Armstrong, who was one of Owen's good friends at the time.
These two have a long and fairly dramatic history. It seems like it'd be best for them to avoid each other. It's nice when exes remain friends, but something tells me Kate and Owen can't really do that. And they just don't appear to work well together. It can be hard not to slip into old patterns, and few things hurt as much as an old breakup you still haven't gotten over. But for whatever reason, these two seem to be a bad mix – which is funny because on the surface they look like a great match. Hopefully things are just platonic between the pair.