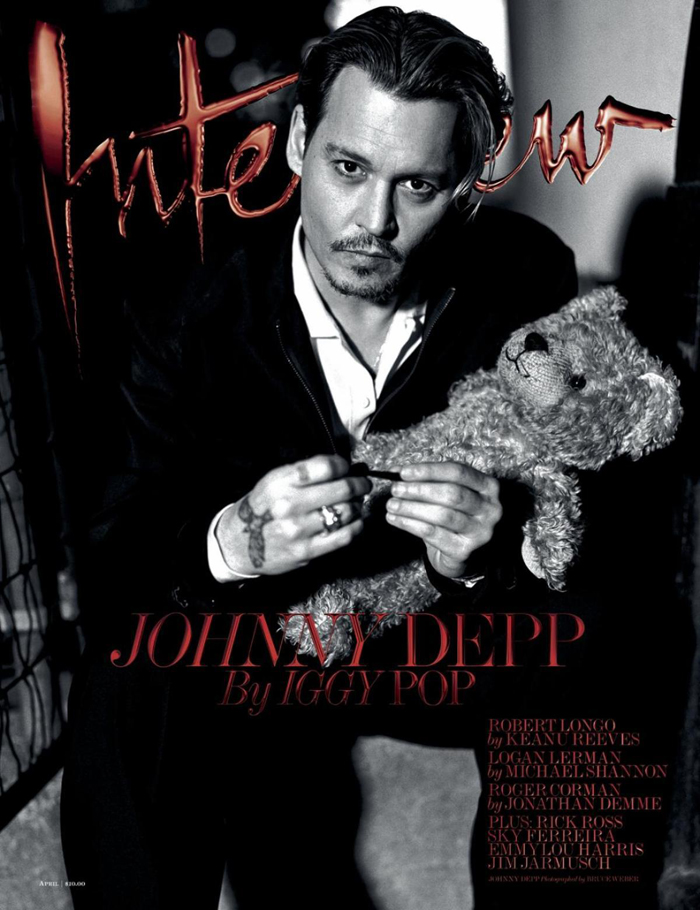 Johnny Depp covers April's issue of Interview magazine to promote Transcendence. (He appeared in Vegas with Morgan Freeman last week to talk about the film. We didn't cover the pics, but they're here.) Are you surprised to see Johnny promoting a new movie? It feels like it's been forever. He's still a movie star, after all. A movie star that's posing with a teddy bear on the cover of a respectable magazine. Go ahead, crack that Amber Heard joke. You know you wanna. The joke isn't even about Amber, so don't feel guilty about it.
This Bruce Weber (!) shoot is a little overwhelming for fans of Johnny's long-standing cool phase. I'm seeing so many shades of the old Depp here. He's playing guitar and looking all rock 'n' roll with those forearm tattoos blazing. He reads a book about Thelonious Monk to an Uggie (the dog) lookalike as a creepy sculpture looks on approvingly. This is a very strong editorial, and Depp's mangagement ring takes a breather.
Johnny is interviewed by Iggy Pop. The intro paints Johnny as we used to know him: "A personal mythos as complex and compelling as his career." There is a detailed discussion Johnny's major movies and his old-school girlfriends. Amber's name never comes up, but neither does that of Vanessa Paradis. Never mind that Johnny feels free to interrupt Amber's interviews. Daddy's got a reputation to resurrect. Let's do some excerpts:
His first job: [laughs] "I marketed pens–on the phone. But the beauty of the gig was that you had to call these strangers and say, 'Hi, how ya doing?' You made up a name, like, 'Hey, it's Edward Quartermaine from California. You're eligible to receive this grand­father clock or a trip to Tahiti.' You promise them all these things if they buy a gross of pens. It was just awful. But I actually think that was the first experience I had with acting. I sold one thing, one gross of pens to one guy. And then he was asking me about the trip to Tahiti and I was riddled with guilt, so I told him, 'Hey, man, you don't want these f—ing pens. This is a scam. The grandfather clock is made of pressboard. You're not going to Tahiti. I'm sorry.' So I talked him out of it."

How many ciggies does he smoke per day? "I'll bet a thousand. I'm working my way up to ten thousand."

Why Transcendence? "What fascinated me more than anything is the correlation between technology and power–the idea that a guy who is able to download his sentient being into a machine can become god, or a version of god. Religion is a fascinating black hole to me."

On meeting Brando, Ginsberg & all the rest: "There are those who meet their heroes and go, 'Aw, f—.' And I've never had that, luckily. I was never disappointed by the people I've admired."

On reality tv: "Everything can be a reality show now. Imagine what's it going to be in 20 f—ing years, man. People get famous now for I-don't-know-what. People have reality shows because they're a Hollywood socialite, and these things become very successful and they generate a sh-tload of money for the company. And it's multiplying, to where you're literally looking into your next door neighbor's bathroom with reckless abandon. It is like watching a fire. You can't take your eyes off of it."

Johnny is a rock star: "I still approach a scene as one would approach a solo. There's nothing set or pat. I don't know what the f—'s going to happen until I get in there. Just like when you're in the booth and you're playing a guitar solo, you don't exactly know how you're going to phrase this or that. Which I think is beautiful. That idea of chance."

Johnny's closing invite to Iggy: "I've got to get you and your gal to come out to that little place I got in the Bahamas, man. You could leave your house and be on a beach in, f—, less than two hours. Anonymity is achievable there. And the heart rate slows about 20 beats per minute, within the first 15 minutes of being there. Yeah, we should make a sojourn there."
[From Interview magazine]
Johnny's not railing quite as violently as he did in interviews from a few years ago. I mean, he's not comparing photoshoots to rape. Thank goodness. He does talk like Amber now, doesn't he? She's had an influence on him with her talk of "the fleeting and superficial world of tabloid journalism." Try as he might, Johnny will never escape the tabloids. His splashy kind of wealth and fame come with trappings. Maybe one day he'll retire to his private island, but I doubt it. His lifestyle is too expensive for retirement.
Why is he bagging on reality television? Johnny loves Honey Boo Boo. Own that sh-t.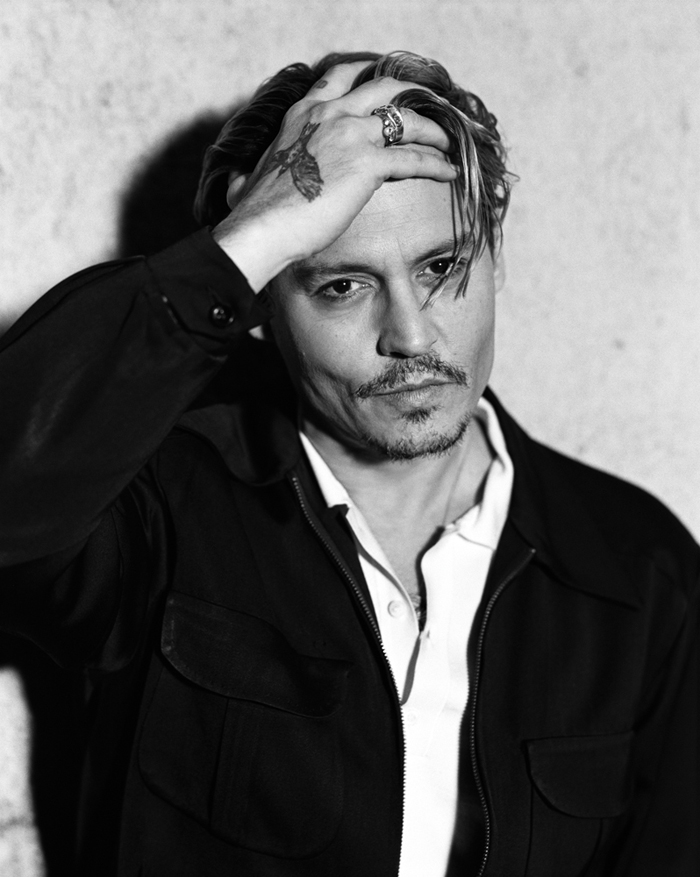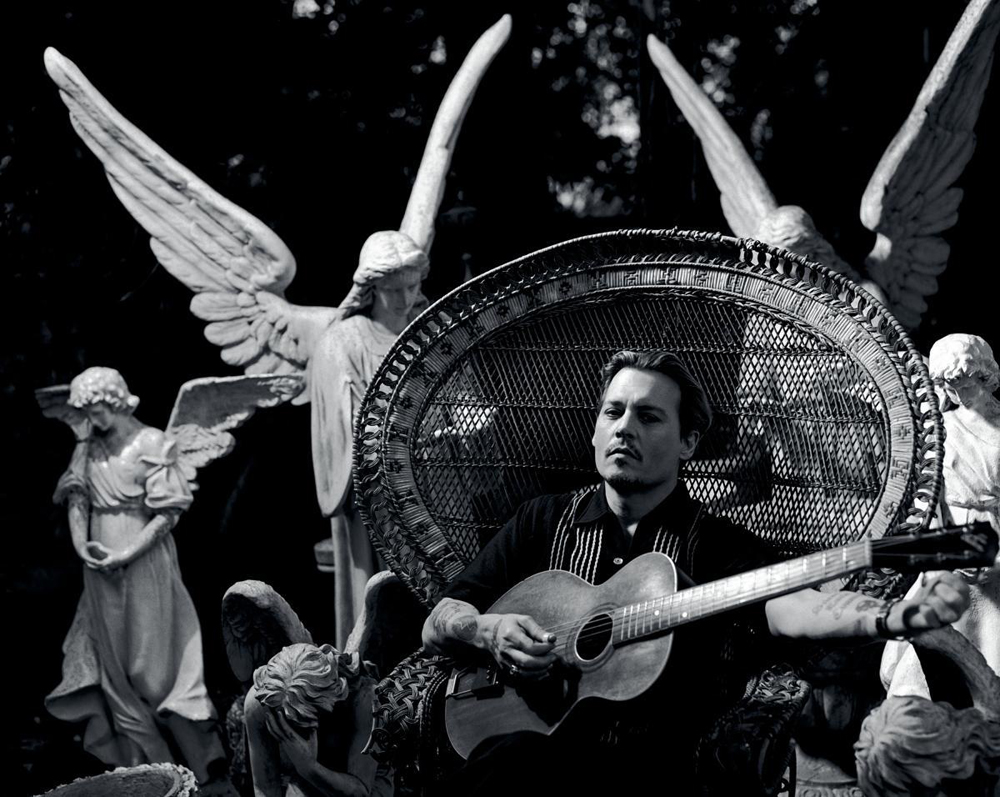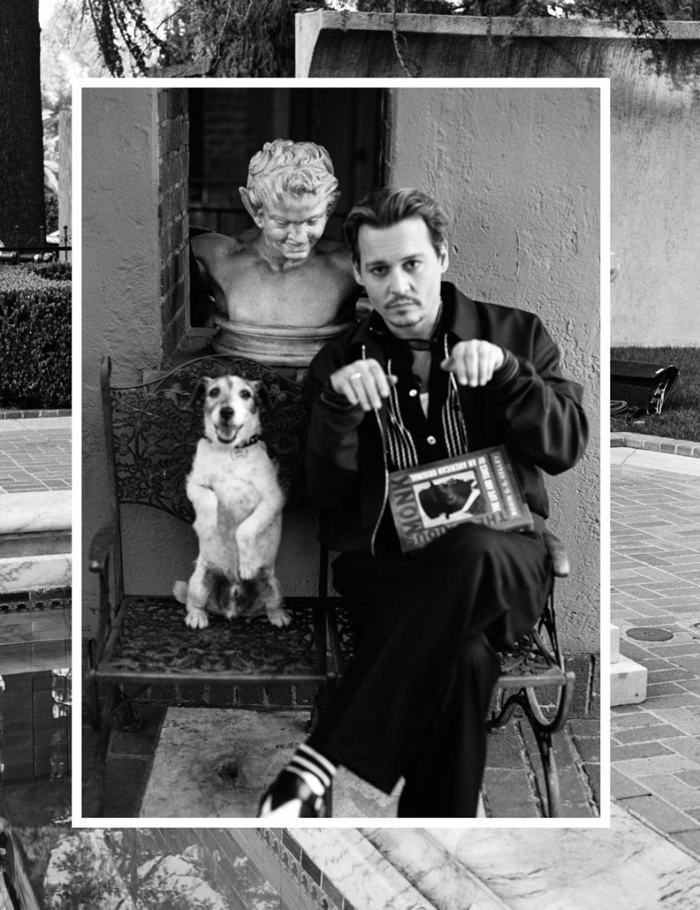 Photos courtesy of Interview magazine