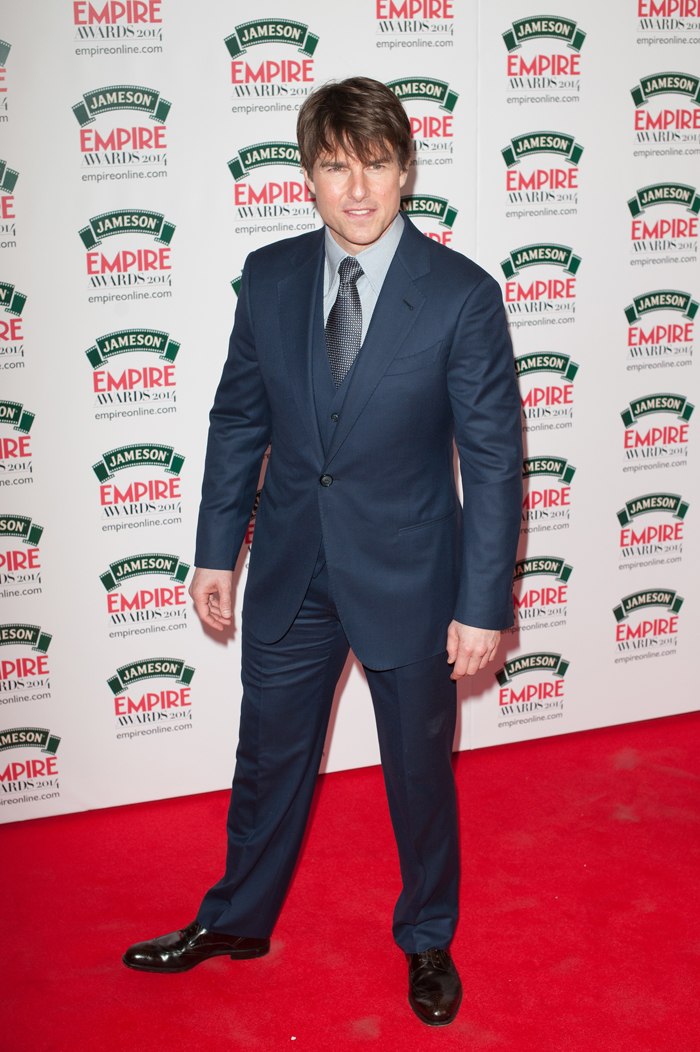 Can I just say how thrilled I am that Tom Cruise has returned to the tabloids? I barely even noticed that he took a public breather for about four months. This lift lover is still happy to see him awkwardly entering the public eye again.
When Tom surfaced at the Jameson Empire awards about a week ago, he looked like he'd been wrestling with a can of hairspray that landed on his forehead. His face looked puffy and full of fillers. His suit didn't fit him well, and he was very unkempt. Tom usually looks immaculate, so I knew something was amiss. I didn't dwell on it because there was no Tom news (beyond the new Edge of Tomorrow trailer where his character keeps on dying — over and over again).
This week's tabloids are going bonkers over Tom's new face. Tom has never been a stranger to surgery. He's long been rumored to have regular touchups by a famous Brazilian plastic surgeon. He's appeared "refreshed" on several occasions, but he usually looks good. For example, this is how Tom looked last December as he towered over Ben Stiller. Tom looked chiseled and (dare I say) handsome: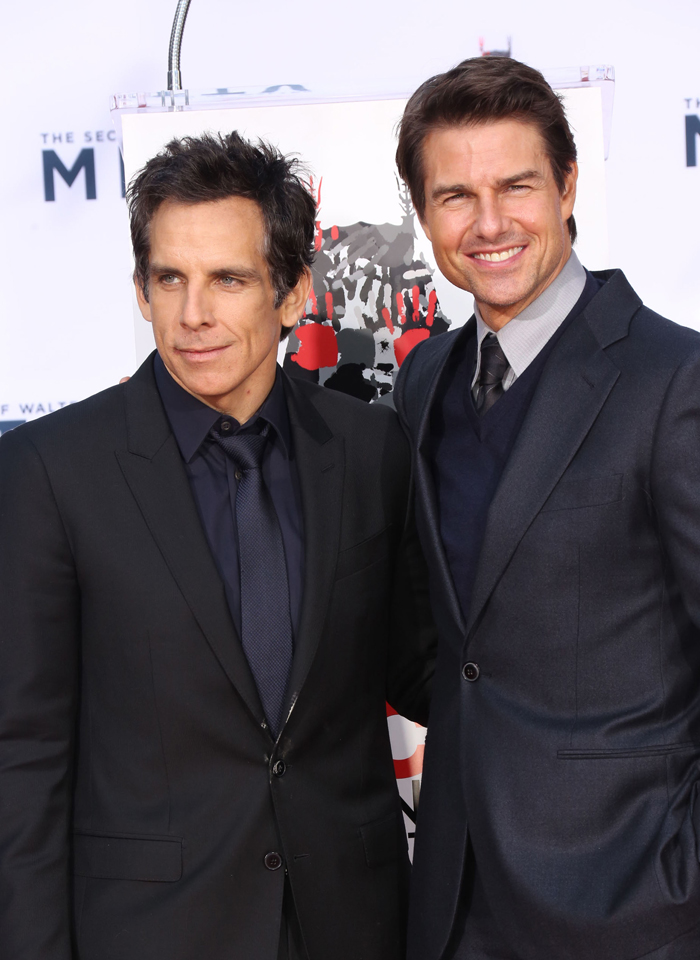 Here is Tom at last week's awards ceremony. His face looks painfully puffy: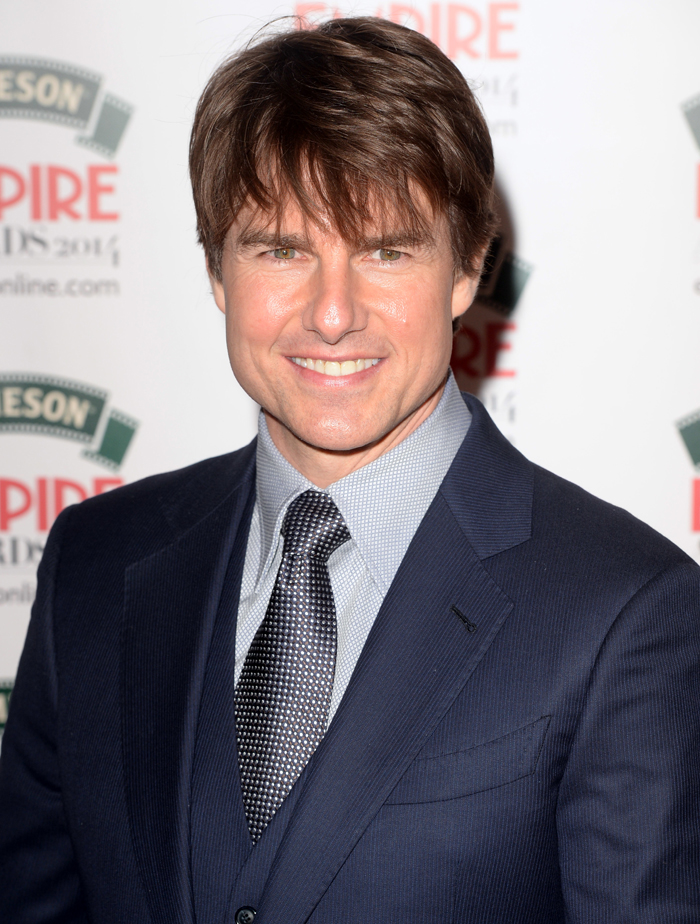 Star has a reaction piece on Tom's new face. They float a few theories, but the predominant one is botched plastic surgery:
He sported a new haircut, and impeccably tailored navy-blue suit and his trademark megawatt smile. But as Tom Cruise posed on the red carpet at London's Jameson Empire Awards on March 30, he turned heads for very different — and less flattering — reasons.

Whily many came out to see the star — who was making his first public appearance in nearly four months at the ceremony — they were shocked at how much his face had changed. "Tom's face looked like a puffy pillow," says an onlooker at the event, where the 51-year-old actor won the prestigious Legend of Our Lifetime award. "Everyone there couldn't stop talking about how different he looked."

Indeed, even though Tom was accepting an award for his more than three decades as a big-screen superstar, he looked more like an overgroon little boy than the chiseled movie idol who starred in Top Gun almost 28 years ago. And many believed the puffiness was the result of a plastic surgery treatment gone terribly wrong.

"Tom could be swollen from recent injections of a filler like Sculptra," agrees plastic surgeon Dr. Anthony Youn, who does not treat Tom. "This treatment is typically used to fill in gaunt faces, and it can cause facial swelling"

Though Dr. Youn says that swelling from plastic surgery will probalby "settle down" eventually, some close to Tom wonder why he bothered with fillers n the first place.

They see it as a sign of Tom's growing obsession with looking young — which seems to have reached new heights lately. "He's gotten terribly insecure when it comes to aging," an insider says, adding that his single status — and fear of growing old alone — is a large part of the problem. "If he were happily married, he might not care about his appearance as much. But he really does want to settle down again. The fact of the matter is, he's attracted to younger women, so he wants to look young."
[From Star, print edition, April 21, 2014]
This week's issue of Star calls Tom "Tom-Squatch!" because he's been "hiding" from the press — possibly to recover from plastic surgery. Star says Tom's atypically round face looks that way because he "may have had his cheeks injected with fat from his love handles." That's pretty harsh. I don't think he looks like he gained weight! He simply overdid the fillers. Tom has also become obsessed with hair dye and thinks his new, fuller locks makes him look more youthful. God, this is so … pitiful? I'm starting to feel sorry for Tom Cruise.
Let's recap again — Tom in December 2013: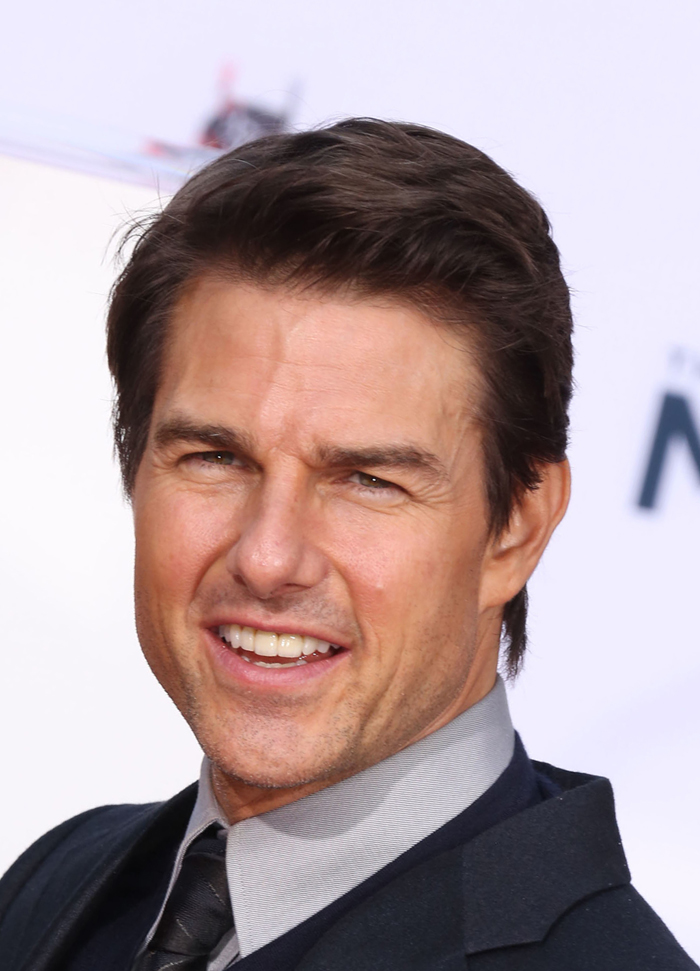 Tom last week: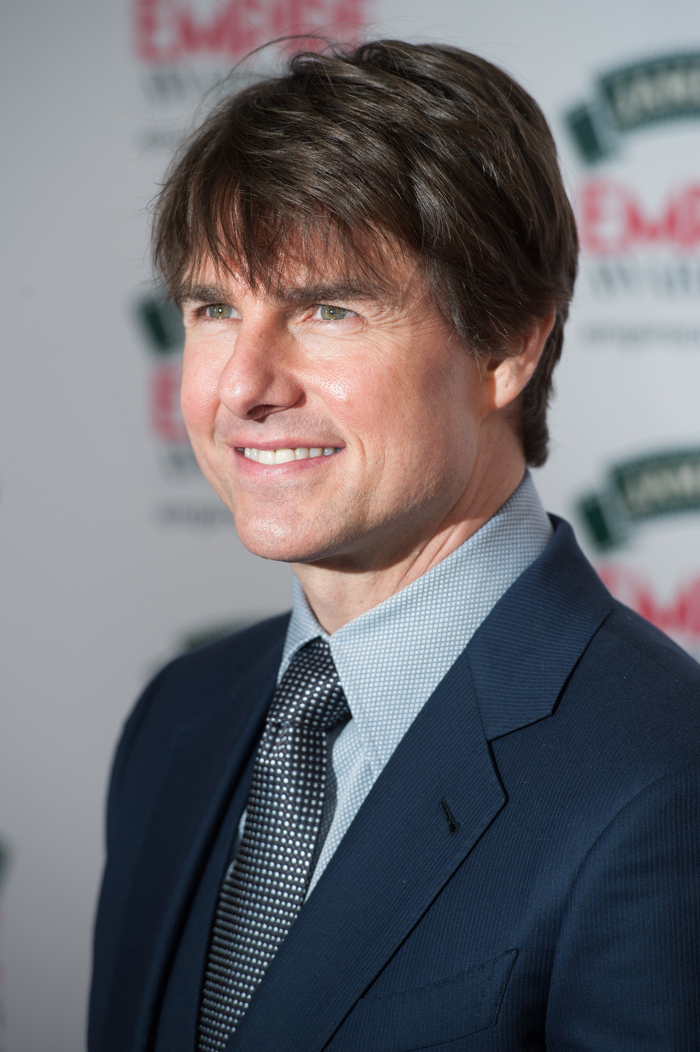 Photos courtesy of WENN