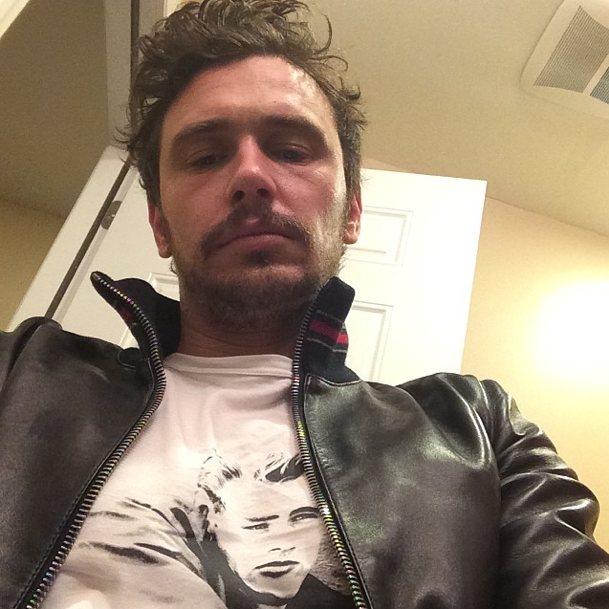 There's something very "off" about James Franco over the past few months. He's always burned the candle at both ends, but he looks genuinely exhausted. It doesn't matter whether he's on the red carpet or posing for a selfie. The dude looks smashed. I don't know if he's boozing or if his new Broadway schedule (for Of Mice and Men) doesn't agree with him, but Franco looks like he's aged substantially in a short amount of time. He's only 36 years old.
Franco's been whipping up plenty of controversy with his creepy Instagram behavior. It's only been a month since he faux apologized for trying to pick up a teenager on the social media site. You've probably seen his latest shirtless selfie where he posed with his hand down his underwear. I included a cropped version below — surely you're all tired of looking at it by now. Franco got the hint and deleted that selfie (and many others) from his Instagram page.
Franco spoke with the Daily Beast to "clear up" many of his recent antics. He talks about the selfies, and he discusses how he called an NYT theater critic "a little bitch." Side note: I was surprised Franco didn't pop off when he got "snubbed" by the Tonys last week, but maybe he's learning to STFU. He does talk about his lack of a Tony nom in this interview. Let's do this:
His Broadway audience is mainly young females: "I'd rather have young people in that audience than old people. And yeah, that's my audience. A lot of those people are coming to see me, Chris, and Leighton [Meester] because of our other stuff, and yeah, with a lot of the matinee crowds, when there are school groups coming in, you can tell they didn't read the book. But I have no snobbery about any of that. When you looked out in those audiences at early Beatles concerts, what did you see? F—ing teen girls!"

The Tony snub: "I felt like I was in good company being shunned with Ian McKellen, Denzel Washington, and Marisa Tomei. But to me, that attitude is so self-destructive. To have a play like Of Mice and Men, just a straight drama on Broadway, and to do as well as we're doing–we broke the house record at the Longacre–is unheard of. Seven out of ten Broadway plays don't make their money back. So, to have the critics come in and, on top of those odds, hurt the production even more, it's like…what do you want? Twenty Aladdin's? Because that's what you're gonna get!"

Calling the NYT critic "a little bitch": "I really normally don't read any reviews or any other stuff about me because it's just not healthy, but I read that one because I was new to the theater and it's a small community. You know what? Maybe I reacted too quickly. It just felt like a poorly-written review; a poorly-considered review. Also, when you do a movie like, say, Spider-Man, all the reviews are out. Andrew Garfield doesn't have to go and play Spider-Man now that the reviews are out. All the work is done. But in theater, we have to go on stage the next day. So I felt a little bad that I was pulling in these biased reviews because of my celebrity, and felt a little bit of a need to stand up for the rest of my group–the production–and say, 'We're not going to stand for this.' There was a part of me that just wanted to say, 'Hey, shut the f— up! We don't care about you.' But maybe I shouldn't have done it… Too late now!"

His Instagram games: "I don't know why it's become such a big deal, but I go through these phases where, honestly, I get addicted. It's a weird power."

Does he "selfie" out of loneliness? "I'm not lonely…I have people around me all the time. It's just that as a performer, you get used to interactions with attention and interactions with audiences, so it feels like an audience that's both private and large at the same time–intimate and wide-reaching–which is very seductive. And there are positive things that come out of my relationship with it, and negative things. I get pulled into these things and, if I look back on my relationship with Instagram, or Twitter, or whatever, I find that I push certain boundaries to see what kind of reaction I'll get and then inevitably I go too far. It's ironic to me because what takes it too far I find, in some realms, not to be racy at all."

What about his half-nekkid selfie? "Look at any f—ing ad! Look at the f—ing Sports Illustrated: Swimsuit Issue! Up there on a f—ing billboard! Is it because it's in my own bathroom? Don't worry, I'm not going to do any more of those."
[From Daily Beast]
I still wonder what Franco was thinking with these ridiculous selfies. Someday he will claim that it was all performance art, but I think he just craves the attention. Maybe he feels isolated in NYC and has nothing better to do. Maybe he thinks a few more people will watch Palo Alto (he's wrong) if they have seen close-up shots of his hairy man nips. Maybe this is how an artist gets some action. He once admitted to being addicted to Twitter. Now he's admitted to E! Online that he posted a same-sex selfie with Keegan Allen to "blow up Twitter." Franco is a mess waiting to happen.
Criticism does bother Franco immensely even though he pretends not to care. He's flat-out lying about not reading his own reviews. He thinks we're dumb enough to believe he only read that NYT review. Of course he criticizes the writer by saying, "It just felt like a poorly-written review; a poorly-considered review." Franco can't fathom being less than stellar at anything he does. Even when it comes to poorly-considered selfies.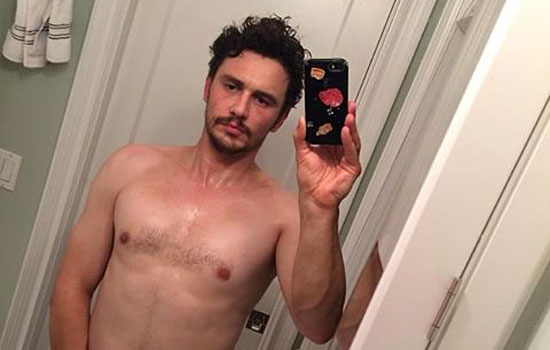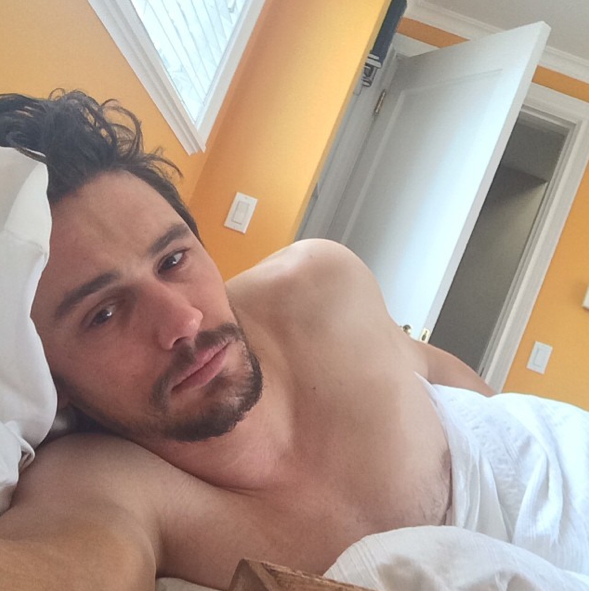 Photos courtesy of James Franco on Instagram & WENN