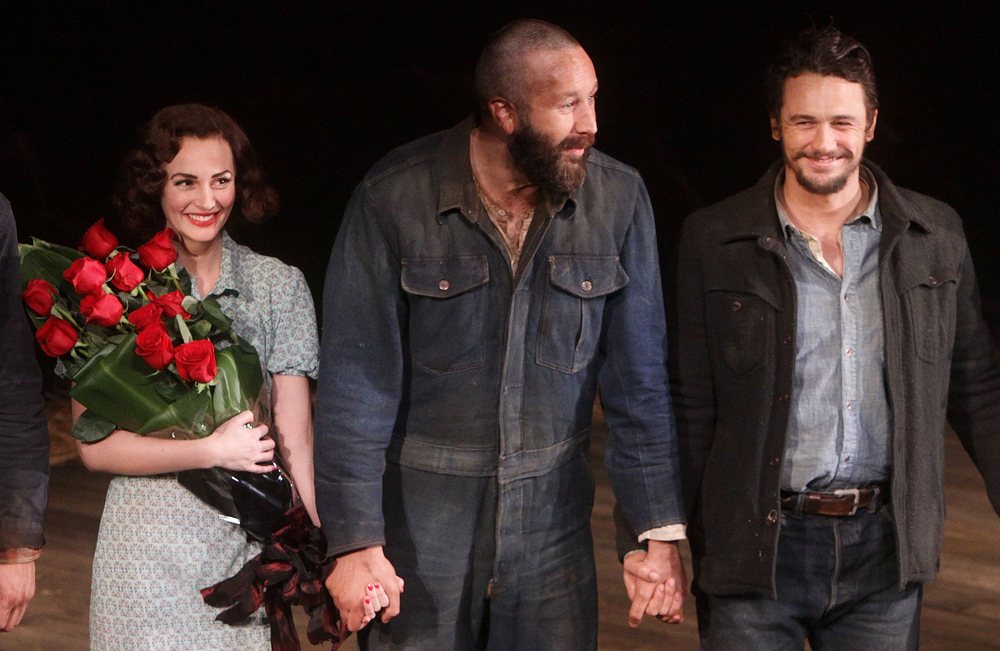 James Franco can't stay out of the trouble even for a moment. It's like he's completely forgotten that he tried to pick up a teenage girl on Instagram two weeks ago. He tried to explain that kertuffle away as "bad judgment." He's still a creep.
Franco tried to recapture his "artist" rep for his Broadway debut in Of Mice and Men." He's starring with Leighton Meester and Chris O'Dowd. Reviews have been mixed with O'Dowd gaining most of the praise for his portrayal of Lennie. I had to laugh at this part of the AP's review: "Franco is more standoffish, creating a George who apparently longs to be alone, tries to be decent and squints a lot." That is amazing. He squints a lot. How artistic!
Franco took great issue with one review in particular. Ben Brantley of the NYT basically says Franco has no stage presence and is acting in General Hospital mode. That's how I'm reading this: "Though he sports a Yosemite Sam accent, Mr. Franco is often understated to the point of near invisibility. It's a tight, internal performance begging for a camera's close-up." Brantley also says the real-life dog of the show gives a better performance than Franco.
Franco the artist was displeased. He Instagrammed and deleted this reaction: "SADLY BEN BRANTLEY AND THE NYT HAVE EMBARASSED [sic] THEMSELVES. BRANTLEY IS SUCH A LITTLE BITCH HE SHOULD BE WORKING FOR GAWKER.COM INSTEAD OF THE PAPER OF RECORD. THE THEATER COMMUNITY HATES HIM, and for good reason. HE's an idiot."
Ohh brother pic.twitter.com/TKM3NktC7P

— Richard Lawson (@rilaws) April 17, 2014
Franco thinks of Gawker as the ultimate insult to writers. He's still angry that Nick Denton's posse posted a photo of him sleeping through a graduate-level seminar. Franco can't deal with criticism of any sort. He should know that almost any Broadway actor deals with negative feedback at some point. Instead of seeing the reviews as constructive, Franco lashed out like Alec Baldwin.
Related: Franco's Instagram grows creepier by the day. He's posting bed selfies on a regular basis. The ART of the creepy selfie.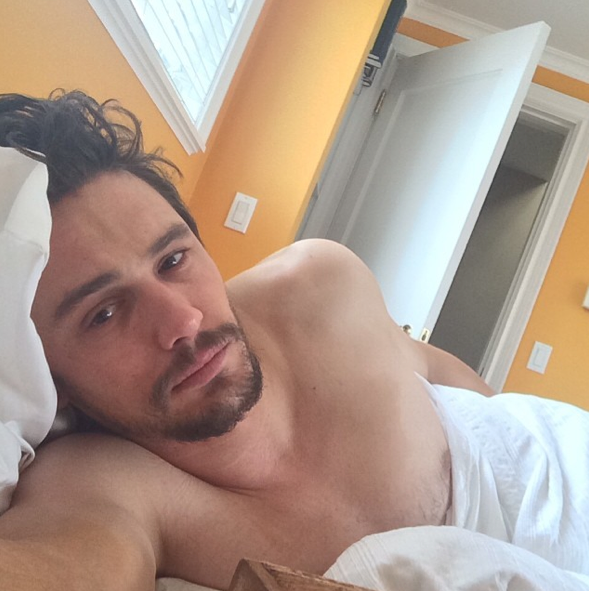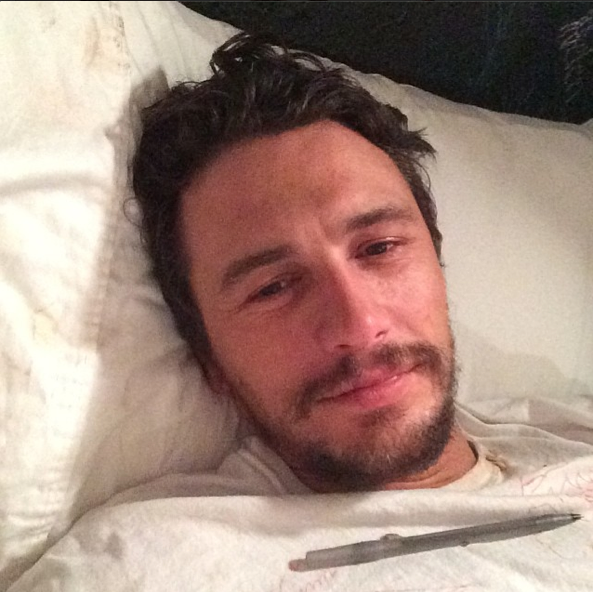 Photos courtesy of James Franco on Instagram & WENN