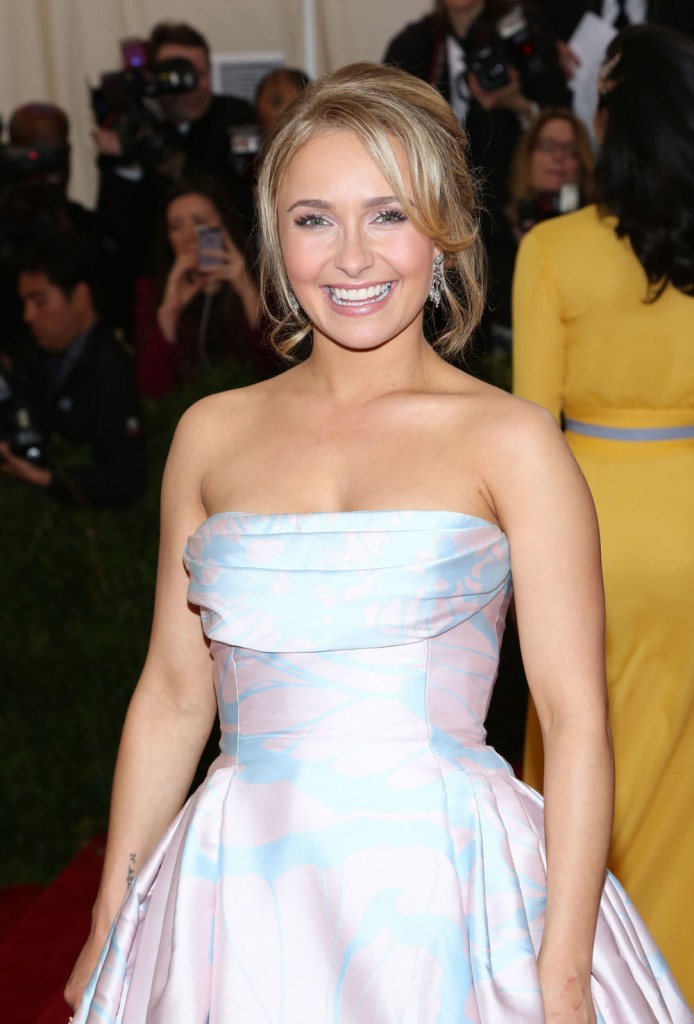 Hayden Panettiere was one of the best dressed ladies I covered at yesterday's Met Gala. She was one of my favorites, at least, in her giant Dennis Basso ball gown, which fit the theme perfectly, an homage to designer Charles James. (You can see all our coverage here.)
The problem is that those huge gowns are unwieldy and can be hard to walk in, especially when paired with sky high designer heels. We saw Sarah Silverman, who debuted her new relationship with Michael Sheen, struggling to get around in her big Zac Posen dress. Now we know that Hayden Panettiere fell down the stairs when leaving the Met Gala. We don't have the exact photos of Hayden tripping and falling, but you can see them here. I think the one below was taken soon afterwards.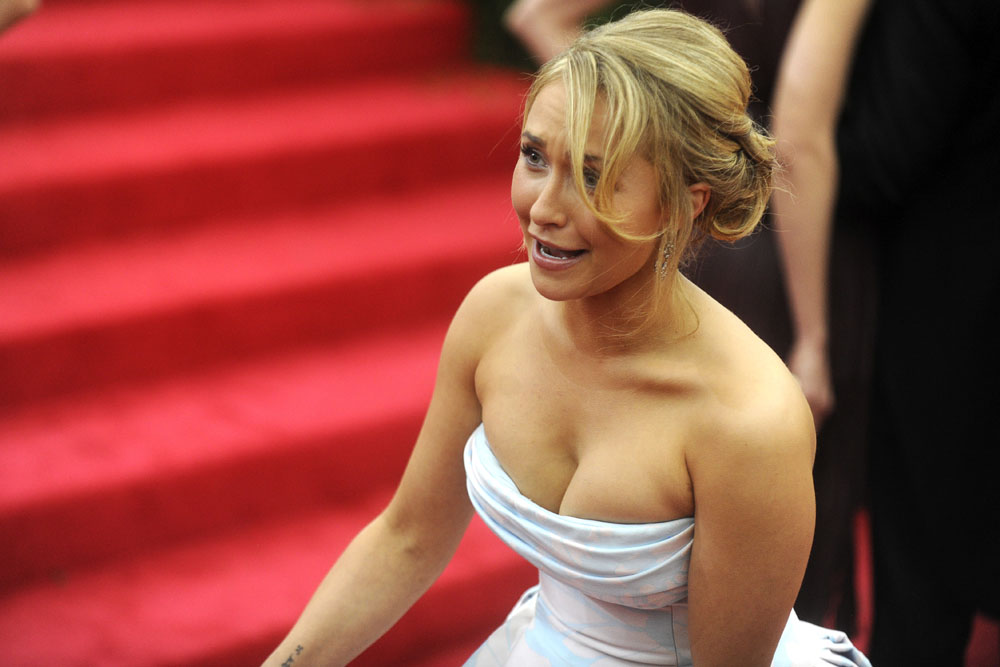 I'm sorry but that's funny. Not in a mean way! There's something endearing about an actress falling in a huge dress. I don't think in Lawrence or Hayden's case it's a put-on, these were embarrassing moments for them. At least Hayden's fall happened in front of photographers and not on a live TV broadcast. This was after the Costume Institute Gala, so it's likely that a few cocktails contributed to this minor disaster.
Here's a photo of Hayden hugging Amber Valetta, who seemed to be helping her after her accident. She also posed with Sean White. I'm not sure if he was her date or if she was just posing with him, but she happily showed off her huge engagement ring, from boxer Wladimir Klitschko. Her wedding is on hold however, due to the crisis in the Ukraine. Klitschko is from the Ukraine and has family in the war torn nation.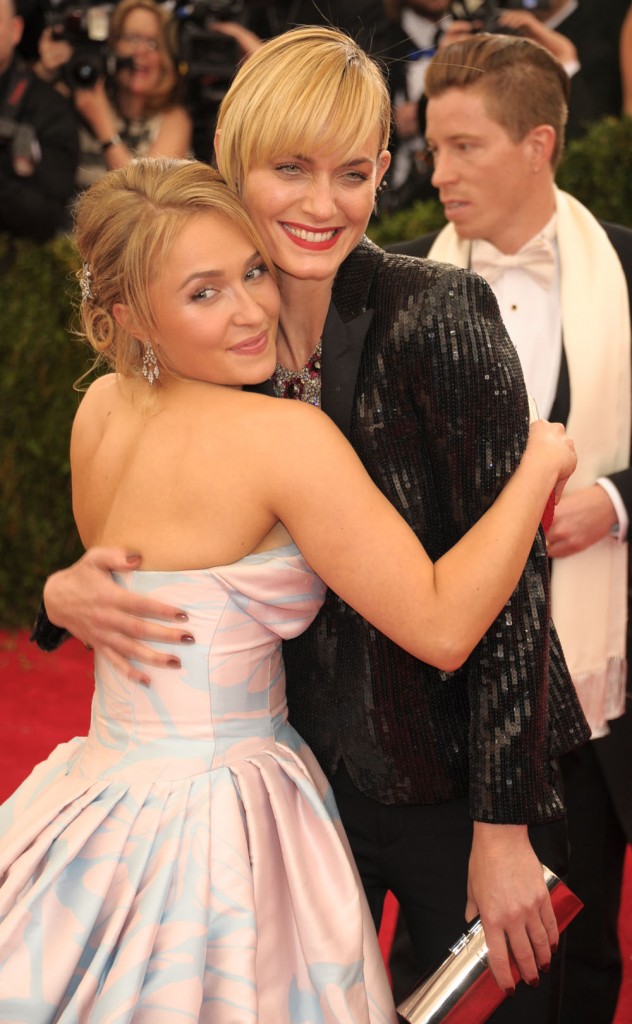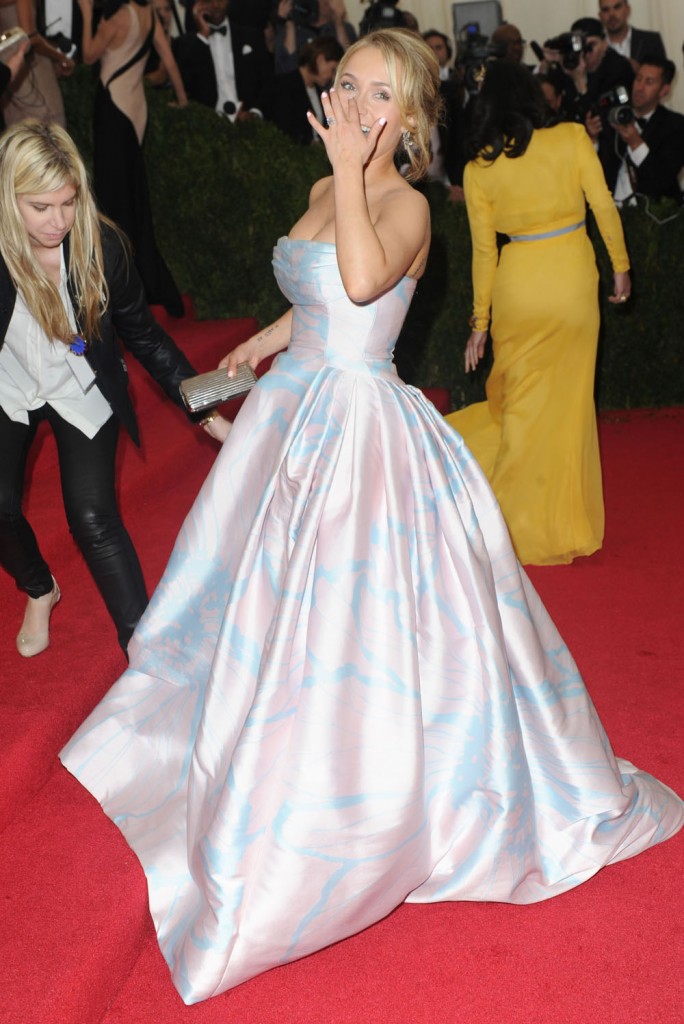 Photo credit: WENN.com, FameFlynet and Getty