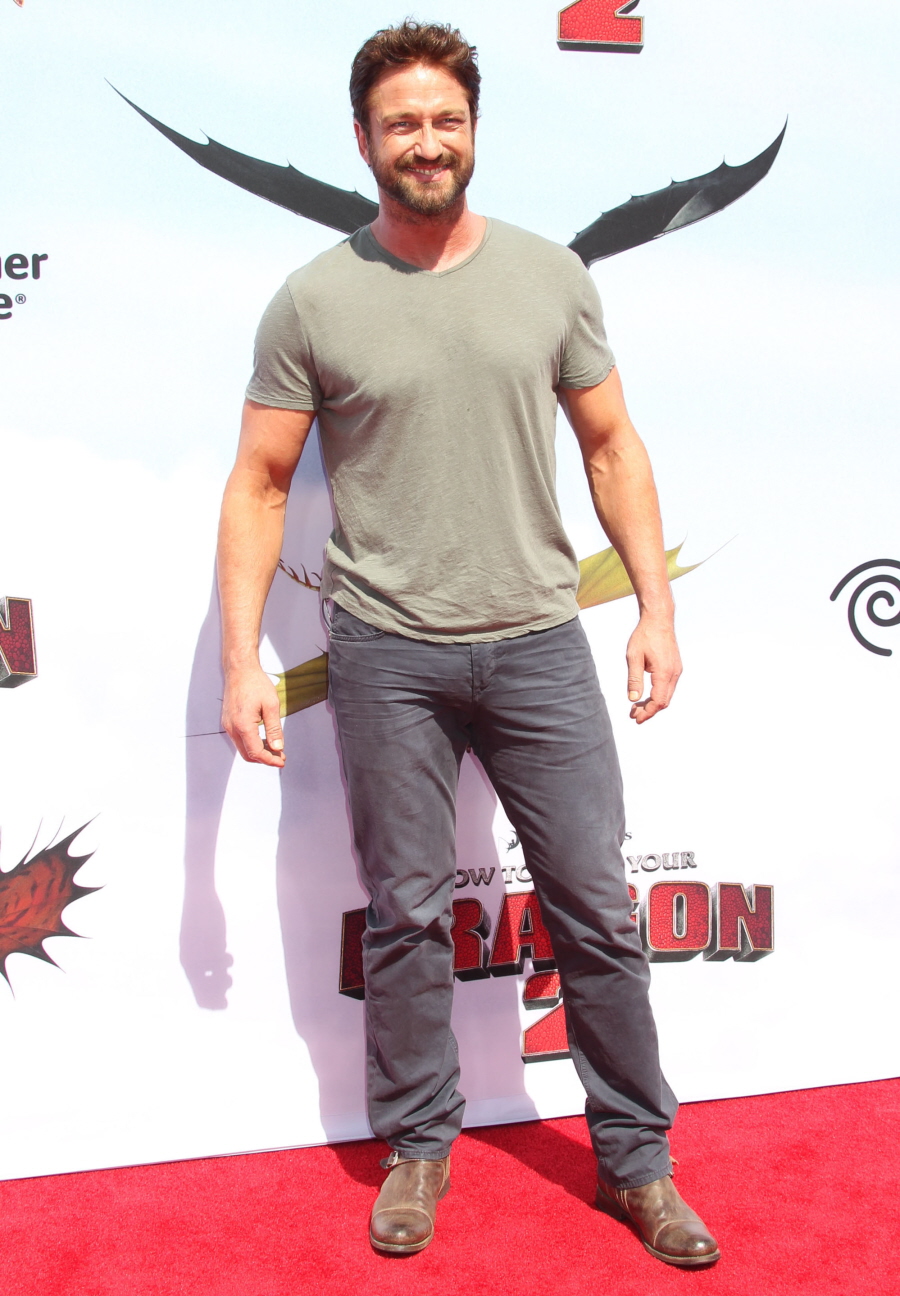 When I covered the LA premiere pics for How To Train Your Dragon 2 a few days ago, I'll admit that I was only really paying attention to Kit Harington. I was coming off watching Game of Thrones, and that's what happens. But let's give some attention to my long-forgotten forever dong, Gerard Butler. G-But has been through the wringer over the past few years. His career faltered, he was in and out of rehab, his weight was majorly fluctuating. And then he was dating that woman, Madalina Ghenea. Those were dark days.
But is he out of the darkness? There's something about him in these photos that looks "off" – maybe he's just tired? But his body looks good. He's regained some muscle, he's back to a healthy weight and his hair is a decent length. The Return of G-But? Who wants to get Butler'd in a porto-potty?! Anyway, I can literally only find ONE interview that Butler has done in support of Dragon 2, and it's kind of depressing. Apparently, he barely knew his father and he didn't see his dad for fourteen years.
"I've got to tell you: my father — I didn't see my father for 14 years. I didn't even know he was alive. And he turned up out of the blue," Gerard said at a press conference during the lead-up to the film's release.

Gerard was born in Scotland, but his family relocated to Montreal when he was 6 months old. His parents divorced a year and a half later, and Gerard's mother moved back to Scotland with Gerard and his siblings. Gerard would later ask his mother, "I'm not going to see my dad, am I?" She told him, "No, I don't think so."

But that changed when he was 16: "I came home one night, and my stepfather said, 'Keep your jacket on, you're going into town. Your dad's here,'" Gerard said. "And I had to go into this restaurant and walk around this packed restaurant going from table to table literally looking at men going 'Is that my dad? Is that my dad? Is that my dad?' [Chuckles.] And then he finally stood up and he was the weirdest looking guy in the restaurant."

Gerard left Scotland and "went straight to Toronto [where his father lived] and spent a summer there." He made up for lost time with his dad — "It hit me like a ton of bricks … [but] I also found it really exciting: Suddenly, my father was in my life," he told Wonderwall exclusively.

The "300″ actor also connected with his 8-year-old half-brother: "I'd heard rumors that I had a half-brother, but we hadn't spoken," he told Wonderwall. "I hadn't seen my father for so long that I didn't know if it was true."

The reality that he was now a big brother hit a 16-year-old Gerard on the night he arrived in Toronto when his younger half-sibling asked if they could sleep in the same bed: "I'm like, 'Oh my God. I'm a big brother!' It was really crazy," he said.

Not long after their reconciliation, Gerard's father was diagnosed with terminal cancer and died when the actor was 22.

The star doesn't think he's the only one who will feel a connection to a film that goes to "deeper and darker places" than most animated movies. "It's profound for a lot of people to suddenly imagine that the parent that you didn't think was there or the love of your life that you thought was gone is actually alive and well," Gerard explained. "There's a chance to rekindle everything you thought was lost in your life."
Wow, Gerry really went dark to promote a kids' movie, eh? This is a little something for the parents who want a good cry before they take their kids to a happy movie about dragons. In the flush of my Butler-obsession back in the day, I knew a lot of stuff about him but I never knew this. Poor Gerry. At least he got to know his dad a little bit before he passed. And it sounds like he had a pretty stable family life with his mom and his step-father as well. Oh, G-But. Now I just want to take care of you a little bit. Damn it! I thought I was over my Butler crush.
Anyway, this was just a reminder that G-But still exists. Honk if you still want to hear Butler stories! And double-tap the honk if you think Butler is finally ready to come to me so I can take care of this poor Scotsman.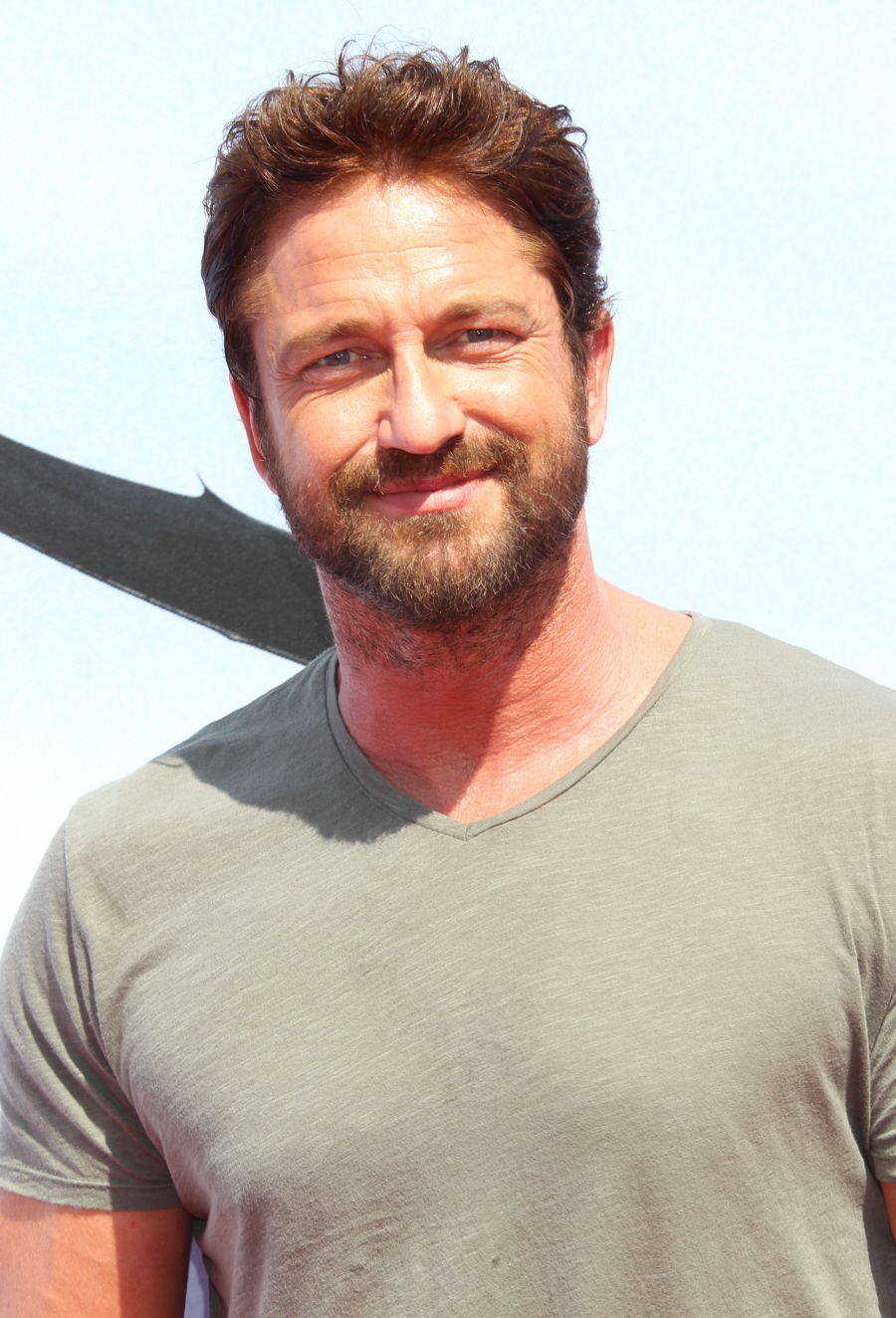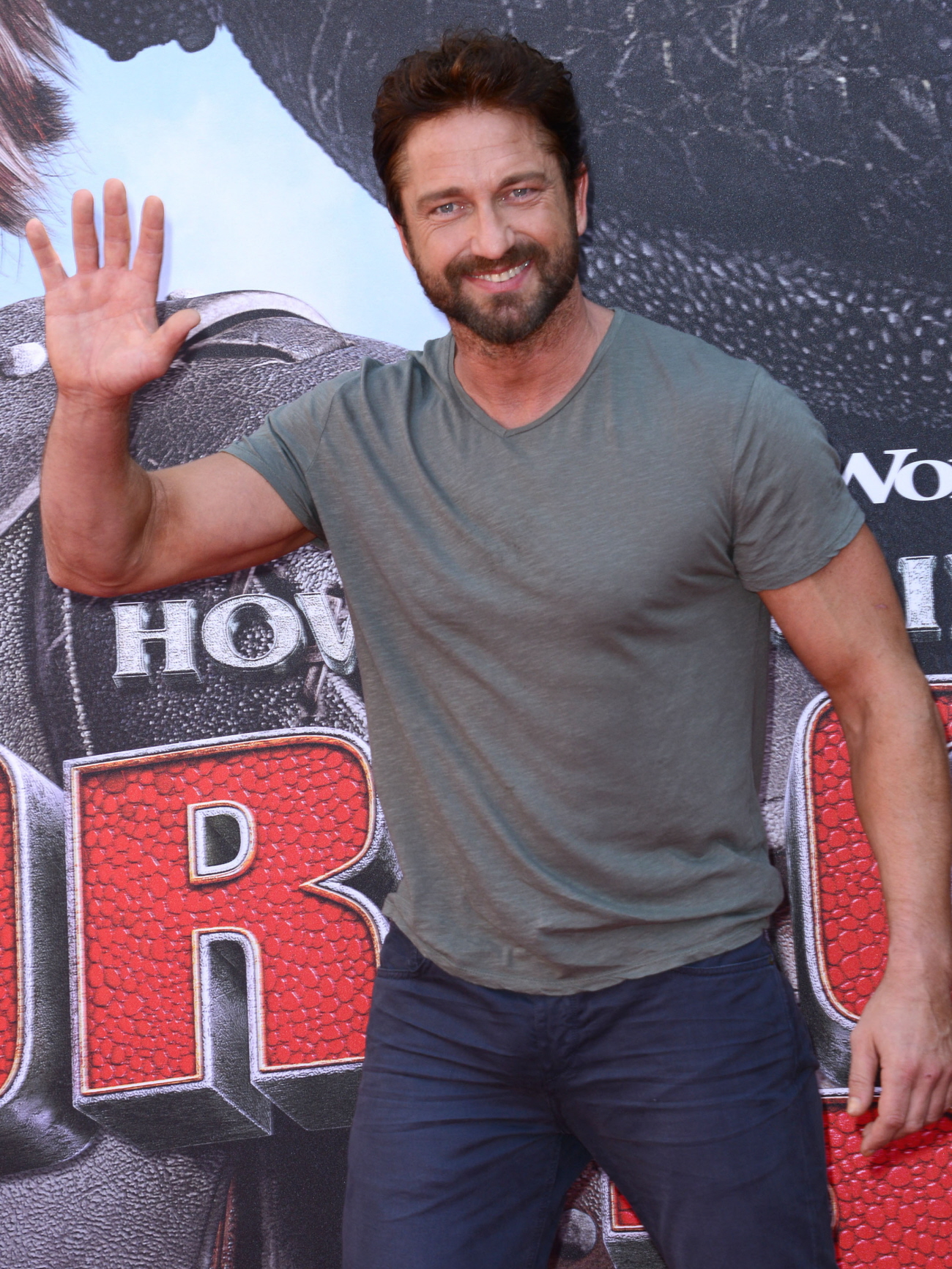 Photos courtesy of Fame/Flynet.