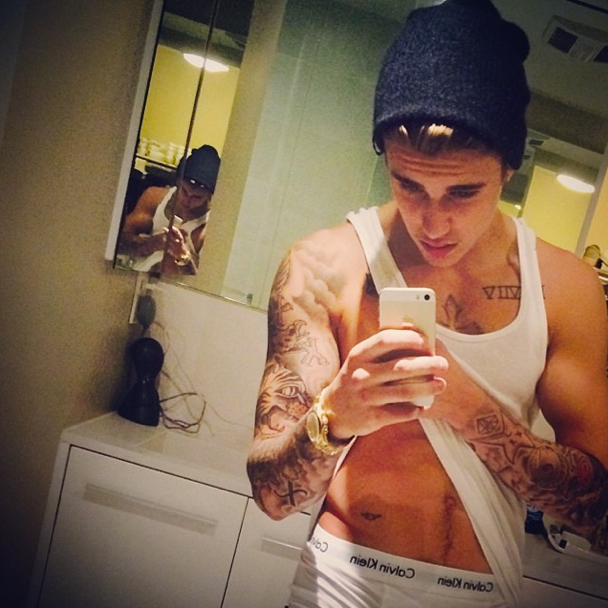 I hope you're sitting down. Are you? Good. If you're older than Justin Bieber (and who isn't?), than you must remember the famous 1990s Calvin Klein ads starring Mark Wahlberg and Kate Moss. If you need a refresher, this video will oblige. What's the bad news? Justin Bieber has been hired by Calvin Klein to recreate this advertising magic.
This is a travesty, but I can see how it happened. Justin has been regularly Instagramming photos of himself with his Calvins on full display. He also walks around with his underwear hanging out al the time because he's so cool. We all assumed he was simply being Swaggy, but perhaps this has all been part of a huge plan. A few years ago, Biebs made a huge fuss about wanting to move into acting. He wanted to remake Fear and be the next Mark Wahlberg. Hollywood never came knocking, so here's the next best thing — a contract with Calvin Klein to echo the Marky Mark commercials of yesteryear. For real:
Justin Bieber has shot a campaign for Calvin Klein – joining the ranks of supermodels Kate Moss and Lara Stone to pose in the iconic underwear.

The 20-year-old singer has made it no secret he is a CK fan and first posted a "selfie" featuring him clad in his shorts in April.

The young star was arrested for a DUI in Florida and has faced various legal issues over the past few months, however, the shoot – which is set to be released later this year – proves things are on the up.

A Calvin Klein source said: "Justin has shot for Calvin Klein, we hope the results will be released later this year."

Although it's not known how much Bieber got for the campaign, Kate Moss's first CK contract was worth a reported $1.2 million – later rising to $4 million.

Calvin Klein's latest campaign released features Dutch supermodel Lara Stone – now one of the highest-paid models in fashion – in photos that hark back to the famous black and white Herb Ritts campaign of 1992 starring Kate Moss and Mark Wahlberg.

Just last week, Bieber posted a daring photo of him flaunting his tattooed body in his Calvin Klein underwear, and was also seen wearing the brand as he hiked up Runyon Canyon in California and then arrived home in Los Angeles.
[From Daily Mail]
HA. This is going to be fantastic. I mean, it will be awful, but I'm going to have so much fun writing about this hot mess when it surfaces. Kendall Jenner is rumored to be playing the Kate Moss role, which will require real acting skills on her part (not not vom). Wahlberg is no fan of Swaggy, so he'll be grumpy about the ads. A quick flashback: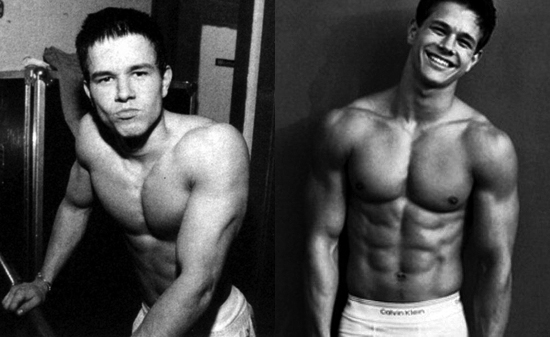 Here are more assorted Swag-related updates:
* TMZ says that police have been inundated with complaints from Bieber's new Beverly Hills neighbors. He moved into a condo building, and his fellow dwellers called cops to the scene 6 times last weekend. Swaggy "was not cited because he agreed to turn the music down." Bieber is playing with fire because he's serving 2 years probation for egg-gate. Probation was a mistake. He'll never make it out.
* TMZ also says that cops have educated Bieber's neighbors on how to place Swaggy under citizen's arrest. Cops say they can't arrest him for misdemeanors, but neighbors say, "There were bimbos lining up to do drugs in the lobby bathroom" of the condo building.
* X17 has photos of Bieber picking up groupies from the mall and taking him to the Beverly Hills hotel. He "definitely hooked up with these girls the night before." He then takes them back to the mall and ignores them as he shops for swag.
* TMZ has video of Swaggy going cliff diving last weekend. He tried to do a flop and failed miserably. He pretty much did a bellyflop, and "It's been in the low 80s this week in Malibu, so the wetsuit seemed … soft." Ouch.
* This week's issue of InTouch contains some hearsay from the latest Bieber-related deposition involving Swaggy's bodyguards beating up randoms. Manager Scooter Braun talked into the mic and says Bieber has hired and directed all of his own security staff after turning 18: "If Justin's bodyguards chase, attack and take cameras from photogs, that would fall on Justin, because Justin is the one managing his own security." Is Scooter throwing Swaggy under the bus, finally?
Here are some photos of Swaggy hitting Whole Foods on Monday. He entered the store and bought a single pack of gum.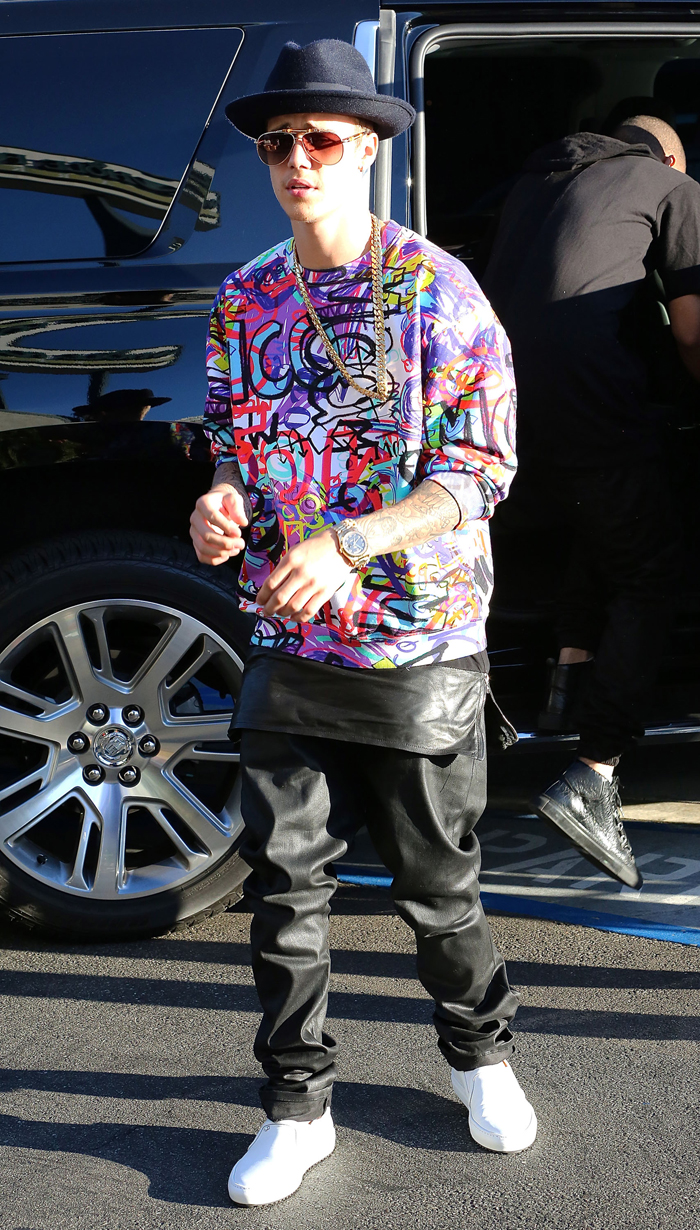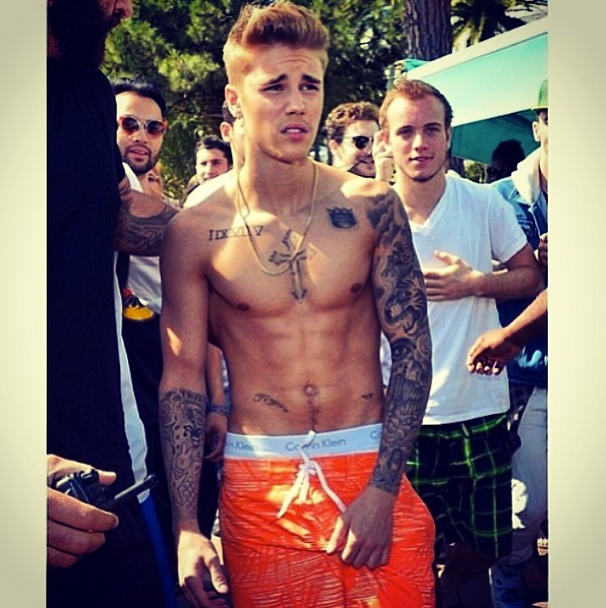 Photos courtesy of Fame/Flynet, Calvin Klein & Justin Bieber on Instagram