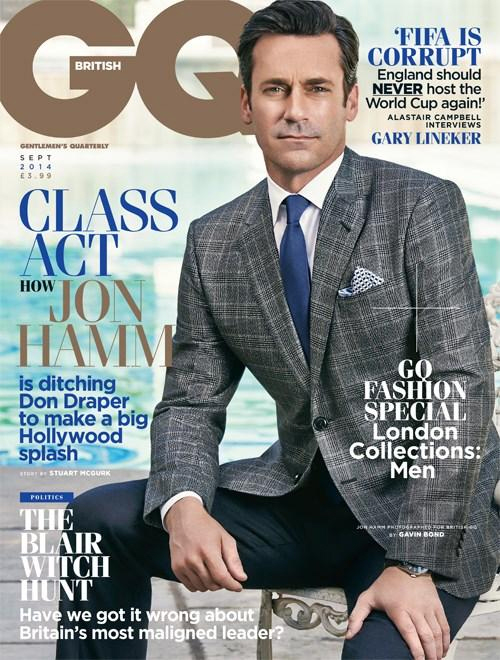 Jon Hamm's GQ UK cover came out more than a week ago, so MY BAD about not covering it before now. I saw it last week but the only quotes I could find were slightly boring. The Hamm is no longer bitching about Kim Kardashian constantly in interviews, which is sad because those made for some great stories, plus back-and-forth with Jonathan Cheban, who is not a Mad Men fan. But then I came across some additional quotes from this interview over the weekend, and I kind of wonder if Jon is being a bit rude and breaking one of the cardinal rules in Hollywood: never discuss the films you passed on.
His post-Mad Men career: "There's no road map for this. You look at someone like Matthew McConaughey – ten years ago, you wouldn't have said he's going to be an Oscar-winning actor, you know? The guy from Failure To Launch? You'd have been laughed out of the room. You look at a person's success like that and think: God speed. And hope you're given the opportunity. It's hard because Hollywood is a lot of things, but it's not the biggest risk taker."

Becoming a star in his late 30s: "Flick through the TV guide in the Nineties – I auditioned for every one of those shows. It wasn't just my looks. My energy wasn't right. You know, [affects hyperactive teen voice] 'Hey guys! I think there's been a murder! And have you seen there's a dance?' It wasn't me. I had to grow into being hireable. People said to me, just wait until you're 40. I was like, 40?"

He turned down Green Lantern: "They came after me pretty hard for 'Green Lantern'. But I was like, 'Meh, that's not what I want to do.' Never say never, but these aren't the kind of movies I like to go and see. They don't make the kind of movies I like to see anymore."

Women come up to him, wanting to make out: "I can literally be walking through Central Park and every third person will be like, 'Can I have a kiss?' No! Absolutely not! And Jennifer [Westfeldt, Hamm's long-term partner] will be right there! It doesn't make you feel good. I'm like: how were you raised?"

Losing his mom when he was just a kid: "I remember watching my father and my grandmother and grandfather completely lose their s–t. 'These people who were usually so composed, so put together, so adult. I just remember thinking, 'This can't be good.' It was very fast. It was incredibly hard to watch. Life really does a number on you. I watched my mum shrivel up, and at 35. She was this incredibly healthy, beautiful woman and by the time she died she weighed 80lb and looked like she was 70."

On losing his father at the age of 20: "It just changed everything. It was just a profound sense of being alone. And that lasted a while. I was in college, and I had to start over again. It was definitely a moment. I was at a crossroads. It really could have gone the wrong way."
[From GQ UK, additional quotes via Dalje]
That's rough news for Ryan Reynolds. I mean, I guess we knew that Ryan was one of several actors in contention for Green Lantern, but no other actor has ever come out and said, "Well, they really wanted me and they only went to Ryan after I turned them down. Repeatedly." Does it matter that Jon's instincts were good, that The Green Lantern movie was a crapfest that Ryan is still trying to crawl out of?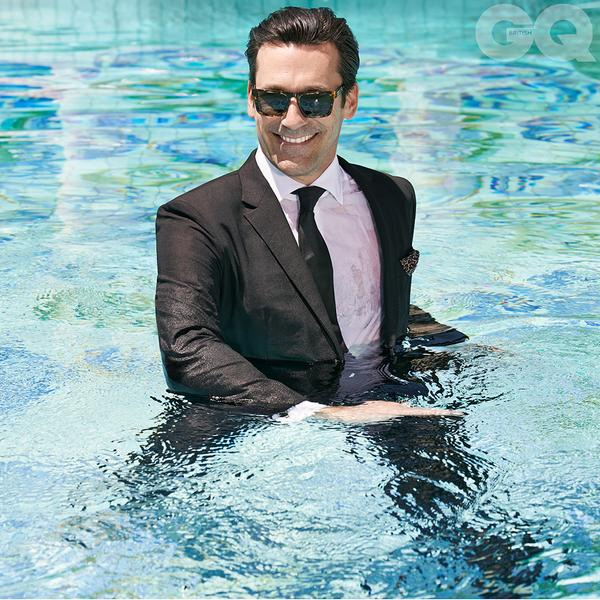 Photos courtesy of Gavin Bond/GQ UK.