These are photos of Justin Bieber cruising on his fancy Can-Am Spyder motorcycle in LA on Thursday. The situation looks like a simple joyride, but it turned into a near disaster according to TMZ. Remember when Lindsay Lohan drove into a stroller that was holding a baby? She simply refused to check the sidewalk to see if anyone was crossing. This is just as bad. Bieber decided to drive his motorcycle on the sidewalk, and he almost ran over an elderly lady with a walker. TMZ has video of the incident. Here's the lowdown:
Justin Bieber took his Can-Am Spyder into Bev Hills Thursday … and when traffic got too congested for his taste, he maneuvered it onto the sidewalk where he rode illegally … almost hitting someone.

Watch the video closely … you'll see Bieber comes off the sidewalk at an intersection, and comes close to creaming an elderly woman with a walker.

He clearly doesn't care … because seconds later he's rocking out to music as he waits at a light.

BTW … Bieber's on probation for the egg throwing incident, which means he's not allowed to violate any laws. Lucky for him … no cops in sight.
[From TMZ]
Thank goodness Bieber didn't hit this lady. It sounds like a really close call. Bieber needs to watch himself. Not only does he endanger lives with his wanton recklessness, but he's also on probation. You know he'll never make it two full years without getting into more trouble. It's only a matter of time, and hopefully he won't hurt anyone in the process.
Here are some more Bieber tidbits from the past few days:
* Has Bieber's team been bribing border guards? One Niagara Falls guard was fired from the Canadian Border Services Agency after she allegedly accepted $10,000 in backstage passes. The guard reportedly allowed two members of Team Swag to enter Canada even though they have criminal records. TMZ says some on-duty guards busted the operation. Ha. Not even Canada wants Bieber's entourage.
* Swaggy is being sued by a paparazzo, Aja Oxman, who says Bieber ordered his bodyguard to deliver a choke hold and smackdown. Biebs reportedly "enjoyed the beating." Then Bieber and his bodyguard destroyed the pap's camera together.
* Here's something truly bizarre. Bieber decided to reenact scenes from Step Brothers with Lil' Za. Watch Swaggy try to stalk away all angry with his butt hanging out of his pants.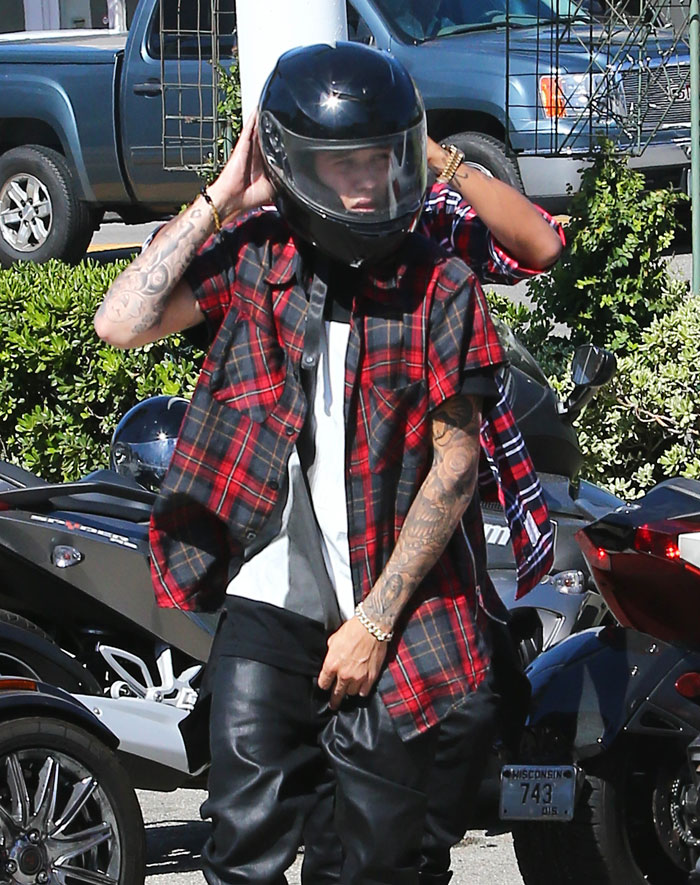 Photos courtesy of Fame/Flynet