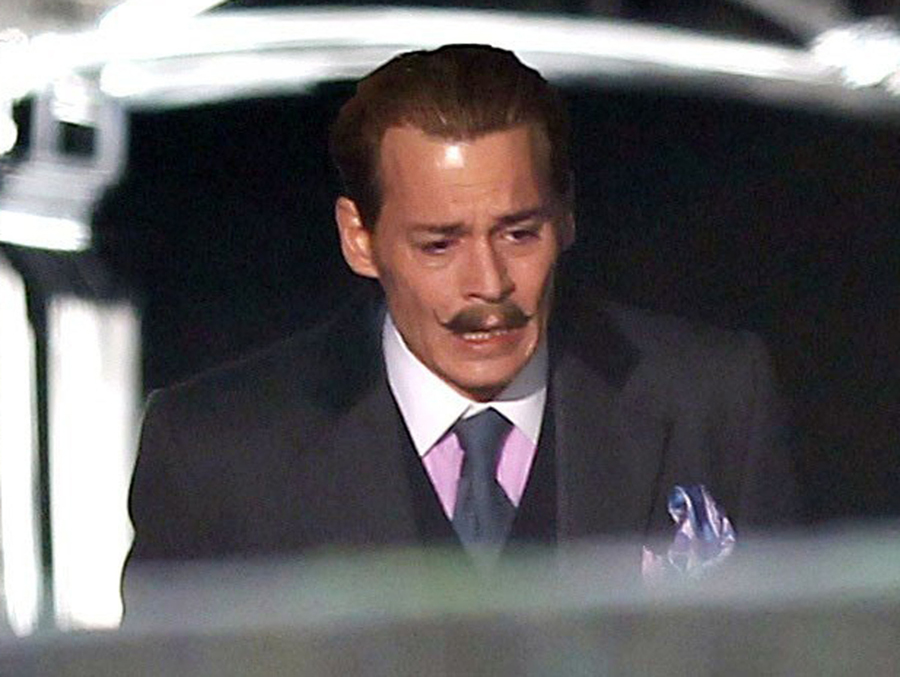 Let us rejoin the mystery of Johnny Depp's mid-life career. I won't go into detail because bashing Johnny isn't in my repertoire today. Plus, I still think he can get it together after Rum Diary, The Lone Ranger, and Transcendence. The man has an impressive history, but he's lost his way. Maybe the Whitey Bulger biopic will go places, and Pirates of the Caribbean 5 is still a go. Javier Bardem is in talks to play the villain. Javi seems like an obvious choice. Maybe too obvious?
Anyway. On with the bad news. We already talked about the Mortdecai mess. The ultra-campy trailer showed Johnny affecting a British accent and a quirky moustache. Johnny "honks" with his hands when he sees a pretty woman's chest. The movie has received a February release, which isn't a good sign. Poor Johnny even had to put up with Goop for this film. Now it's time for reshoots … why? I understand spending money for reshoots when it's a movie that people will watch. Not for this. But reshoots were scheduled, and Johnny didn't show up. Hmm:
Reshoots on the British set of new movie Mortdecai were reportedly disrupted this week when leading man Johnny Depp failed to turn up.

The 51-year-old actor was scheduled to appear at Buckinghamshire's Pinewoood Studios to complete work on the light-hearted thriller – an adaptation of the popular novels written by Kyril Bonfiglioli.

But Depp, who plays foppish art dealer Charlie Mortdecai, allegedly kept production staff waiting for hours after failing to make an appearance on set.

His unexpected absence led to a financial loss for producers after more than 100 extras were drafted in to film a pivotal nightclub scene with the American actor.

Costly location fees prompted further expenditure after those on set — including co-star Paul Bettany — were sent home early.

A source told 3am: "The reshoot is only meant to last seven days, so missing a whole day is a really big deal. Johnny must've been really under the weather not to arrive at all. Everyone will have to work extra hard now to get it done."

MailOnline have contacted Johnny's representatives for further comment.
[From The Mail]
This behavior doesn't sound like Johnny at all. He may not have "it" anymore, but he's always professional. Would he actually decide not to show up on purpose? It's gotta be rough when people have already made fun of the movie, but Johnny is the type to get the job done, no matter what.
Who knows what Johnny was doing when he was supposed to be on the Mortdecai shoot. I hope he isn't sick. Maybe he got distracted playing around with one of his costumes. That would be the optimal explanation.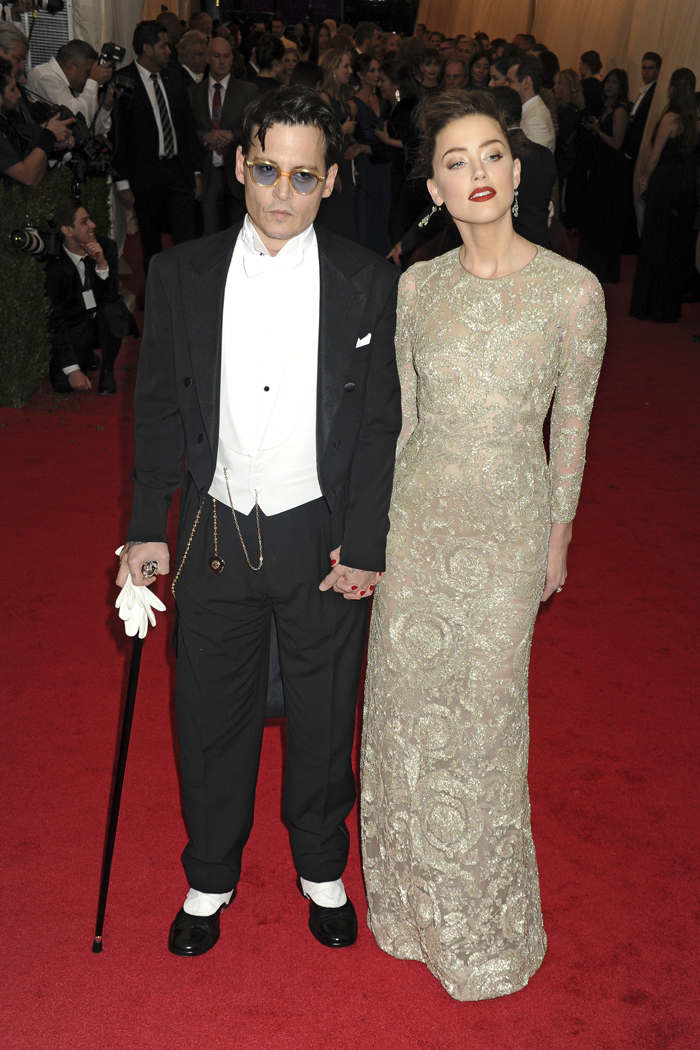 Photos courtesy of Fame/Flynet & WENN