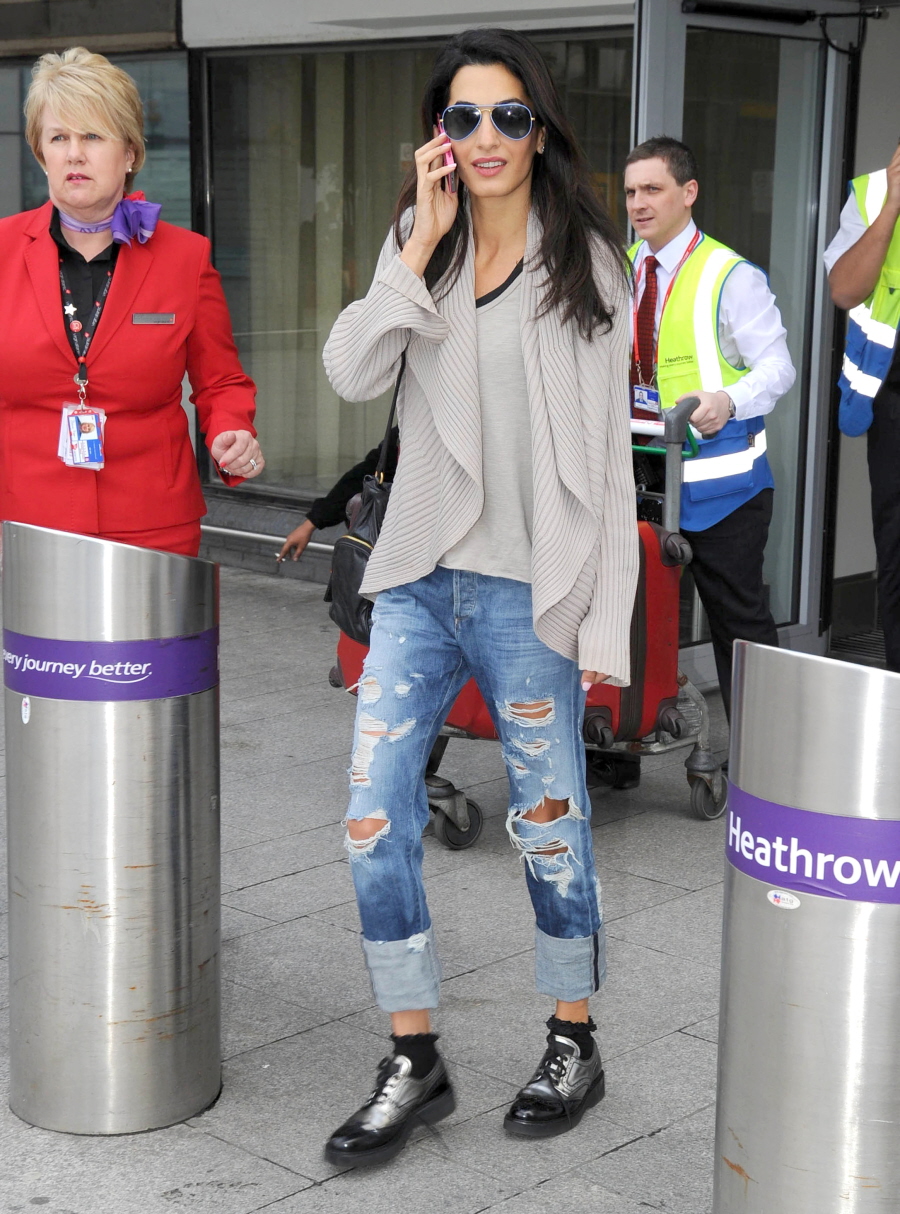 Have you been missing Amal Clooney and her drama? I have been missing her this week. We need a good Amal Clooney sighting. In the meantime, it turns out that Meredith Vieira and Ellen DeGeneres both dressed up as Amal for Halloween, for their shows. I think Ellen gets bonus points because she actually got a blow-up George Clooney doll to make it look extra special. As for Amal and her dramz… she's steadily becoming a tabloid fixture. YAY!
First up: OK! Magazine (ugh) says that when everyone started paying attention to Amal this past spring, the media attention made her self-conscious about her weight. A source told OK: "Amal became really insecure about her body after seeing photos of herself all over the place…[so] she lost eight pounds before the wedding." Now she's trying to maintain the weight loss by "surviving on two tiny meals a day." George Clooney's rep told Gossip Cop that the story is "fabricated"… but is it? Amal was always a slender woman, but she did lose weight as soon as the engagement was announced. And yeah, most brides lose weight before the wedding. I don't get why that's notable. Gossip Cop also has a story that I can't find anywhere else:
Despite fabricated rumors of a feud, Amal Clooney and Angelina Jolie have never even met, George Clooney's rep tells Gossip Cop exclusively. A fake tipster seems to be trying to get sites and magazines to do a story claiming the two women recently had a verbal fight in London.

The tale, which almost made it into one of tabloids this week, had the two women recently arguing over dinner, with Jolie eventually storming out of the meal and reportedly forbidding Brad Pitt from talking anymore to his buddy George. Clooney's rep tells Gossip Cop the story about a supposed heated argument in a restaurant is "100 percent fiction," noting that the two women have "never met."

While both women were in London in June to attend the United Nations' Global Summit to End Sexual Violence in Conflict, which brought together 1,700 delegates, they were seated in two entirely different areas of a super massive auditorium and didn't get the opportunity to meet. Of course, the phony source who is trying to spread these stories of strife between the ladies now claims Mrs. Clooney snubbed Jolie that time. Again, none of this is true. Mostly, it's sad that people want to create drama between two successful and strong women when there isn't any.
So the story "almost" made it into a tabloid and George's rep did a preemptive shutdown? That's weird, right? It's "almost" like George and his rep want this to be a story. While I doubt The Leg of Doom stormed out and decreed that Brad shall never speak to Mr. Clooney ever again, now I kind of wonder if Amal and Angelina DID meet at some point and they didn't get along. Huh. Amal did attend Angelina's Summit to End Sexual Violence in Conflict. Hm…
And finally, there was this gem, from Us Weekly:
Partying ever after! One month after their Venetian vows, George and Amal Clooney kept the celebration going at a dinner hosted by her parents in Buckinghamshire, England. Relatives of Amal are already sweet on their new family member: "A group of women were fangirling over him and one started singing, 'Georgie Porgie, puddin' and pie Kissed the girls and made them cry'," says a source. Later that woman "raved about getting a peck from George."
[From Us Weekly, print edition]
Ah, maybe that's why Amal looked so "over it" in those photos last weekend – she knew her relatives were going to act like a—holes around George Clooney.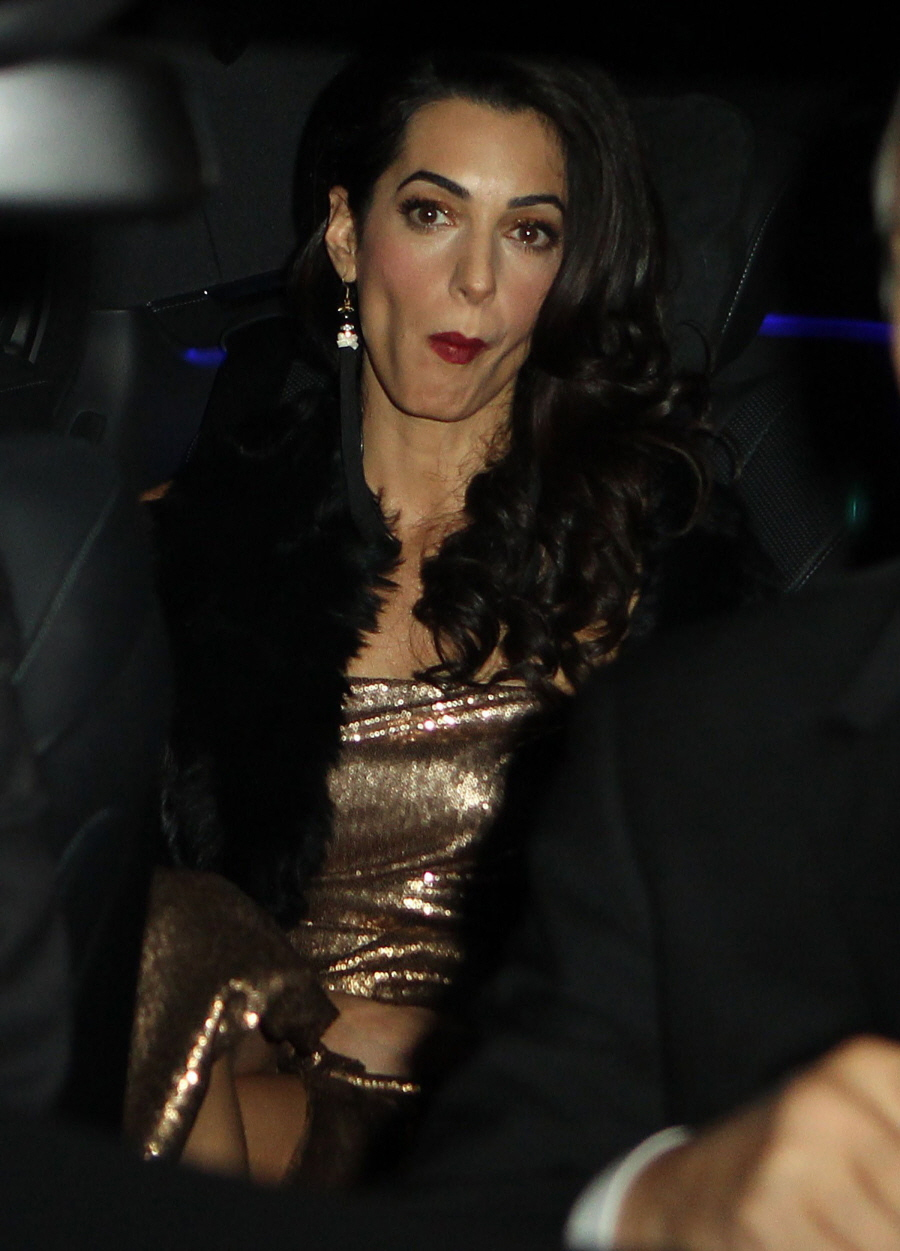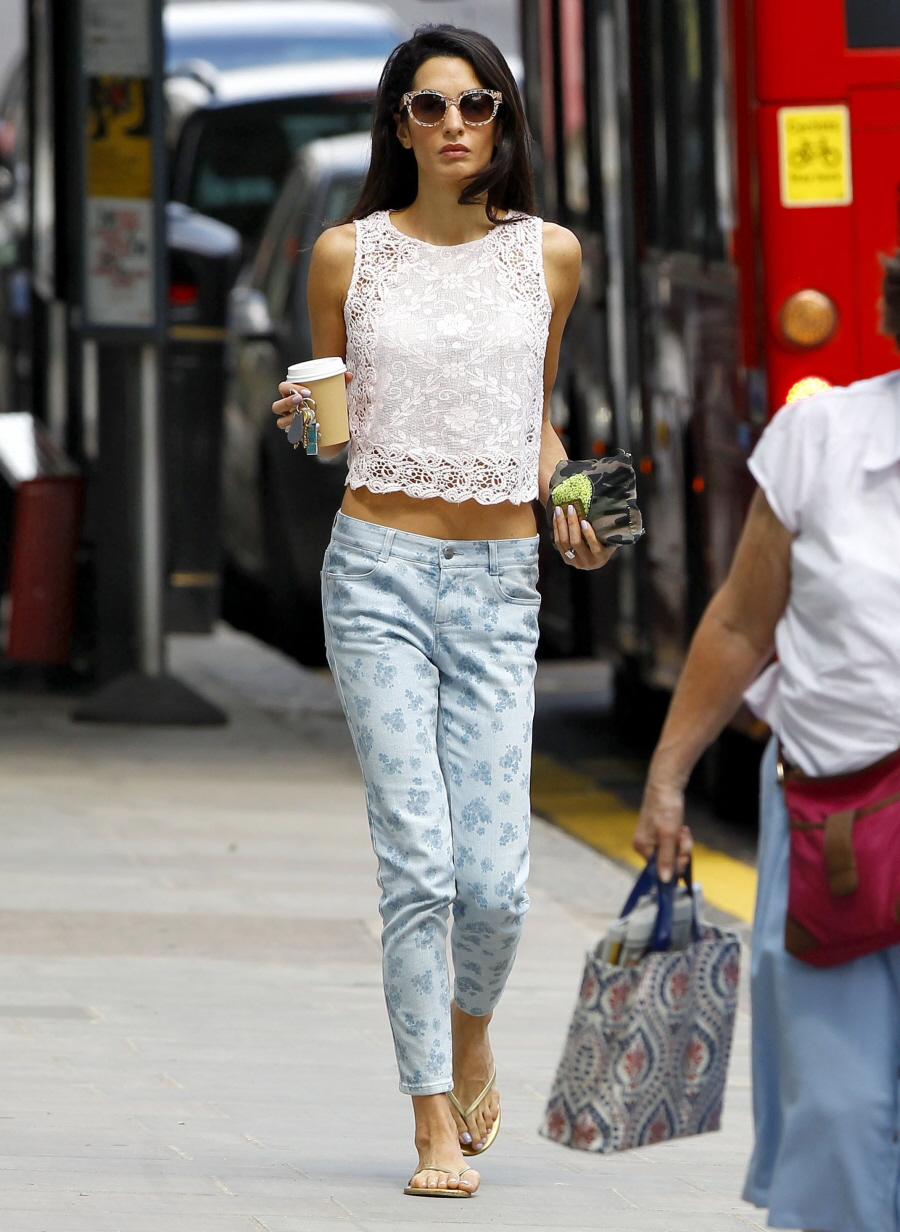 Photos courtesy of Fame/Flynet.