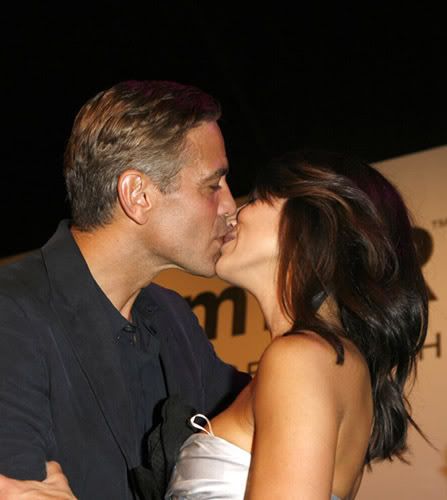 George Clooney kissed a very lucky woman the other night after auctioning himself at an AIDS research fundrasier.
Lucky cow! If I were her I'd never wash my lips again. What man can kiss you after you have kissed the Clooney?
Here's People's summary of the events:
Clooney and his Ocean's Thirteen co-stars Matt Damon, Don Cheadle, Andy Garcia and Ellen Barkin made a brief appearance at the annual Cinema Against AIDS dinner, which raised a record $7 million for the Foundation for AIDS Research (amfAR).

As Clooney and his castmates auctioned off a seven-day Mediterranean getaway on a private boat, Stone announced: "If you bid, one of these guys will come down and touch you. And you can choose which one."

But the choice was clear. With flourish – and on stage – Clooney promptly kissed the lucky girlfriend of the winning bidder, who'd ponied up $350,000.

"I'll kiss [Clooney] for $500,000," joked Ellen Barkin. And as dozens of guests clicked their camera phones, Clooney then kissed her, too.
Michelle Rodriguez offered to kiss Sharon Stone if bidders would go higher on a private tennis lesson from guest Monica Seles. The bidders did, but Rodriguez chickened out. (Tease — but if anyone's seen the latest pictures of Stone in a bikini I'd run away from that action, too).
Oh well, at least it was all done for a good cause. But one question: Why aren't I rich, God, why? I'm a good girl, I say my prayers, I hate Paris Hilton just like other good Christians. Why can't I be blessed with kissing George Clooney as well?
Sigh. I better disconnect the modem before the other half gets home and reads this.
Note by Celebitchy: Here's the video thanks to TMZ. It hardly seems worth $50 to me:


Pictures via Mollygood.