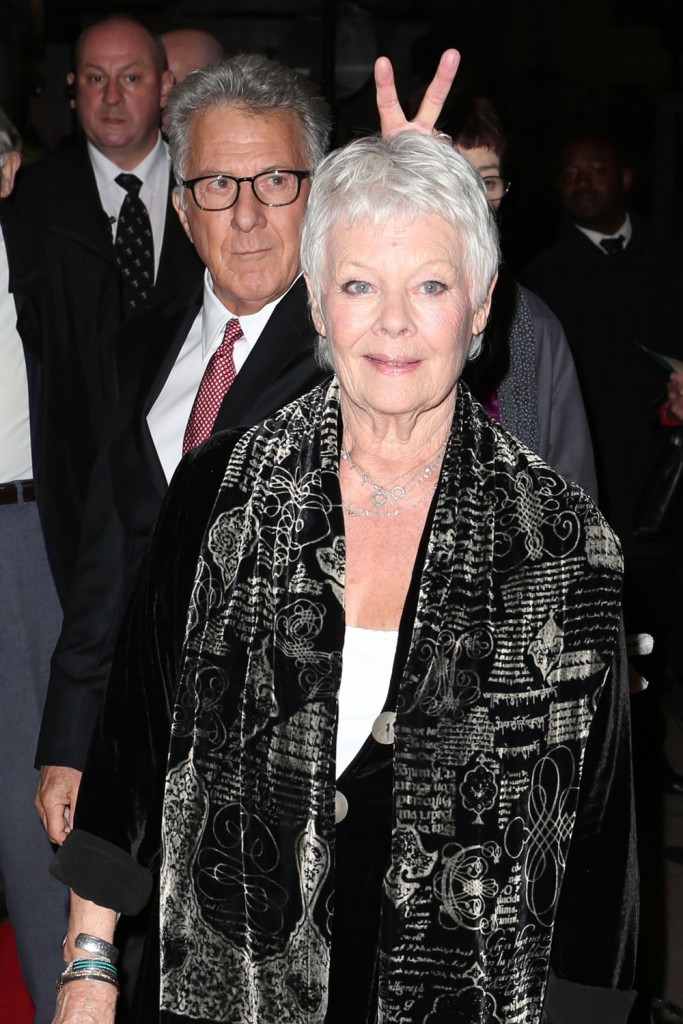 I was just reading through the latest issue of Hello! Magazine when I saw this interview with Dame Judi Dench, buried near the back. Miranda Kerr and Gwyneth Paltrow have full length interviews with photos in that issue but Dame Judi is kind of sandwiched in there. Nobody puts Judi Dench in a corner column. She's doing a BBC Christmas special with Dustin Hoffman called Esio Trot, an adaptation of a Roald Dahl short story about two neighbors who "bond over a pet tortoise." I know that story! With Dench and Hoffman involved, it's likely to be incredible.
Judi had quite a few things to say to Richard Arnold, who is ITV's Good Morning Britain's Showbiz editor and is moonlighting for Hello! She was pretty vocal about people always bringing up her age, 80, and asking her when she's going to retire. Never, bitches! Here's more:
"I just think that age is a number and it's imposed on you. For some reason, the only time I got upset was when I was 40. But now I think it's that old thing that everybody says: 'You're as old as you feel.'

"The only thing is, it drives me absolutely spare when people say, 'Are you going to retire?' Or, 'Don't you think it's time to put your feet up?' Or they tell me my age. People like to tell you your age. They love it and I loath it. I don't want to be told that I'm too old to do something. I want to try it first. And then if I don't succeed I can be told I can't do it."

On being told she would never make it in movies
"That's right. It was an office in Piccadilly, I always remember it. I'm not going to tell you who it was. But yes, he said, 'I'm sorry. You will never make a film.' Because, he said, 'Your face is the kind of wrong arrangement.'"
[From Hello! Magazine, print edition, December 22, 2014]
There's more in the print edition of Hello!, the one with gorgeous Prince George on the cover. That baby is so adorable. Dame Judi talks about loving a good challenge in her career and I found myself just wishing I was hanging out with her, having a cuppa. She would intimidate the hell out of me, but I would love to get the opportunity to listen to her.
Kaiser reminds me of another reason why people may be asking Dench when she's going to retire: she's going blind. Back in 2012 she admitted that she suffers from macular degeneration and that she was no longer able to read scripts on her own. She said "I can't read scripts any more before because of the trouble with my eyes. And so somebody comes and reads them to me, like telling me a story." That makes her seem even more hardcore to me. She can't even see well enough to read and she's not about to retire.
After I wrote this story, I found out that Judi said this in a press conference last month, so this wasn't exactly a one-on-one interview, but it's worth covering anyway!