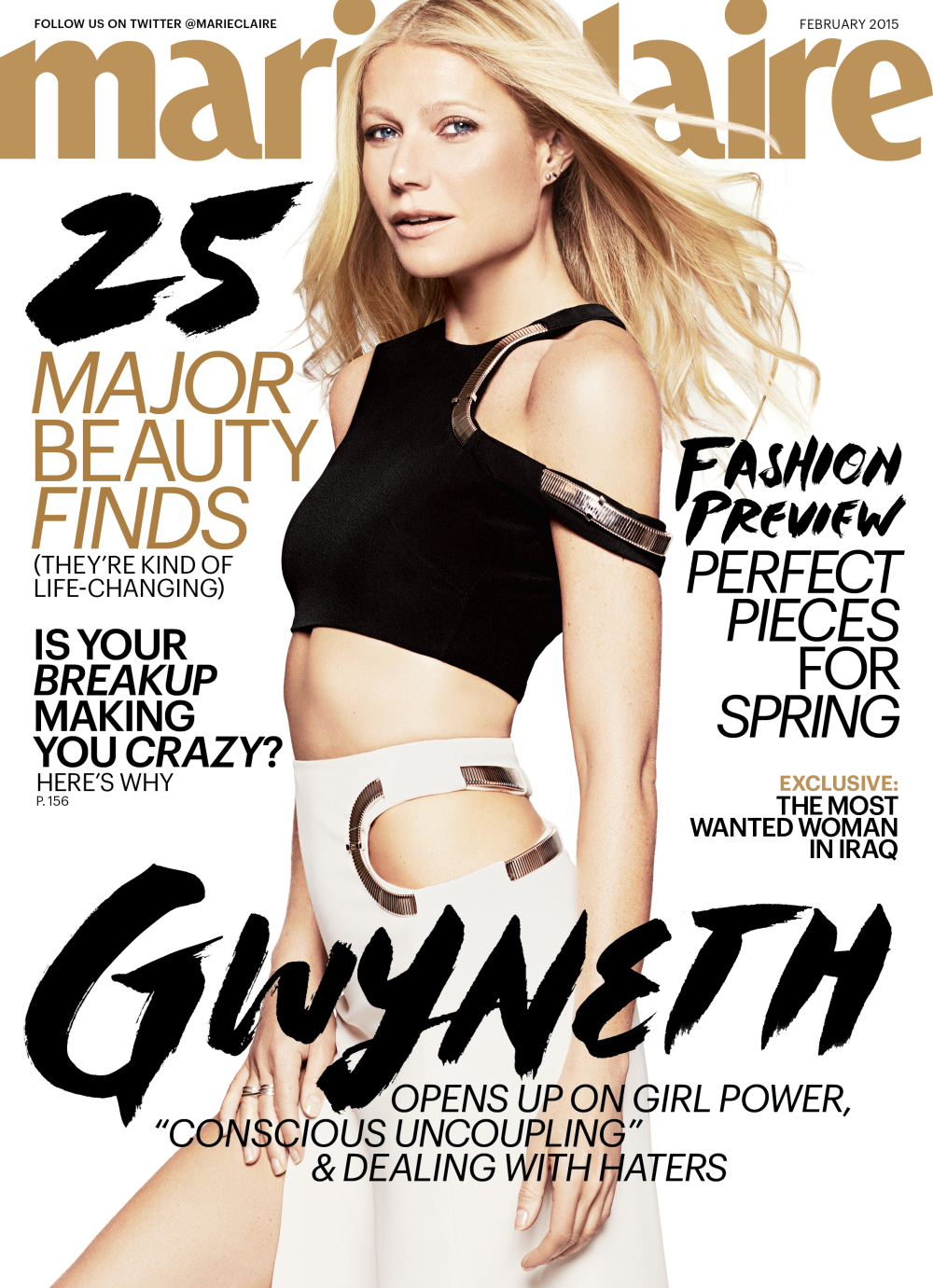 Er, what's going on with the styling for Gwyneth Paltrow's Marie Claire cover shoot? At first I thought there was an eyebrow issue, but as I'm really examining the photos, I think it might be a lipstick issue? Everything on her face is just too all-one-color. She looks washed-out. She needs, like, a smoky eye and some dark lipstick or something. Anyway, I actually had a preview of this Marie Claire story on Friday – Page Six had early excerpts and the cover hadn't been released yet, so there you go. Now Marie Claire has released more quotes and several images – go here to see MC's package. Some highlights from Goop's interview:
Working with her friend Ewan McGregor on Mortdecai: "It was surreal," Paltrow says about the double-decade time lapse since working on 'Emma'. She and McGregor fell easily into reminiscing about that shoot and how they would bum cigarettes from the driver on rides out to the farm where they practiced riding horses and driving traps. "All three of us would be chain-smoking out the window," recalls Paltrow. "The driver was awesome." After work, they would hang out in small country-house hotels, drinking and smoking. "You know, we were kids."

On her costars over the years: "Whether it's Morgan Freeman [1995's Se7en] at the beginning of my career or Johnny Depp in my last movie [this month's Mortdecai], I feel on-my-knees gratitude for being considered a good enough actor to work with actors of that caliber."

On her current relationship with Chris Martin: "We've worked really f–king hard to get to [this] point. But we're very, very close, and it's so nice. I feel like it's, in a way, the relationship we were meant to have."

On entrepreneurship: "I know what I want to do, and I'm going to do it. I don't care so much about the men, but I wish that women were slightly more understanding of other women. A lot of women reporters try to pit me against other women doing entrepreneurial things. There's room for everybody."

On productivity: "I'm in meetings with investment bankers, VC firms, private equity firms—you name it, across the board, men. Women in 30 minutes can get more accomplished than men in two hours."

On raising children: "I think we are all genuinely doing our best, it's hard to have children and a career, and all some women seem to do is judge other women's choices. I find that demoralizing and unhelpful. Where is the wisdom coming out of this situation? I don't see where this is getting us anywhere in terms of a cultural discussion."
Whether Gwyneth is calling herself a self-made woman or talking about "judging other women's choices," it really feels like Gwyneth is going through a stage where she is really lacking in any kind of self-awareness. Like, she doesn't even realize how privileged she is. She doesn't even realize that she's spent a decade judging other women for their life choices. She doesn't even seem to "get" that she and Martha Stewart are actually BOTH engaging in a two-sided war. Or is this all some kind of game for Gwyneth? Is she actually a judgmental elitist engaging in petty feuds right and left, but she just thinks the peasants are too stupid to realize it, so she can say whatever she wants and people will just eat it up?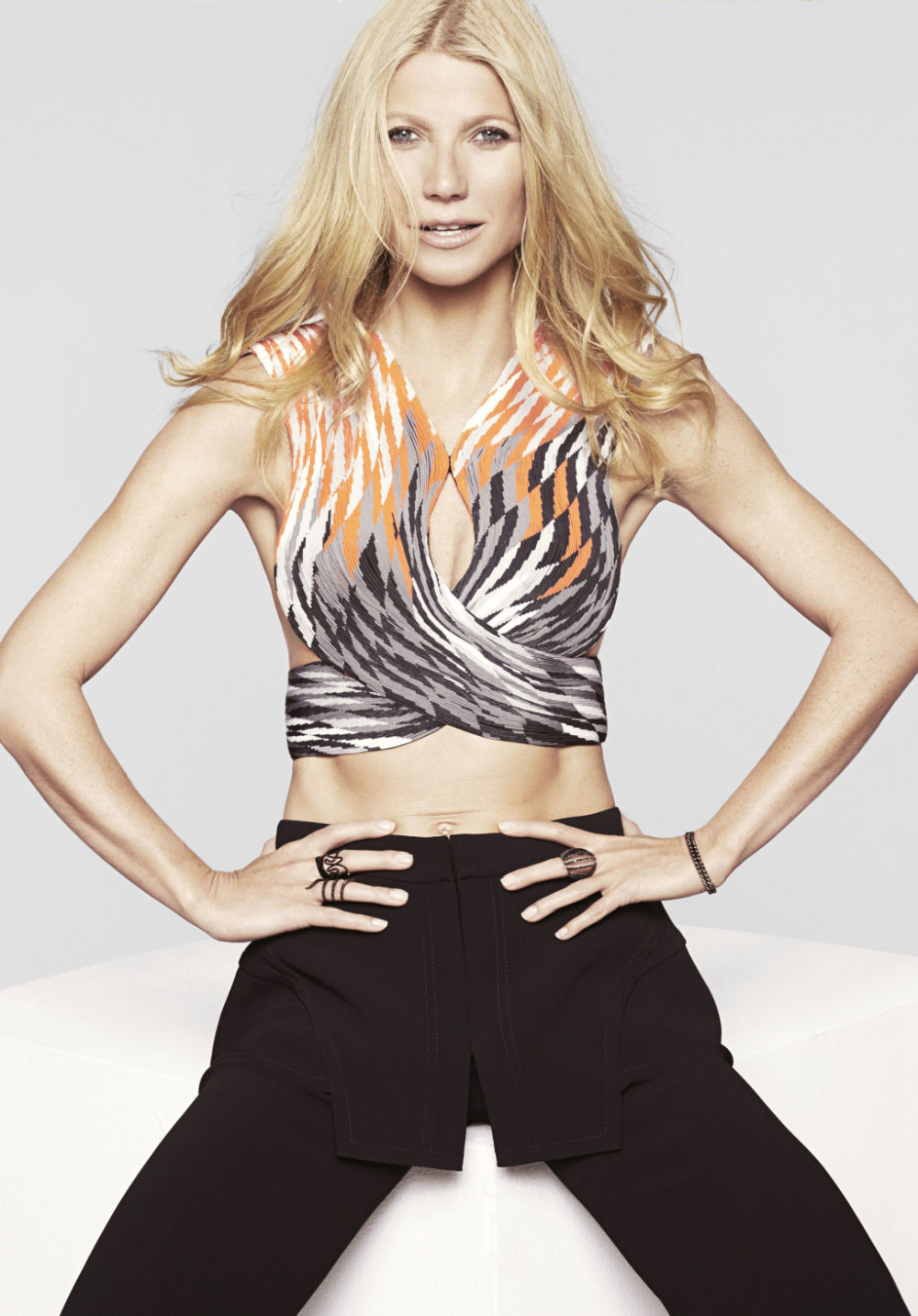 Photos courtesy of Jan Welters/Marie Claire.