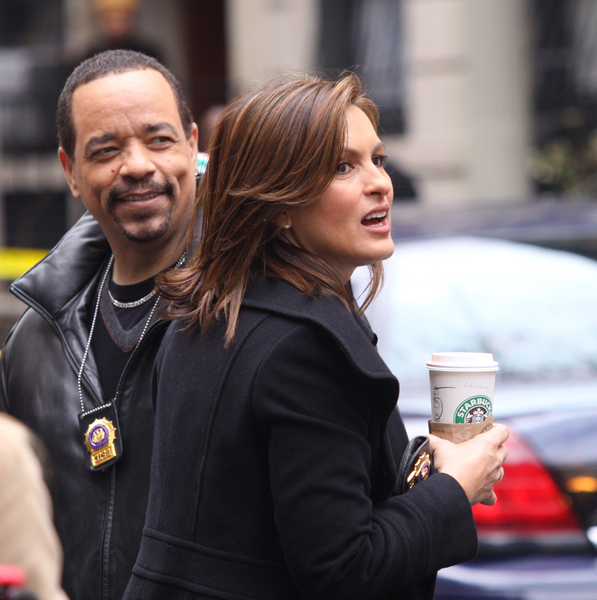 In January, news broke that Mariska Hargitay had suffered a partially collapsed lung, and the actress was hospitalized for a week. She went back to work soon after, but there were still rumors that the actress was struggling. Then last week word broke that Hargitay had been experiencing chest pain on the set of "Law & Order: SVU" and was being re-hospitalized.
The current information is that Mariska is still suffering from some kind of infection, and sources told Star Magazine that she will most likely need surgery, though Mariska's spokeperson only confirmed that she's undergoing tests. Her L&O co-star Ice-T (who brilliantly portrays Detective Odafin "Fin" Tutuola) spoke out about his friend at a recent event, and People Magazine has more:
Law & Order: SVU star Ice-T was surprised to hear that his costar, Mariska Hargitay, was re-hospitalized Tuesday night after she had returned to the set so quickly – less than a month – after undergoing surgery in January for a partially collapsed lung.

"When she came back last time it was like nothing ever happened. She's very resilient. This woman is a hard worker; she works 14 hours a day. I don't know what you know about episodic drama television, but it's like a movie that never ends, it's just one day," the Grammy-winning rapper and actor, 51, told PEOPLE Thursday at the VH1 Save the Music Foundation event, co-sponsored by LG Mobile Phones.

On the topic of Hargitay, 45, Ice-T cited her desire to downplay any hardships she might be facing. "Mariska is the type of woman that if you walk up and say, 'How are you?' She's almost like a guy and is like, 'Yeah, yeah, I'm all right.'

"It's almost as if you insult her. She doesn't want you to feel sorry for her, she's like, 'I'm on my feet.' "

In the meantime – although Ice-T's been told Hargitay is "doing okay" – "My personal thought is she just needs to take a little time and rest," he says. "I mean, it's a serious thing. You can't just come right back. You'll re-injure yourself."
[From People Magazine]
That's sweet, right? Like the gangster rapper really cares about his girl Mariska. Ice-T has been on the cast of SVU for more than eight years, and I've always believed that out of all of the L&O series, SVU has the best, most cohesive ensemble cast. And I agree whole-heartedly with Ice-T's recommendation to his girl – Mariska needs to take a break and get well. SVU will still be there when she gets better. In the meantime, they can write around her character like they did when she was pregnant. Prayers to Mariska!
Here's Ice-T and Mariska on the "SVU" set in Manhattan on February 10th. Images thanks to PRPhotos.com.