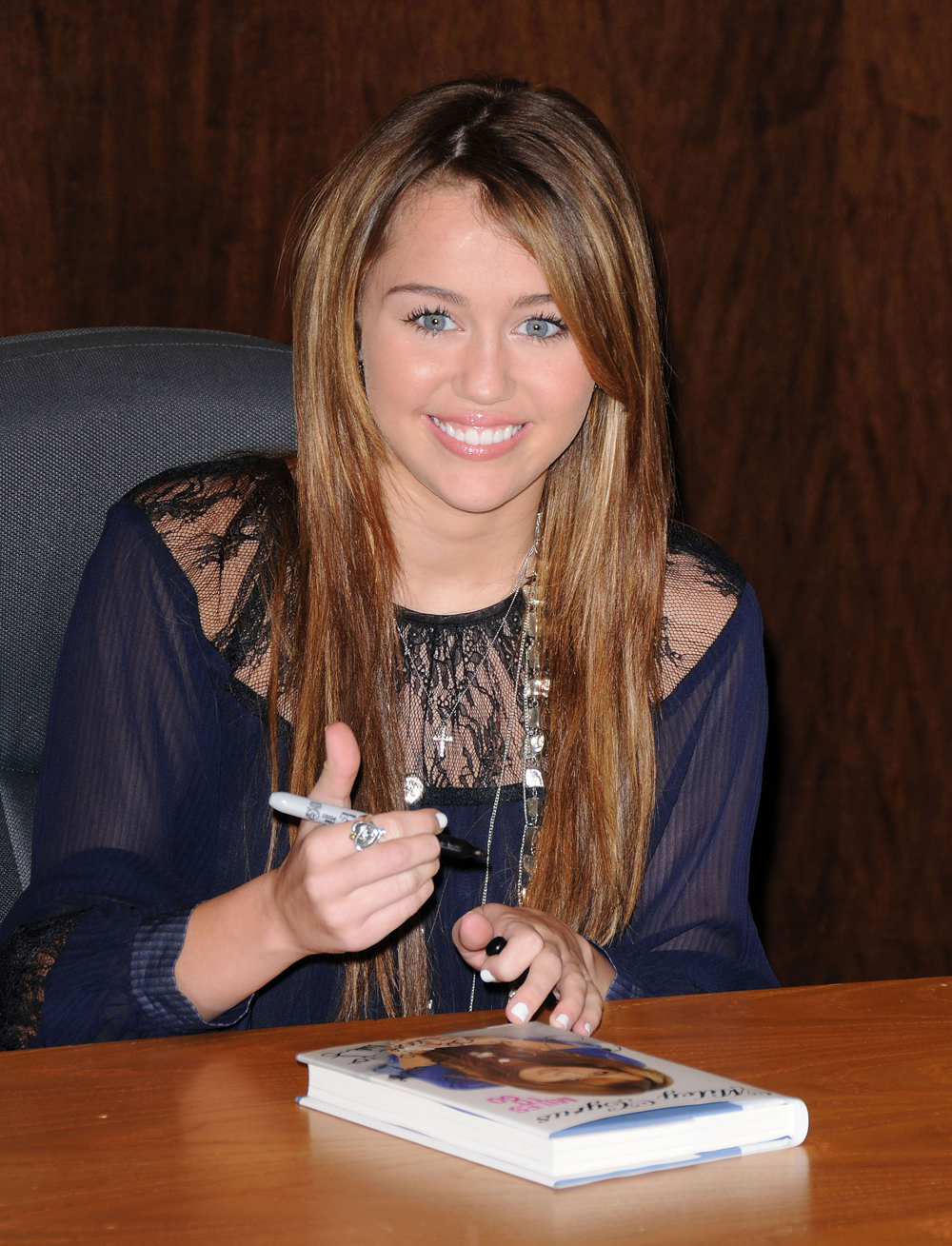 Remember how Miley Cyrus was telling every reporter at the Oscars how she wanted to meet Angelina Jolie that night? I believe her exact words were "I want to be adopted." Unfortunately for all involved (or not so much), Miley didn't get to meet Angelina. She talked about this specific pain in the days after the Oscars.
While it's still up in the air whether Angelina purposefully snubbed Miley or the two women's paths never crossed, she is still talking about La Jolie. But she wants everybody to know that her desire to meet Angelina shouldn't be considered a "girl crush." Miley just likes Angelina the appropriate amount. OK! has more:
Miley Cyrus wants everyone to know she loves Angelina Jolie – but not that way y'all.
While out signing copies of her new book Miles to Go in L.A. this weekend, Miley told Extra just how big an Angie fan she really is.

"I don't have a girl crush on Angelina, but I definitely think she's super beautiful and anyone that says she's not pretty is lying to you because she is gorgeous," Miley said.

"She's really unique and never scared to step over the line and be crazy and be herself. I like that."

Thanks for clearing that up for us Miley! We were starting to wonder…
[From OK! Magazine]
So, my first thought when I read this was that Miley is concerned that her previous gushing about Angelina might be construed as a whiff of latent lesbianism in the young Disney star. If that's the case, this is a bad way to back-track, because Miley comes across as just another teenage girl with a girl crush on Angelina. Why is that so bad? Does Disney hate lesbians so much that now Miley's simple, innocent girl crush needs to be vetted?
A lot of us spew hate towards Miley (and I'm one of them), but I think in this particular instance, her Angelina girl crush is probably the most innocent thing she's got going on.
Here's Miley promoting her book, 'Miles To Go' at a Barnes & Noble in Los Angeles on Saturday. Images thanks to WENN.com.