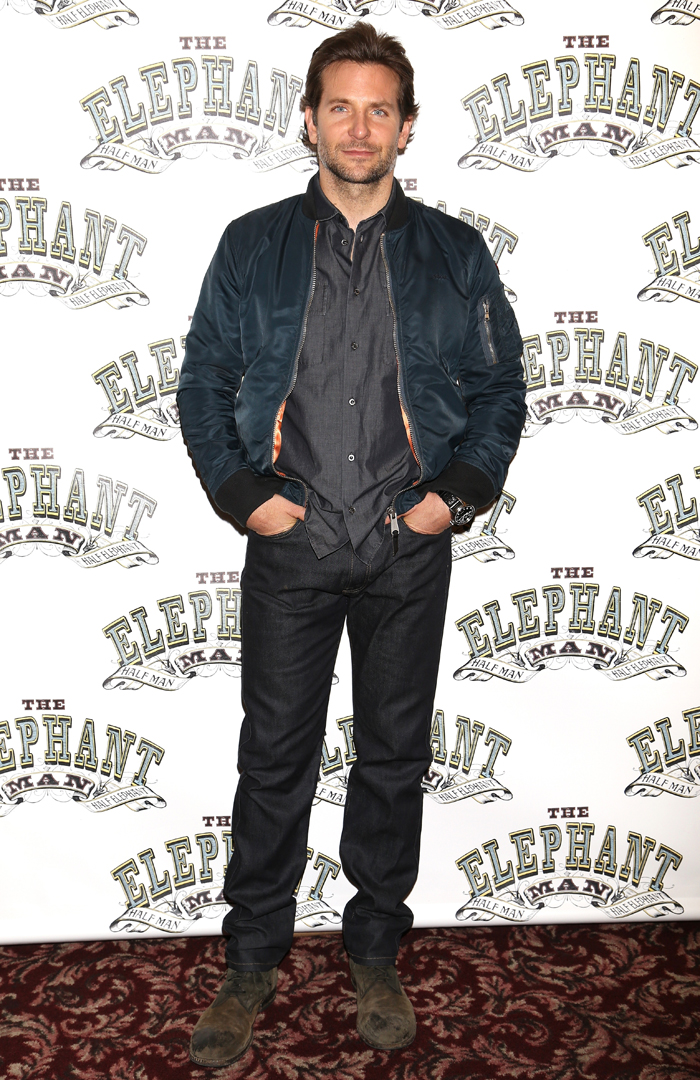 Bradley Cooper's pounding the pavement for American Sniper, which goes wide this week. The movie should attract a strong military audience, for whom Navy SEAL Chris Kyle is something of a legend. My perception of Bradley's limited press tour is that he pursued the role as Oscar bait, but it turned into much more for him. That's just a guess, but the movie had just been greenlighted when Kyle was murdered. That upped the stakes for Bradley in terms of honoring Kyle's memory.
Bradley's fending off blowback from critics of the film, which (oddly) is mostly coming from people who haven't watched it. Some of them have read (parts of) Kyle's book and are calling him a "hate-filled killer" who shouldn't be called a hero by "simplistic patriots." They're calling the movie "American horsesh*t." The Daily Beast was on hand for a screening at the U.S. Navy Memorial where Bradley spoke about the criticism. Coop also touches upon what we discussed yesterday — the difficulty of reacclimation to civilian life after a deployment ends.
BCoop says this movie isn't a political discussion: "My hope is that if someone is having a political conversation about whether we should or should not have been in Iraq, whether the war is worth fighting, whether we won, whether we didn't, why are we still there, all those [issues], that really–I hope–is not one that they would use this movie as a tool for. And for me, and for Clint, this movie was always a character study about what the plight is for a soldier. The guy that I got to know, through all the source material that I read and watched, and home videos–hours and hours–I never saw anything like that. But I can't control how people are gonna use this movie as a tool, or what they pick and choose whatever they want. But it would be short-changing, I think. If it's not this movie, I hope to god another movie will come out where it will shed light on the fact of what servicemen and women have to go through, and that we need to pay attention to our vets. It doesn't go any farther than that. It's not a political discussion about war, even … It's a discussion about the reality. And the reality is that people are coming home, and we have to take care of them."

This is a "universal" study of warriors & family lives: "I wouldn't even put it [just] to Iraq. That happens to be Chris's story. Our whole idea was to do a character study about a soldier, and a soldier and a family, and what it's like having to deal with the schizophrenic nature of having to jostle between a home life and being in theater. I think hopefully it could be a universal story."

Taya Kyle responds: "I haven't noticed much of [the criticism], but I think that even Mother Teresa can be criticized by somebody, somewhere, doing it just wanting to spread their own hatred. But the people who knew Chris, and certainly the life that he lived, proved that it's quite the opposite. He was not a hate-filled person. He was just a man doing his job. There were people who were going to kill his brothers or Iraqi civilians, and he had a choice to make. Either he lets that happen, or he takes on the price of taking somebody else out. I think if we all take it to a personal level and imagine what that must be like, like if you had your family standing there, and I was running at them, would you just let me do that, or would you try to stop me in any way you could? It's actually a love thing, it's not a hate thing."
[From Daily Beast]
Sigh. This is a sticky subject. I see what Bradley's saying about Sniper being a case study of one particular soldier and his struggles to balance work and family. But this guy's work just happened to involve killing people, and there's no way around that topic. People are going to have strong feelings, either positive or negative. If you're going to make a movie that is about the most lethal sniper in U.S. military history … you can't pretend that it's not at least a little bit political. Still, a lot of the criticism is based upon assumptions from people who haven't watched the film, which is unfair.
FYI: The Beast also quotes VP Joe Biden as saying the film is "intense, man." Biden was reportedly moved to tears by the movie's ending.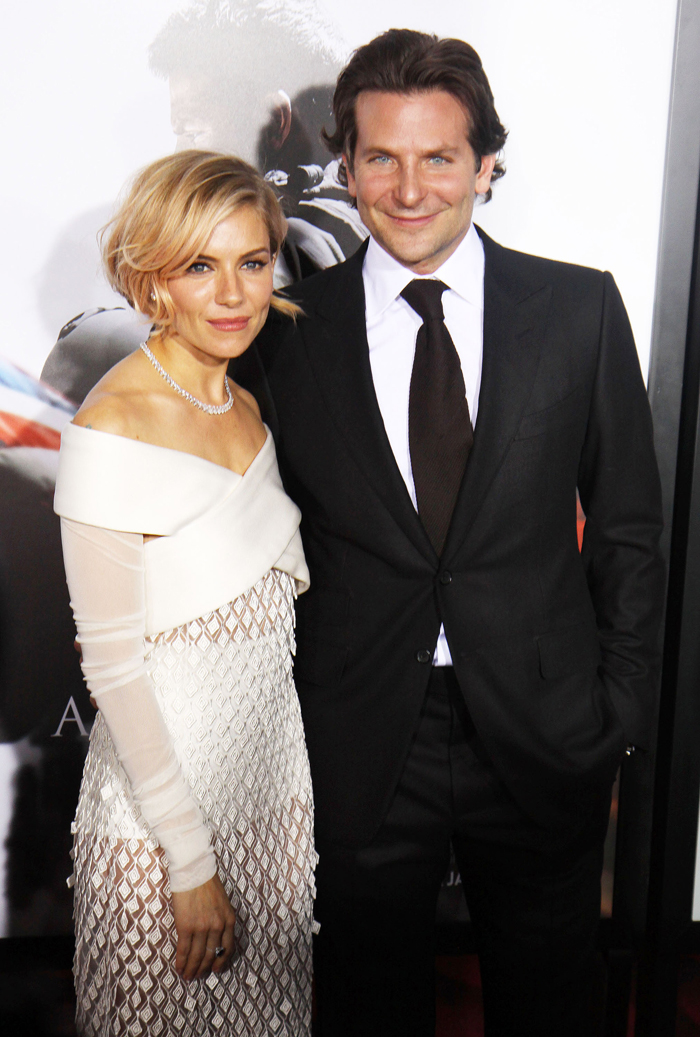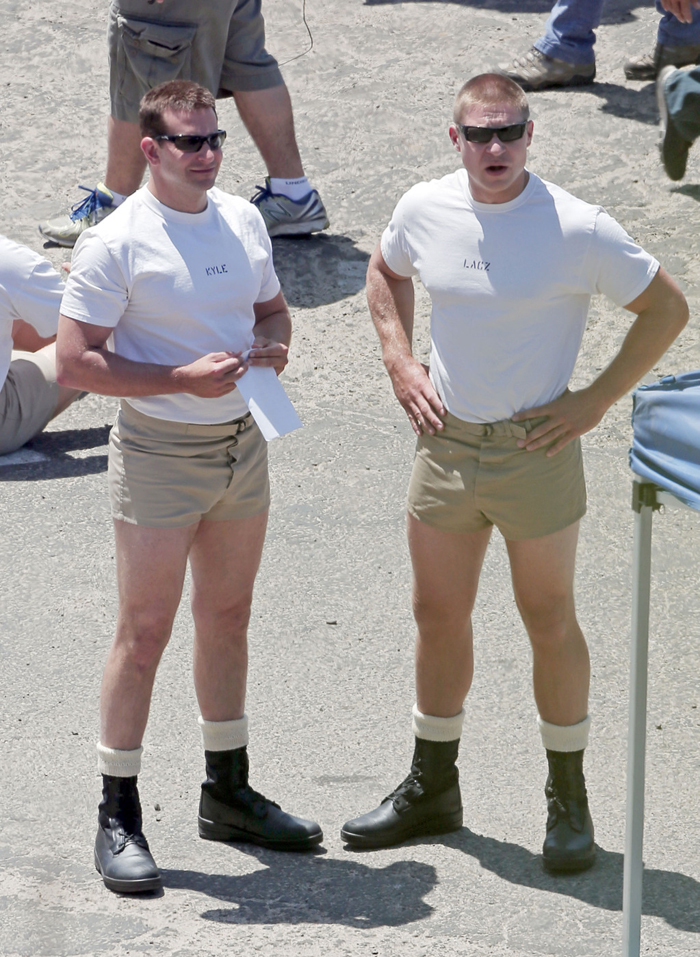 Photos courtesy of Fame/Flynet, Pacific Coast News & WENN