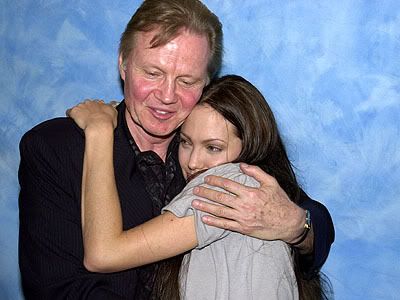 As Brad Pitt and Angelina Jolie jet around the world with their four children, they have made time for Pitt's family. Brad Pitt's mom, dad, brother and sister were seen in Prague for Shiloh's first birthday, and his parents are frequent visitors at their home in New Orleans, with Brad's mom often babysitting.
Angelina Jolie's estranged father, Jon Voight, has not met any of his grandchildren, and is reaching out to Pitt's family to help him. Voight had a public falling out with Angelina five years ago when he called her mentally unstable on Access Hollywood. Angelina has not spoken to him since. Angelina's brother, James Haven, has been outspoken about their troubled relationship with their father, who left their now-deceased mother, Marcheline Bertrand, when they were little.
Everyone was wondering if Angelina's mother's death would help her reconcile with her father. That didn't happen, and now Voight is said to be in contact with Brad's parents in a desperate attempt to see his grandchildren:
Angelina Jolie's estranged dad Jon Voight is so desperate to reconcile with his daughter and see his grandchildren for the first time that he's been reaching out to Brad Pitt's parents behind her back for help.

"They've been communicating," says a family friend. "Brad's parents [Bill and Jane Pitt] see it as a 'Christian to Christian' approach. They are regular churchgoers, and Jon's a big religious follower and considers himself a true Christian." And the insider says Brad, who likes Jon, would be pleased if Angie… and her dad healed their strained relationship.
[From Star Magazine, print edition, June 11, 2007]
That's kind of sad that Voight hasn't seen his grandchildren yet. He comes off as kind of a doofus when talking about his grandchildren, although he seems sincere about it. He called Zahara "Shakira" in a interview that aired last August when he also wished happy fifth birthday to Maddox.
You have to feel sorry for the guy, but you don't know what went on in their family or what Angelina's reasons are for cutting him off.
The other day my husband told me about an embroidered saying that used to hang in his now-deceased grandmother's kitchen. It had a phrase in German that roughly translates to "Don't go away angry from your elders' hearth, because they will go away someday too." It sounded more touching when he explained it, but it means that we'll all be dead someday so we may as well make peace when we're still able to.