This is TMZ video footage of Justin Bieber being placed in a chokehold by Coachella security on Sunday night. Such drama! I'm not cheering for anyone being placed into such a compromising position, but considering how Bieber choked Chris Brown for funsies last year, he had it coming. And no one got hurt here. The purpose of the chokehold was to reel in a tantruming Swaggy. He was demanding special treatment at Drake's show. Swaggy tried to walk into the artist's entrance, and security stopped him because the area was already full. Instead of acting like a calm and rational human being (which he claims to be), Bieber argued with security. A sympathetic Coachella employee started to let Bieber have his way, and security didn't like it one bit. Hence the chokehold, and Swaggy quickly found himself ejected from the festival.
Bieber and his entourage walked to the artist's entrance where Drake was performing, when they were stopped by security and told the area was at capacity and they couldn't come in. Bieber and his crew showed security they had the proper wristbands to gain entry.

Eyewitnesses tell TMZ, Bieber argued with security, saying there was no way he could stand in a big crowd because he'd get bombarded by fans. Security wasn't having it and told him to leave.

We're told Bieber persisted and said he was personally invited by Drake and had been waiting all weekend to see him perform. Bieber didn't stand down and security was pissed.

At that point a Coachella staffer came up to Bieber and said she would escort him inside the artist's area. She grabbed Bieber by the arm and began walking him and his security team inside, when Coachella security came up from behind and put Bieber in a chokehold.

We're told Bieber's team got into it with security and the singer was then ordered to leave the festival.

Sources close to Bieber say he voluntarily left, and they're considering taking legal action against the security guards.
[From TMZ]
Bieber is threatening to sue, although I'm not sure what damages he could possibly claim. This post-chokehold whining is pretty rich coming from a guy whose security regularly beats people up inside of clubs to defend his honor. Bieber didn't get exactly what he wanted at Drake's gig, so he's pitching a toddler fit. Go sit down in the corner, young man.
Oh, and people are making a huge deal out of how Selena Gomez "liked" one of Swaggy's Instagram posts. So there may be another reunion soon. Here are pics of Swaggy leaving Coachella on Friday night with Kylie Jenner's bad hair extensions.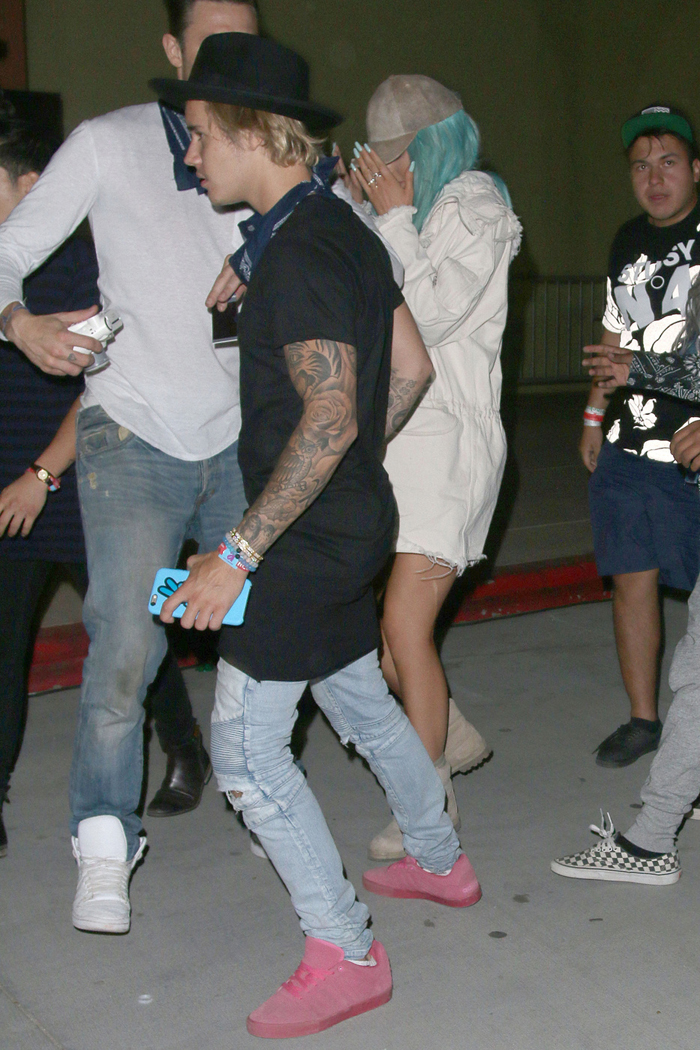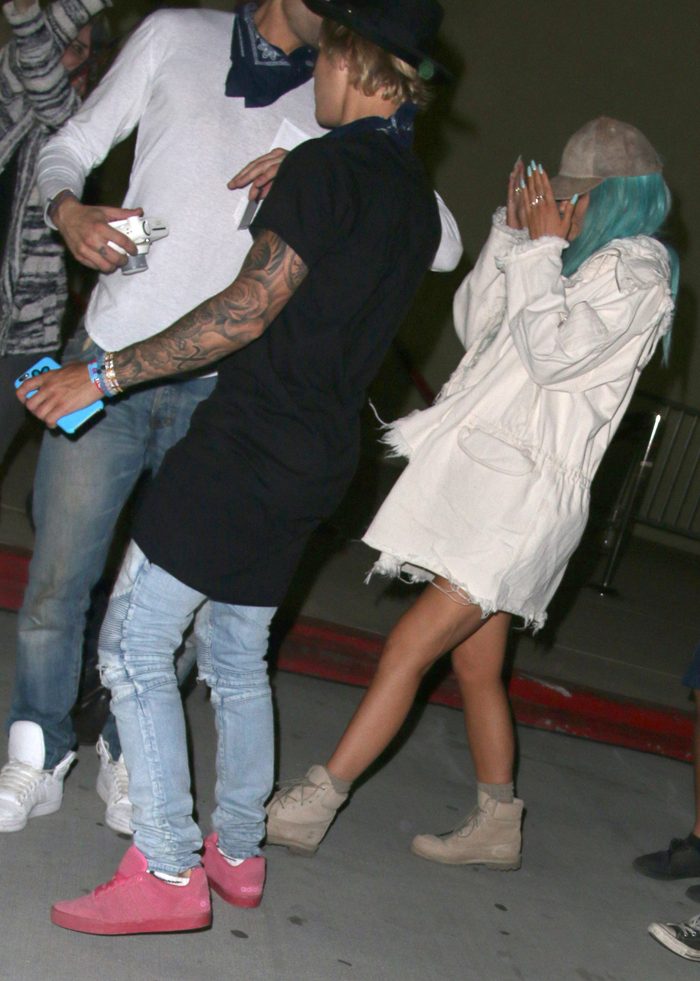 Photos courtesy of Pacific Coast News, Fame/Flynet & WENN