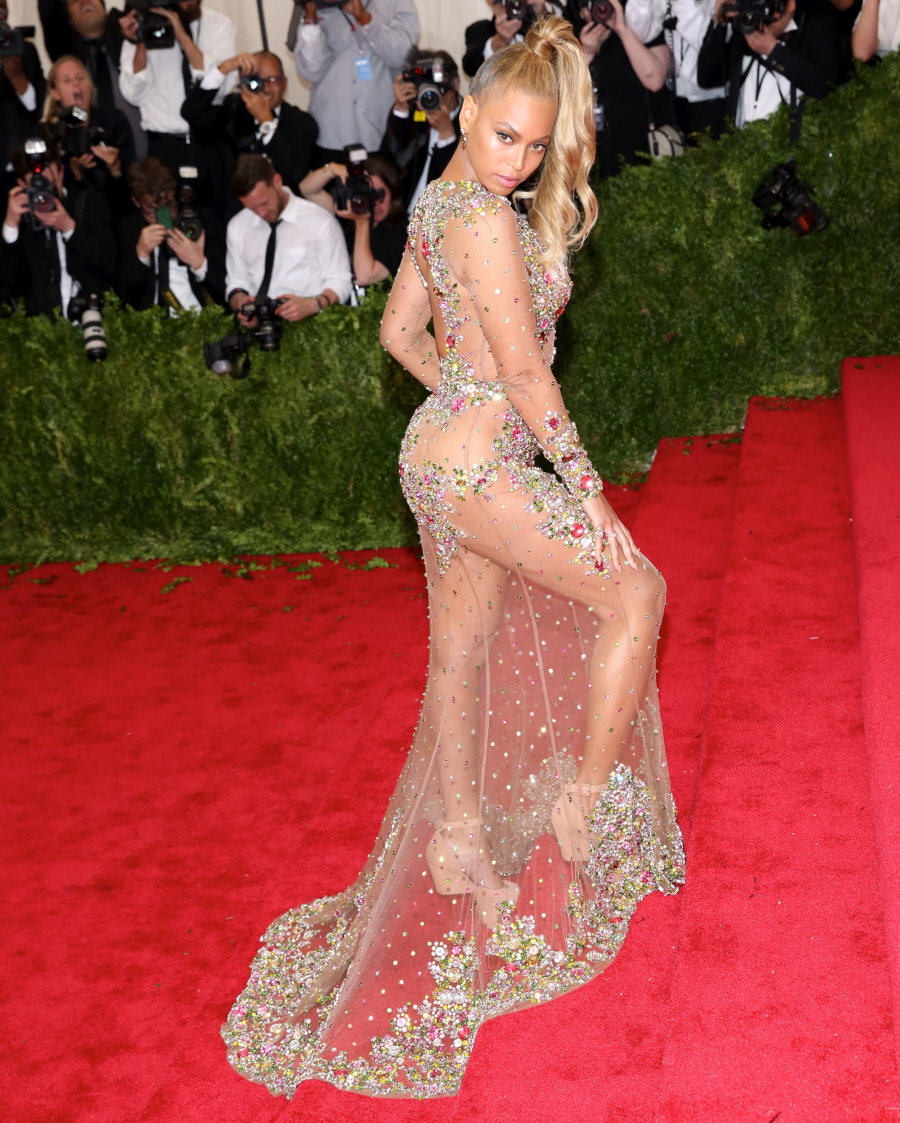 Last week, we heard that Beyonce lost "65 pounds" doing the 22-Day Revolution diet, by Beyonce's personal business partner/dietician Marco Borges. I personally do not believe Beyonce "lost" 65 pounds, even if we're counting pillowy pregnancy weight. She definitely lost weight though – she looked SO small in the Met Gala photos last week, and we should know because Beyonce was basically naked at the Met Gala, so we could see nearly every part of her body. But 65 pounds lighter in the past year and a half? Not so much.
But now I'm guessing that the "65 pounds" is all part of Beyonce's new shill – Beyonce, Jay-Z and Marco Borges have launched their vegan meal delivery service, based on Borges' 22-Day Revolution diet. To promote the meal delivery service, Bey did an interview with the New York Times a few days ago. And when I say "interview" I mean "she emailed a statement to the NYT." The NYT reporter was peeved about that, because an actual interview with Beyonce was on her schedule. The reporter was supposed to do a phone interview "as had been promised for more than a month. Beyoncé, a representative explained, has not answered any direct questions for more than a year. Just back from vacation in Hawaii, she politely responded by email, sounding rather less fiery than the company's South American fiesta lentils." Beyonce does not speak directly to peasants or journalists. If she wants to be interviewed, she will interview herself. So, here are some highlights from the NYT story:
The 22-Days thing is soy-free, dairy-free and gluten free: Beyonce says, "First it's important that you know I am not a vegan."

Borges is rebranding "vegan": He prefers saying "plant-based" because with vegan, "you picture someone who lives in Colorado that doesn't wear deodorant. There's a negative stereotype."

She's not a cook: "I don't really cook, but I'm a really good taste tester."

Bey loves the diet: "At first it's the little things I noticed: I had more energy… The benefits of a plant-based diet need to be known. We should spend more time loving ourselves, which means taking better care of ourselves with good nutrition and making healthier food choices."

Bey & Jay hired an advisor to launch this diet and the NYT notes: "Not everything Beyoncé and Jay Z have touched turns to gold. Beyoncé's fashion line, House of Dereon, for example, has a defunct website, and Jay Z recently took to Twitter to defend Tidal, his streaming music service. To help take the food brand both big and international, the company recently brought on Anne McKevitt, who has advised companies like Walmart and Mercedes."

Bey on adjusting to the diet: She noticed "a noticeable glow to my skin without having to deprive myself of carbs. I even slept better."
I imagine this meal delivery service will go over as well as Tidal? Ha. I actually read the whole NYT piece and it was profoundly stupid. I get the impression that Jay and Bey live in such a sycophantic bubble that they just think that everything they do is brilliant and every one of their ideas must be heard and beloved. They think, "oh, we'll invest in this meal delivery thing and it will be amazing, we barely even need to promote it because everyone loves us and wants to do what we do." And the whole "it's not really vegan" thing bugs me – it's totally vegan. And Beyonce had to tell Borges that he needed to put more salads in the meals!! How did a vegan dietician not understand that people trying a vegan diet need salads?
Here's a photo of Beyonce in NYC a few days ago. She wore a romper with matching shoes!!!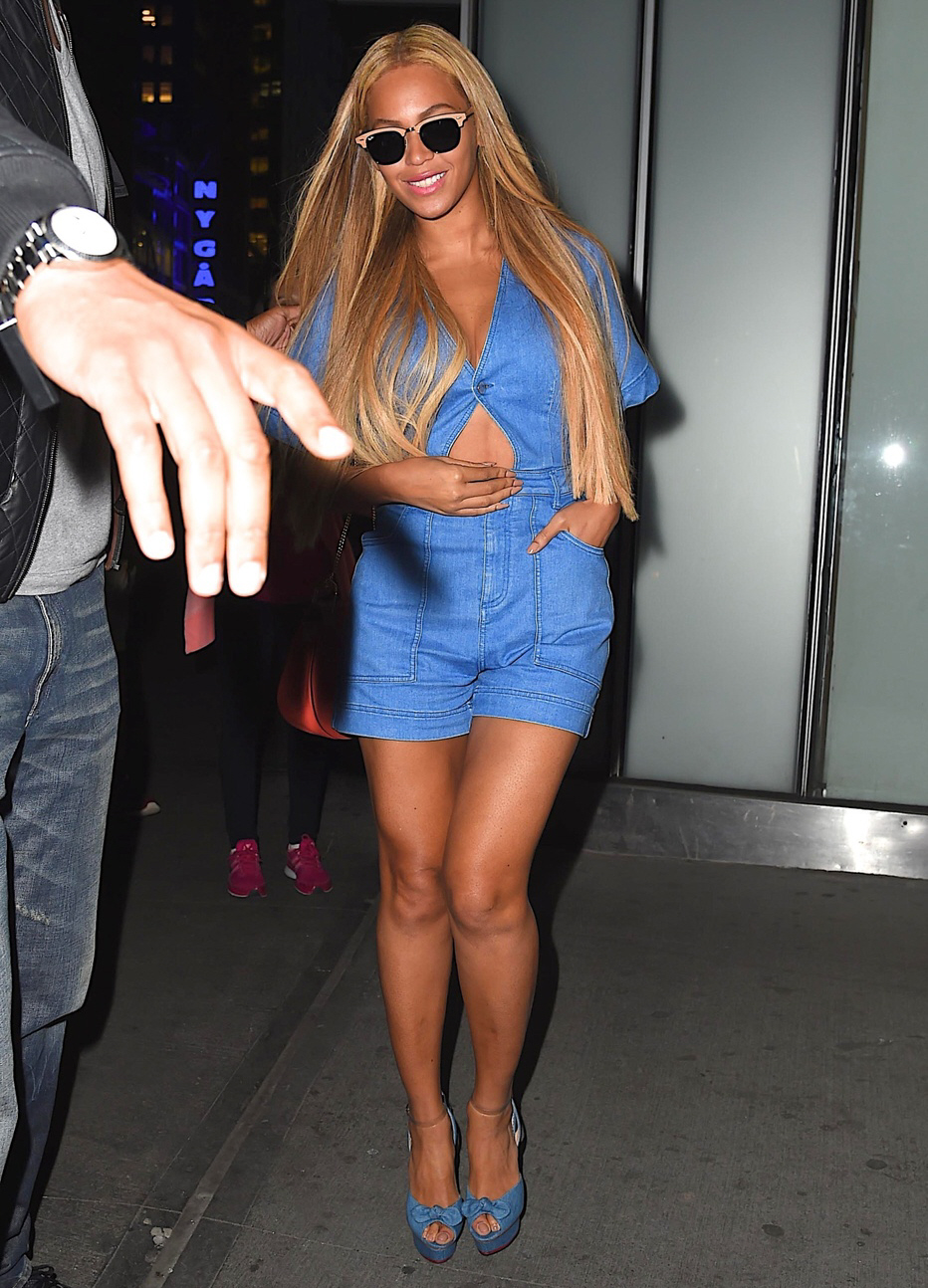 Photos courtesy of WENN, Fame/Flynet and Pacific Coast News.