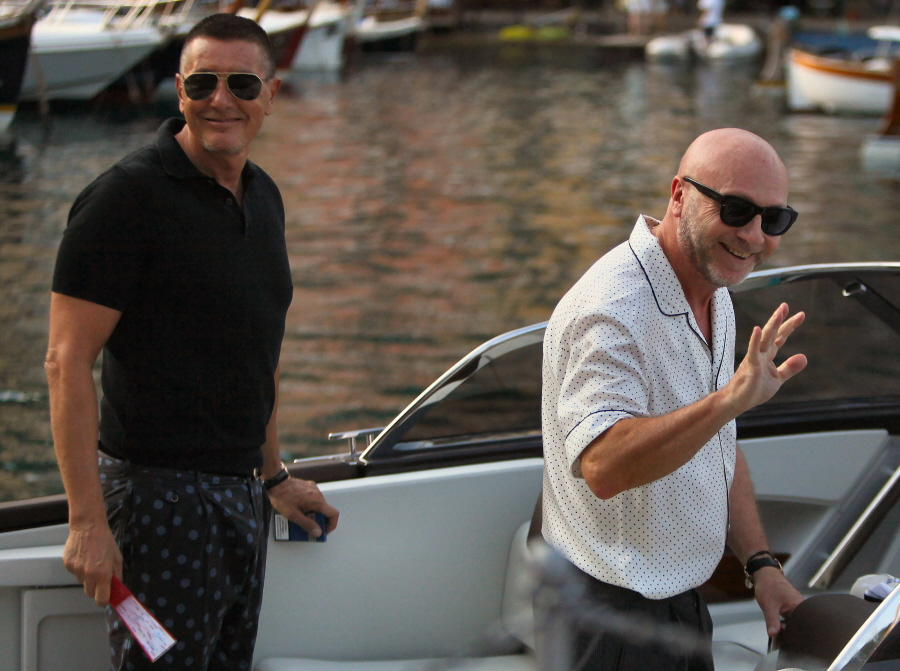 Earlier this year, Stefano Gabbana and Domenico Dolce gave an interview to an Italian publication, and they ended up making news because they offended LGBTQ parents and any parent who has gone through IVF, surrogacy, gestational carriers, etc. Gabbana got the ball rolling by claiming: "The only family is the traditional one. No chemical offsprings and rented uterus: life has a natural flow, there are things that should not be changed." Then Dolce added: "You are born to a mother and a father — or at least that's how it should be. I call children of chemistry, synthetic children. Rented uterus, semen chosen from a catalog." Offensive. They got a ton of backlash and Elton John called for a D&G boycott. Dolce & Gabbana then made the situation so much worse by refusing to apologize, calling Elton a "fascist" and claiming they were being persecuted because people reacted to their offensive statements.
Skip ahead to today, and finally Domenico Dolce has realized the error of his ways. Gabbana too, to a lesser extent: Vogue has a lengthy article/interview with Dolce & Gabbana in which they apologize and seem to finally understand how their statements were offensive and hurtful. You can read the full piece here. Highlights:
Dolce's apology: "I am so sorry. It was not my intention to offend anyone. "I've done some soul-searching. I've talked to Stefano a lot about this. I've realized that my words were inappropriate, and I apologize. They are just kids. You don't need labels, baby labels."

Dolce believes people should have children in whichever way they choose: "I think everybody chooses for themselves. I don't know everything about IVF, but I love it when people are happy. It's like medicine. Science has been put on the table to help people."

Stefano Gabbana on being gay & Italian (where gay marriage is still banned): "When they ask if I wanted to be a parent, I say yes, of course, why not? But it's not possible in Italy. I had thought of going to California and having a baby, but I couldn't bring the baby back to Italy, because you need the mother's passport. I asked about adoption in Italy. It's very hard for a straight couple here—imagine if you are gay!"

For Dolce & Gabbana, it is about their Catholicism: Dolce says, "I never use my faith for advertising." Gabbana, unlike Dolce, does not regularly attend church but, like most Italians, grew up steeped in its culture. "Both our mothers wore medallions of the Virgin in their bras," he says, "for protection." And they're off on a riff. "It's our tradition," declares Dolce. "It's in our blood," Gabbana adds.

They are actually gay pioneers, says Gabbana: "We made our first interview saying we are gay in 1999. It was a question, can you imagine, so late? We lived together, and we talked about love, not sex or being gay. And it was headline TV news in Italy. But for us, it was normal!"

Dolce understands: "Bah! Who needs an institution to tell us how to love? We shouldn't become too rigid. We need to understand, accept everyone."
The hardened bitch in me wonders if Dolce & Gabbana were feeling some kind of heat from the boycott that Elton John proposed (and some might have even gone through with) and if their apology stems from economic pressure. But… I have to say, they really didn't have to do this. I kind of forgot about the controversy and they might have been able to walk away from it without having to apologize. I'm glad they did this though, and I think they really have considered what their original statements meant and how their Catholicism biased their initial views. It's also sort of a teachable moment for #FirstWorldLGBTQ people, you know? Even famous, gay, Italian fashion designers get it wrong.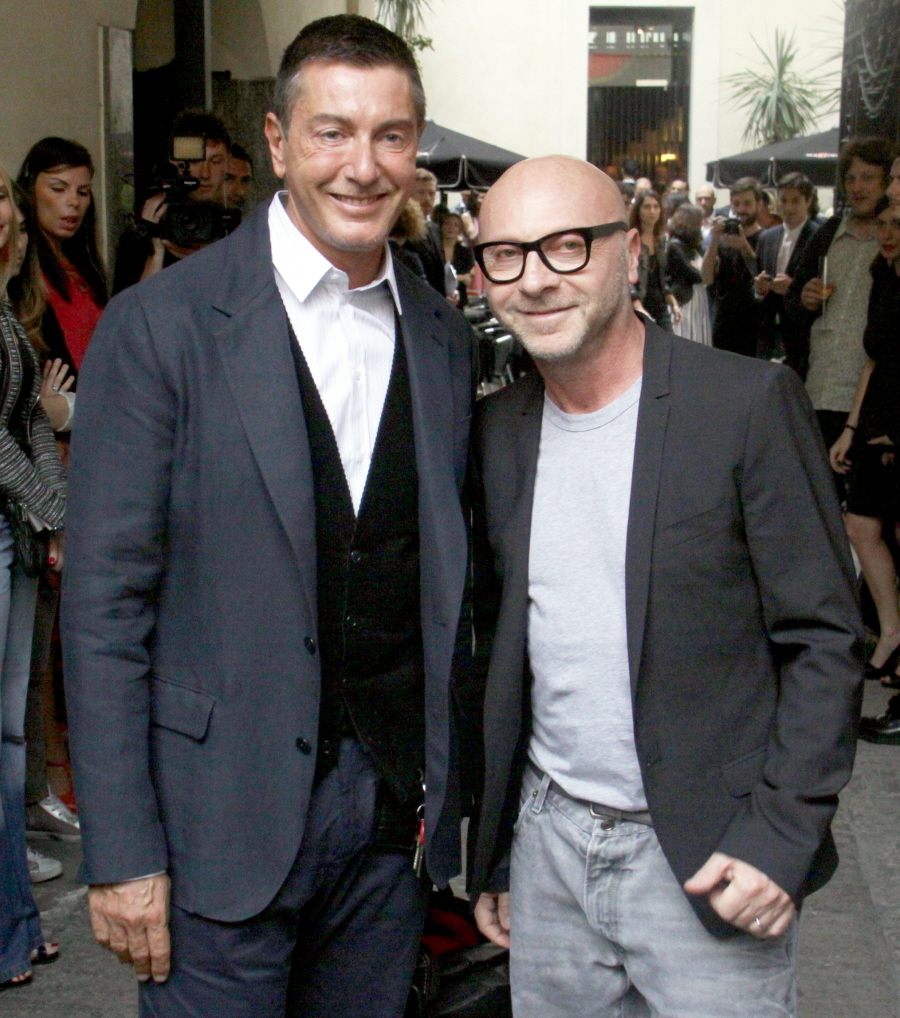 Photos courtesy of WENN.