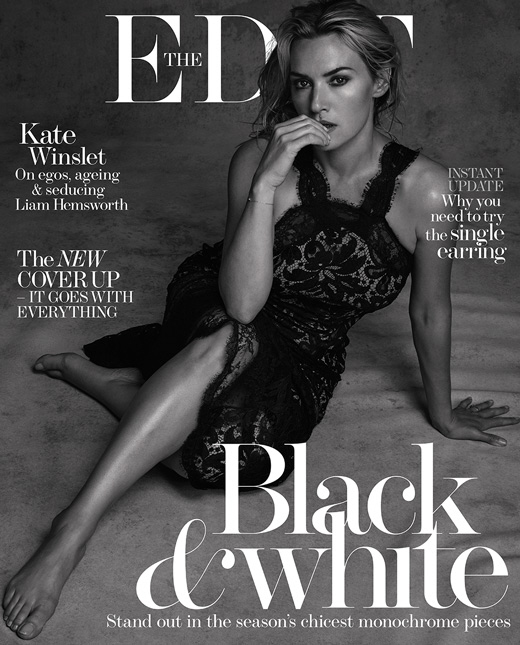 Kate Winslet covers the latest edition of net-a-porter.com's The Edit. The shoot is much better than Winslet's editorial with WSJ. Magazine, let's just say that. Anyway, Winslet has barely even started promoting Steve Jobs and I'm already exhausted with one particular story she's telling about how she got the role of Joanna Hoffman, Jobs' right-hand lady. To hear Winslet tell it, everything was stacked against her! She was too blonde, too British, too romantic to play a hard-edged Polish-American woman who, if we're being honest, probably should have been played by Lizzy Caplan. So Winslet fought The Man and bought a wig and BAM, an Oscar-winning actress convinced some friends to hire her. Sure. Here's more from The Edit:
No one thought she was right for the role in Steve Jobs: "They don't think I'm right for this part. I just wasn't entering their radar. Which is really OK. Girl doesn't have an ego. Girl. Doesn't. Have. An. Ego. So Girl turns round to Husband and says, 'Darling husband – this is lovely Ned – while I'm at work tomorrow please go to a wig shop, and it doesn't matter how s**t they are, just get me three brown wigs.' The best way to be is to have absolutely no ego. Just go for it. I got myself a job that I really bloody wanted. This was: 'I ain't got nothing to lose, f**k it, just send the photo.' And it was lovely to be reminded of that feeling of early auditions, waiting for the phone to ring."

The idea that she's a sex symbol: "Are. You. Mad? No! I've had three children. The idea is incredibly flattering, but that's the [film] version of me. The real me… I'm certainly not against it, but it's something I find more amusing than a triumph."

Aging, confidence: "You can get away with a lot more in your twenties. You can get away with having one too many vodka tonics, and you can wake up in the morning and not have a puffy face. I couldn't go out now and get rip-roaring drunk; I'd take a week to recover and I value my life too much. Plus, I have children. [But] I'm baffled that anyone might not think women get more beautiful as they get older. Confidence comes with age, and looking beautiful comes from the confidence someone has in themselves."

She tried therapy once: "I tried therapy once and thought, 'Oh God, I could outsmart you, goodbye.' So I won't bother with that again."

Her experiences with Hollywood sexism: "I've always had boundaries; I've never felt exploited" – but she also admits she got "very, very lucky. The first job I did [Heavenly Creatures, directed by Peter Jackson] was very prestigious, which helped me professionally but also in terms of how other people perceived my personal integrity. It made a huge difference; I walked right into luvvie central and was welcomed with open arms."

Her advice to young actresses: "They all seem to be doing OK. [Whispers] Some of them are a little bit thin [raises her voice again], but they all seem to be doing great. Shailene Woodley [her co-star in the Divergent films] – whom I adore, respect, have a little bit of a girl crush on – is an outstanding human being. She's incredibly grounded, knows who she is and is doing great work, too."
"I tried therapy once and thought, 'Oh God, I could outsmart you, goodbye.' So I won't bother with that again." I don't get that? Therapy isn't a competition to see who is smarter, the patient or the doctor. I mean… of all the reasons to not want to go into therapy, the whole idea that you could, what? Conceivably lie to your therapist and convince them of something untrue, thus "outsmart" them, thus therapy is crap? Many people find talk therapy beneficial, probably because they don't treat it like an episode of Jeopardy. I'll take Self-absorbed Narcissism for $600, Alex.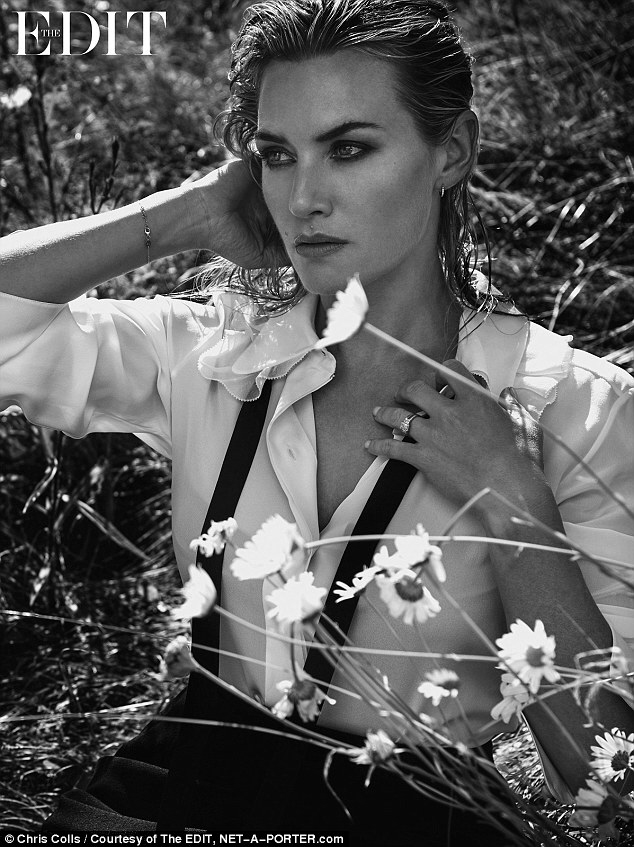 Photos courtesy of The Edit.