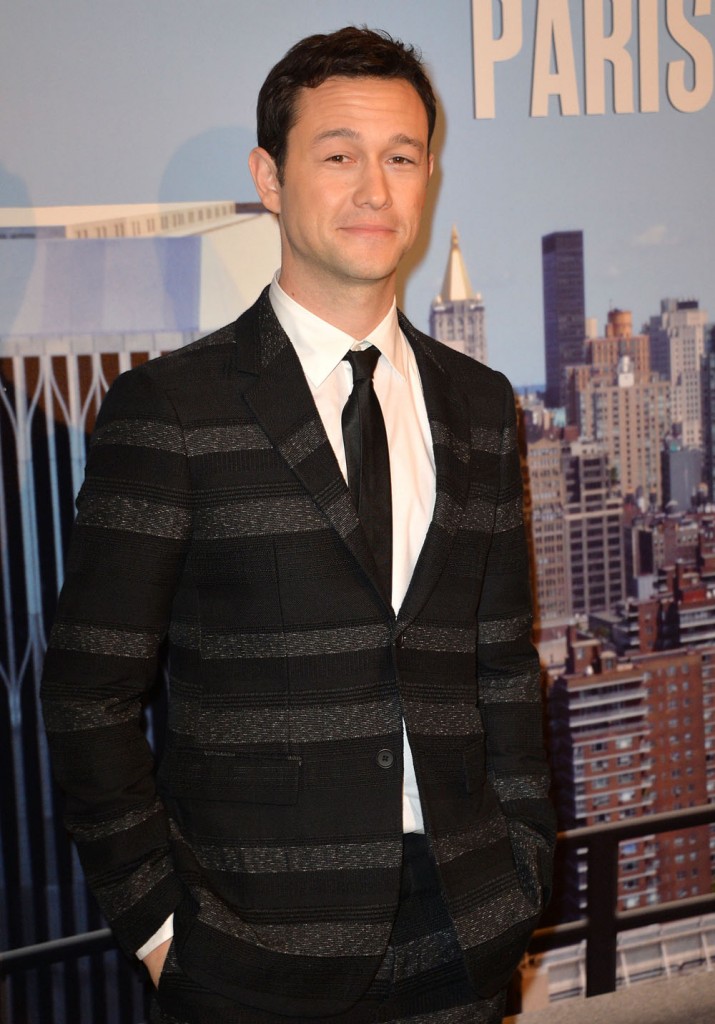 Joseph Gordon Levitt is promoting The Walk, a dramatization of the true story of Frenchman Philippe Petit's death defying 1974 walk on a high wire between The Twin Towers. The film is out this weekend and is available in both 3D and 3D Imax, which is said to enhance the scary scenes. There's already a documentary out about Petit's incredible feat, 2008′s Man on a Wire, which won the Academy Award for Best Documentary. USA Today recommends (mild spoilers in that story) that even if you've seen Man on a Wire, The Walk is well worth a watch for the incredible heart-racing scenes and the absurdity of the real-life plot. The film is currently rated a quite respectable 86% on Rotten Tomatoes, with many critics praising Levitt's performance. You can watch the trailer below.
As many of you know, Levitt is notoriously private about his personal life. We heard early this year that he'd secretly married a scientist named Tasha McCauley, who founded a robotics company based out of Silicon Valley. Then, in August, we heard that the couple had a baby boy at some point but as far as I can find the child's name hasn't been released. (Bedhead, who is on vacation now, wrote "We'll probably never learn this child's name, right?" She's right so far!)
A reporter at Entertainment Tonight got Levitt, 34, to open up a little bit about his son, though. She asked him what it was like being a new dad and he beamed and said "It's wonderful and it makes me really happy. I am just so happy." You can see the video on ET's site. After that they cut to commentary, which makes me wonder if Levitt shut the interview down at that point. ET also reminds us that Levitt clarified his stance on his personal life during a September interview with Playboy. He said "As much as some people may disagree, I don't believe a person's private life – even a person in entertainment – is a public performance." Compare that very well put statement and the fact that Levitt walks the walk with the crap that Matt Damon recently said about actors hiding their sexuality and you'll see why I'm becoming a JGL fan. (Although I'll have to give him back to Bedhead when she returns.)
US Magazine has a more comprehensive interview with Levitt, which primarily focuses on his role and preparation for it. He also has some really nice things to say about the Twin Towers and his experiences in NY:
You're very convincing as a wire walker extraordinaire!
Wonderful! Before filming, Philippe orchestrated this really elaborate workshop, just me and him all day long for eight days straight. He said, "By the end of these eight days, you'll walk on the wire by yourself." I thought that sounded ambitious but he was so thoroughly convinced that I was going to be able to do it that he made me believe. And he was right!

You're insanely fit in this film. Do you have the wire to thank?
Wire walkers are actually in great shape. It's very physically strenuous because your whole body has to be tight. If anything is loose, you flop over and lose your balance. And I was eating really healthy. I cut out sugar and added a lot of vegetables.

Have you visited the [Twin Towers] memorial?
I actually did Philippe's walk there recently. Those two reflecting pools are the footprint of the old towers, so I walked from the north corner of the South Tower to the south corner of the North Tower, just to see what it was like. It was beautiful to see and even though this horrible thing had happened there, we're still there. New York City is as great as it ever was.

What was your personal experience with the Twin Towers?
I went to the top of the World Trade Center towers in the summer of 2001. It was my first summer living in New York after my freshman year at Columbia University, and I remember it distinctly. It felt more like being in the sky than it felt like being in a tall building.

It's the 20th anniversary of 3rd Rock From The Sun in January. Any plans for a cast reunion?
Oh, wow, you're right! I haven't thought about it, but I'm in touch with all of the cast. A reunion would be awesome!
[From US Magazine, print edition, October 19, 2015]
I love how excited he got about a 3rd Rock From The Sun reunion. Levitt is a class act. I'm hoping this film is a success because I would love to see him in more leading roles. He has a kind of old school movie star quality along with a genuine graciousness.
Here's the trailer for The Walk.

And here's JGL at the premiere of The Walk in Paris. His striped suit is awesome. He's shown with costars Clement Sibony and Cesar Domboy. He's also shown with director Robert Zemeckis.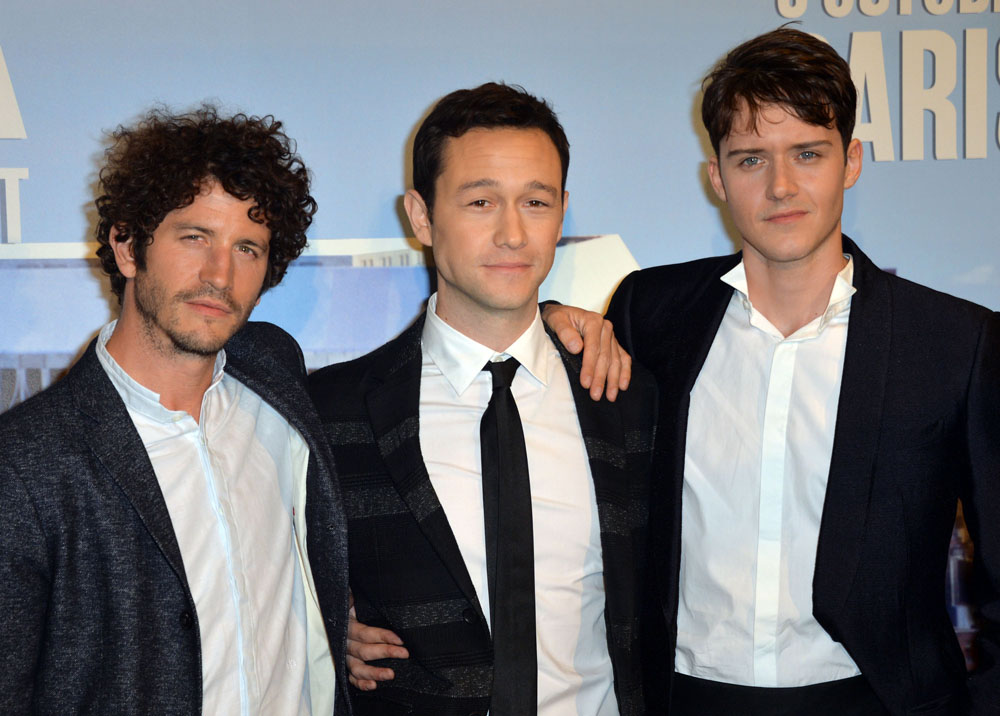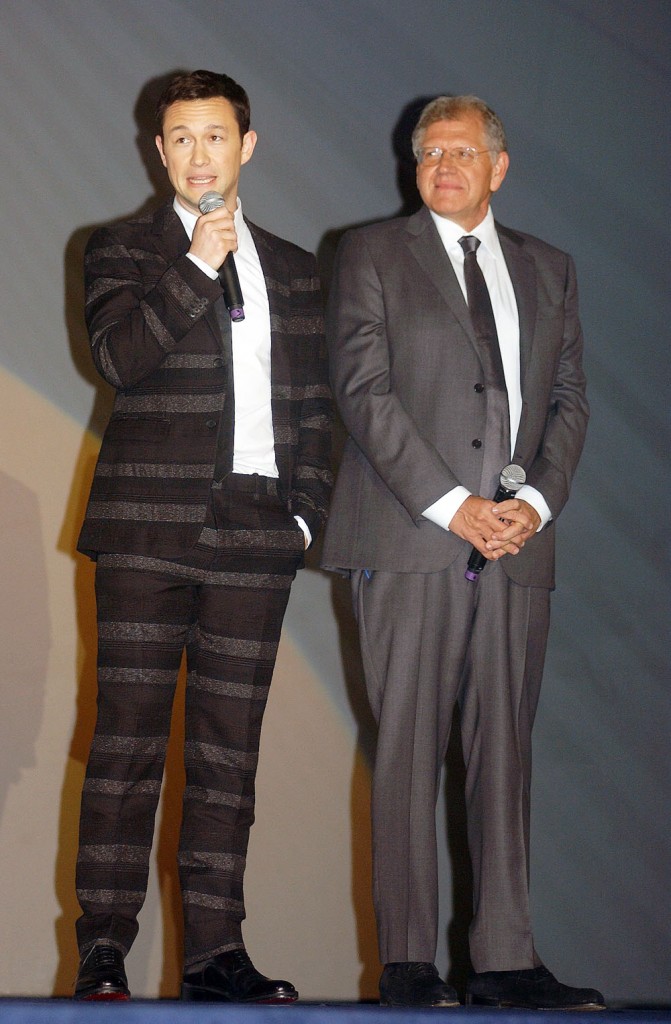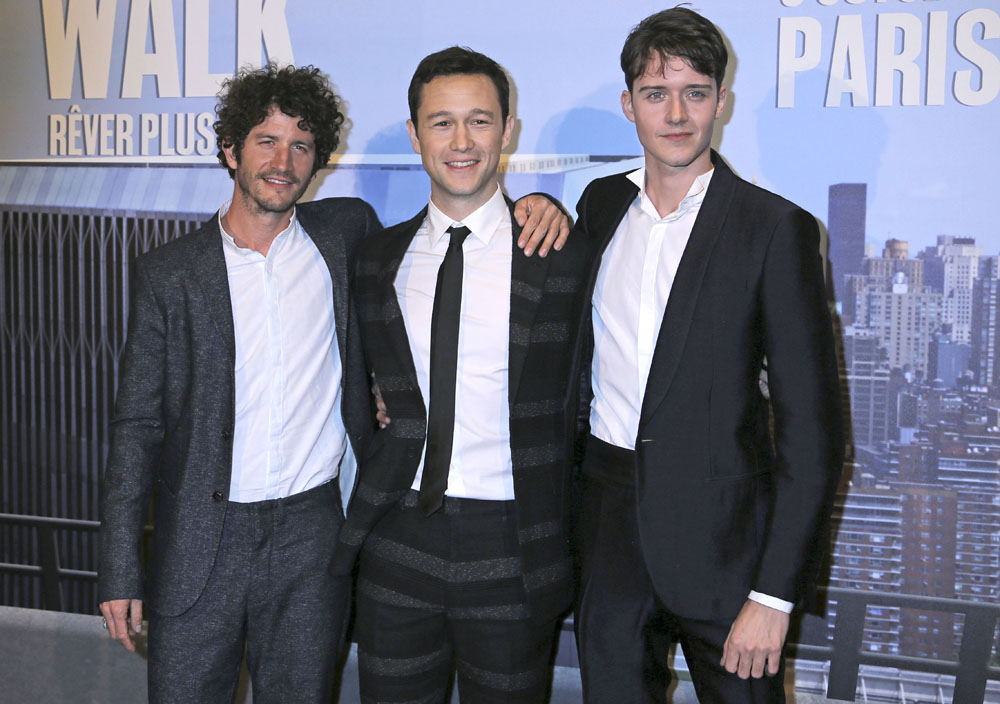 photo credit: WENN.com and FameFlynet