Bristol Palin is almost eight months along with her second unmarried, unplanned pregnancy. This time Bristol is having a little girl. I can't believe it's been this long and we still don't know the paternity of the second kid! Ugh. From what little I know of Bristol's life, she lives pretty quietly in Alaska, working part-time (?) at a dermatologist's office in Anchorage, which is quite a commute for her. She also blogs about politics, and her posts are often hypocritical, ill-informed, full of half-truths or outright lies and utterly stupid. A few months ago, she even had the audacity to blatantly lie about the way she grifted hundreds of thousands of dollars as an "abstinence advocate." Why bring this up? Because the Daily Mail has a really interesting exclusive about Bristol's money situation, including info about how much she gets in child support from Levi Johnson, and whether she'll ask for child support from Mystery Baby Daddy #2. Some highlights:
Her child support battle with Levi has finally ended: Bristol "has come to an agreement with Levi Johnston over how much he should pay towards the upkeep of their 6-year-old son Tripp. But terms of the agreement, reached in court in Anchorage, Alaska, have been kept under seal… The deal with Johnston, her classroom sweetheart from Wasilla High School, was finally hashed out last month in front of Judge Mark Rindner, after three years of nasty courtroom fights, court records reveal."

Levi always wanted the battle to be public: After their 2009 split, "That began a round of court battles which started off bitterly and only got worse. In an initial affidavit Johnston asked for the hearings to be public 'as a check against anyone's need to be overly vindictive, aggressive or malicious. Not that Bristol would be that way, nor would I. But her mother is powerful, politically ambitious and has a reputation for being extremely vindictive…So, I think a public case might go a long way in reducing Sarah Palin's instinct to attack.'"

Bristol really did make money as an abstinence spokesperson: Bristol "received $262,000 in one year for her work, according to her tax returns." Apart from the Candie's money, she appeared on Dancing With the Stars, wrote a 2011 memoir and had a reality show, Life's a Tripp, on Lifetime TV, which was cancelled after one season. She used her new-found wealth to buy a five-bedroom home in Arizona, but soon got homesick and moved back to Alaska.

But something weird happened: "By 2014, she was claiming she had not earned a penny in 18 months and pushed a judge to increase Johnston's child support payments to $1,750 a month. Within weeks of that filing, it was Johnston's turn to increase the heat, asking a judge to find Palin in contempt of court for taking Tripp out of Alaska without his permission."
Granted, the Daily Mail piece is really poorly written and edited and I felt like they were skipping around too much, so I was trying to make sense of the timeline. I knew Levi and Bristol had been engaging in a crazy back-and forth for a few years, but I didn't realize that was still going on so recently – they only put this issue to bed back in September! I also would love to hear Bristol's explanation for how she did not make any money for 18 months in 2013-14 when she supposedly worked at a dermatologist's office for the past SIX YEARS? Oh, you mean she only posed for photos at the office once in a blue moon and that's it? You mean she's a lying grifter desperate to shill any line of conservative horsesh-t? Well, I never!
As for this second child… is the father Bristol's ex-fiance Dakota Meyer? Or is it someone else? WE STILL DON'T KNOW. But considering the drama-queen legal theatrics she pulled with Levi and the fact that she's never done an honest day's work in her life, my guess is that Bristol is going to whip out her crazy when it comes to supporting the new baby. Then we'll finally learn the identity of Mystery Baby Daddy #2.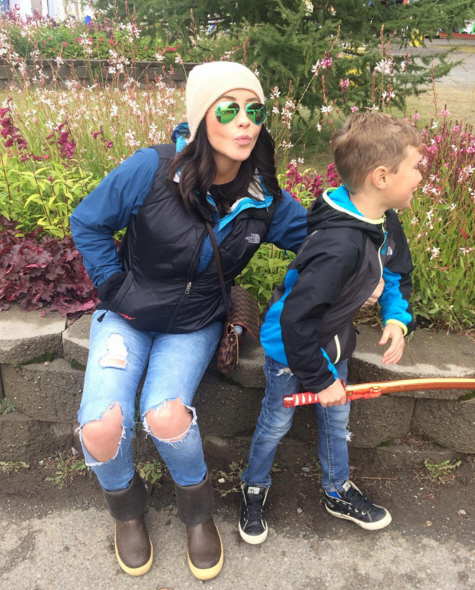 Photos courtesy of Bristol's Instagram.