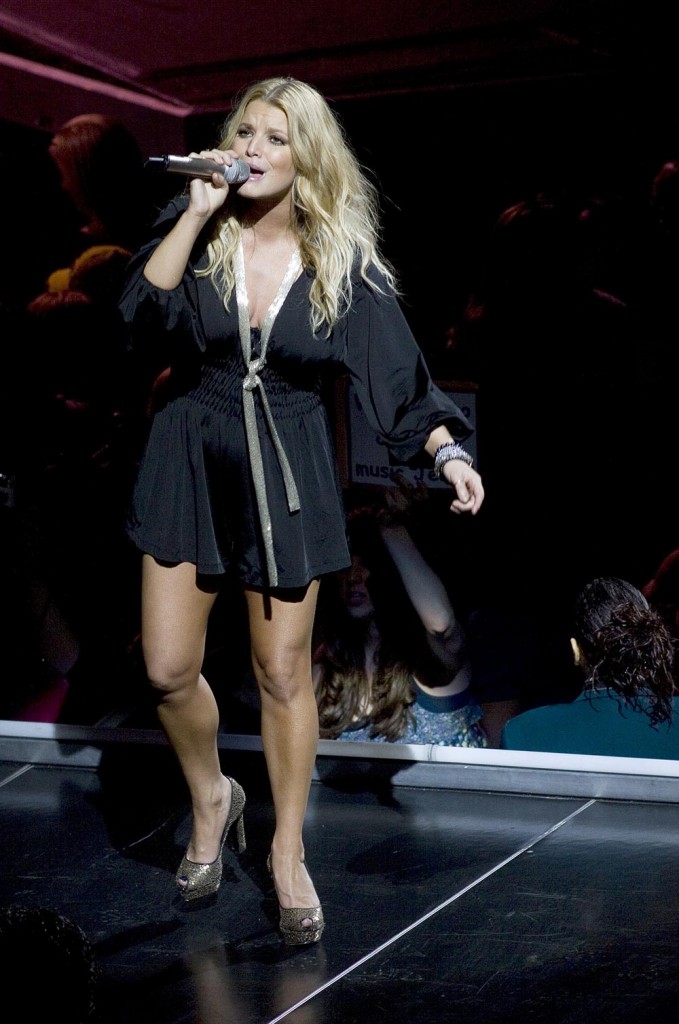 Jessica Simpson has had an infamously bumbling country music career. She was described as "lost and desperate" on stage by one critic, has had to perform at venues like chili cook offs, nearly slipped a nip at the Grand Ole Opry, had a meltdown during a concert, and we won't even touch on the national controversy that surrounded her weight and an ill-fitting outfit.
It's safe to say that what little attention has actually been focused on Simpson's country music career hasn't been great. And she's garnered much more press for her mistakes than anything else. Now it looks like Jess might have been dropped by her music label.
One of our readers sent me some very interesting emails today. He has been doing some "tattle tale" investigation work and it seems that Jessica Simpson is nowhere to be found on any of her record label websites.

If you remember – back in December – we told you that rumors were flying that Joe Galante, the head of Sony BMG Nashville was furious with all of her antics. They were threatening to drop her from the label. Could these rumors finally becoming true after her shaking tour with Rascal Flatts? Our reader noticed the following:

Today, her name appears nowhere among the artists listed on the web sites of Columbia Nashville or Sony Music Nashville. Even a search of each site finds that any prior mention of her photos, profile, press releases – has apparently been purged:

You can still find old press releases in the Google cache, but they do not exist at Columbia Nashville or Sony BMG Nashville's web sites. For example, this used to be the URL for her artist page. As you can see, it errors out, because she's been removed from the database. There's no reason to do that unless she's been dropped from the label.
[From Country Music Tattle Tale]
This is obviously just a rumor, though it's not a surprising one. Jessica just hasn't been doing well with country music, especially in terms of her live performances. I admire her for being gutsy enough to completely switch genres. But it seemed more like it was a business move than done due to a love of country music. She said she knew she'd never be number one, or even number five, in pop music. So she switched. And let's be honest, that's a hard change to make. Country musicians can go pop easier than the other way around. I wouldn't be surprised if Simpson was dropped by her label – and goes straight back to pop.
Update: Jessica's rep has confirmed that she has indeed been dropped by her record label.
Here's Jessica Simpson performing on 2/12/09. Images thanks to WENN .