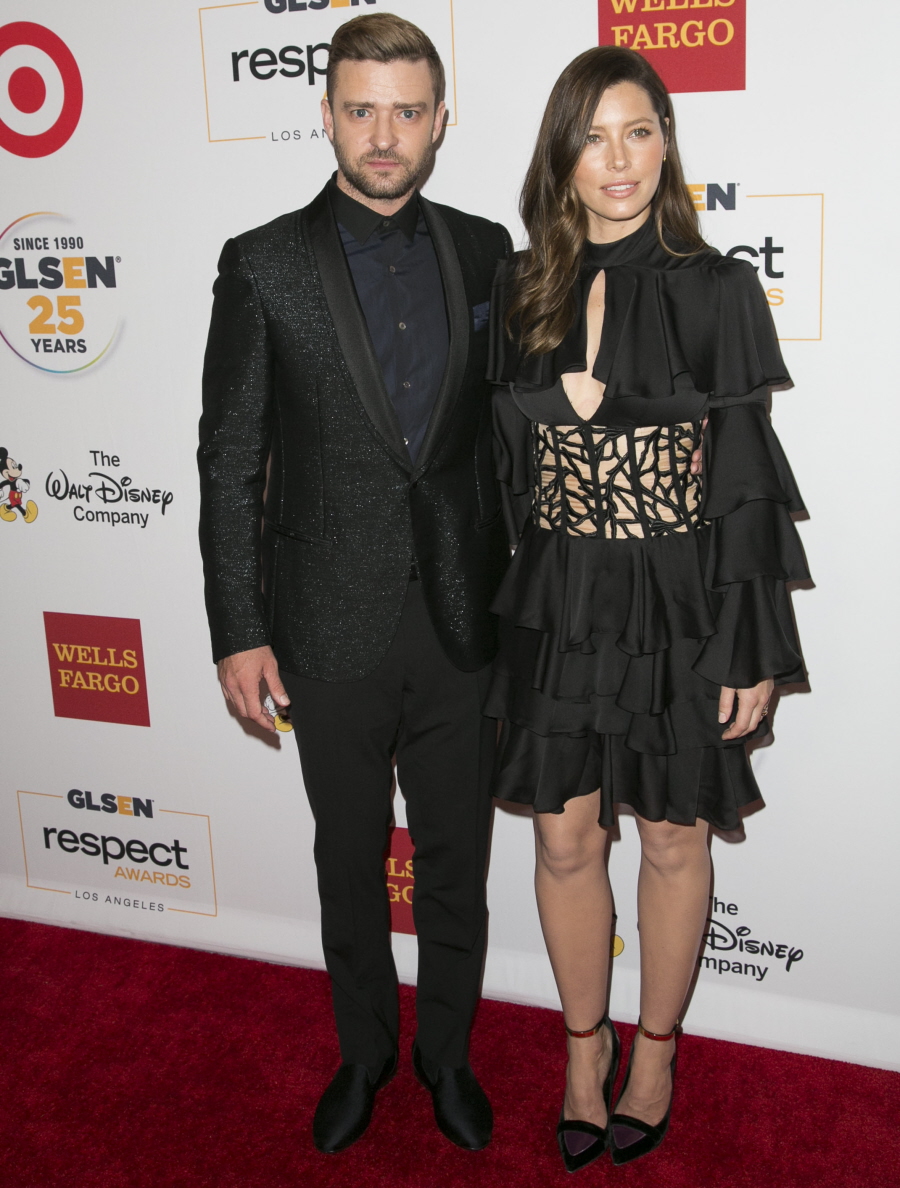 Hand to God, I didn't pick and choose photos where Justin Timberlake's eyes were saying "COCAINE" on purpose. He just looked like that in every single photo from the 2015 GLSEN Respect Awards in Beverly Hills on Friday night. Following Justin and Jessica Biel's big appearance Thursday night at the Night of Stars event, JT and Biel did their second red carpet in as many days at the GLSEN event. Perhaps this is the new-and-improved Justin and Jessica. For what it's worth, Jessica has never seemed so relaxed on the red carpet. Motherhood really suits her – she seems less thirsty and more content. It wouldn't surprise me at all if she got knocked up again in the next year.
Biel wore Balmain to this event, because it seems like they went straight from GLSEN to the Balmain party/event in LA. I almost always think Balmain is severely overworked, and this dress was no different. I feel like this needs a good edit – either you can have that intricate work at the abdomen or you can have a mini-cape and ruffled sleeves but you can't have all three together, trying to compete in the same dress. As for how Justin looks… I actually like his outfit, but the EYES are killing me.
Meanwhile, at that Night of Stars event on Thursday, Justin swiped at Kanye West, #NoDisrespectToBenAffleck.
Justin Timberlake poked fun at Kanye West at a glamorous gala for guests including Katie Holmes, Allison Williams and wife Jessica Biel on Thursday. On receiving the Fashion Group International's Oracle award at its Night of Stars gala, Timberlake joked of the honor's lofty title, "They told me I was winning the Oracle award, and all I heard was 'oracle' . . . or as our friend Kanye likes to call it, 'Kanye.'"

Kanye in the past has publicly dissed Timberlake's music. Timberlake also joked that he'd previously been "doing shots with Gerry" — Gerald Storch, the CEO of retail giant Hudson's Bay — and, "I don't know your last name, but I look forward to future debauchery."
For what it's worth, I don't think Kanye ever "publicly dissed Timberlake's music" at all. Kanye name-checked Justin during his (Kanye's) VMA Video Vanguard speech but my reading of it was always that Kanye respected Justin and thought JT should win more awards. Justin was pissy about it though, probably because Kanye said Justin cried after he didn't win a particular Grammy. So… Justin still sounds a little bit pissy.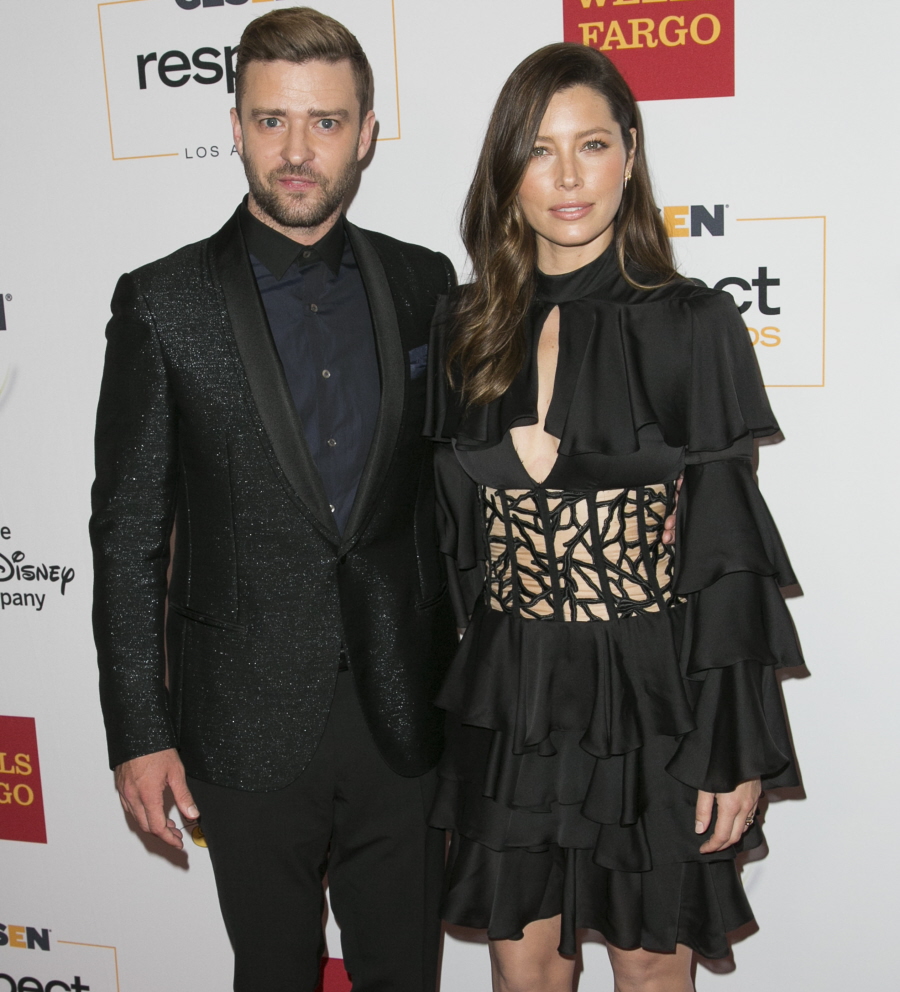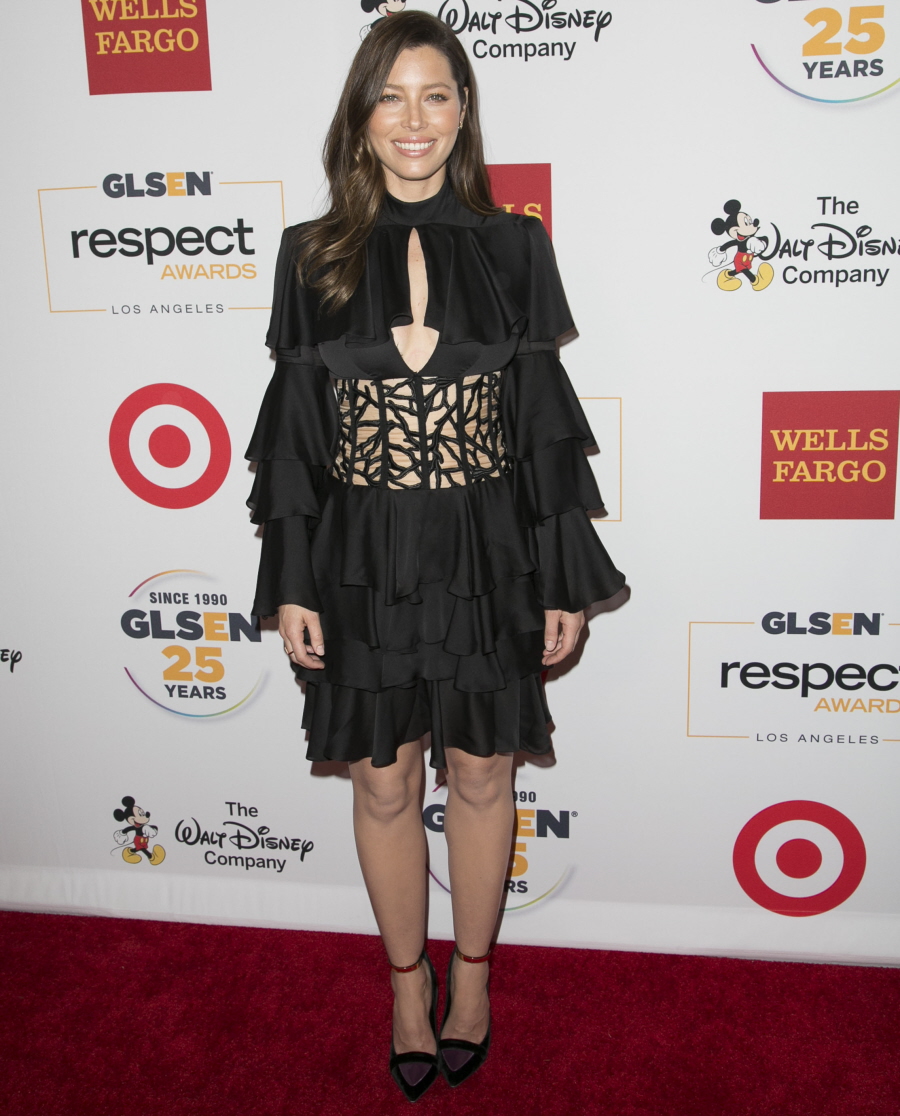 Photos courtesy of WENN.