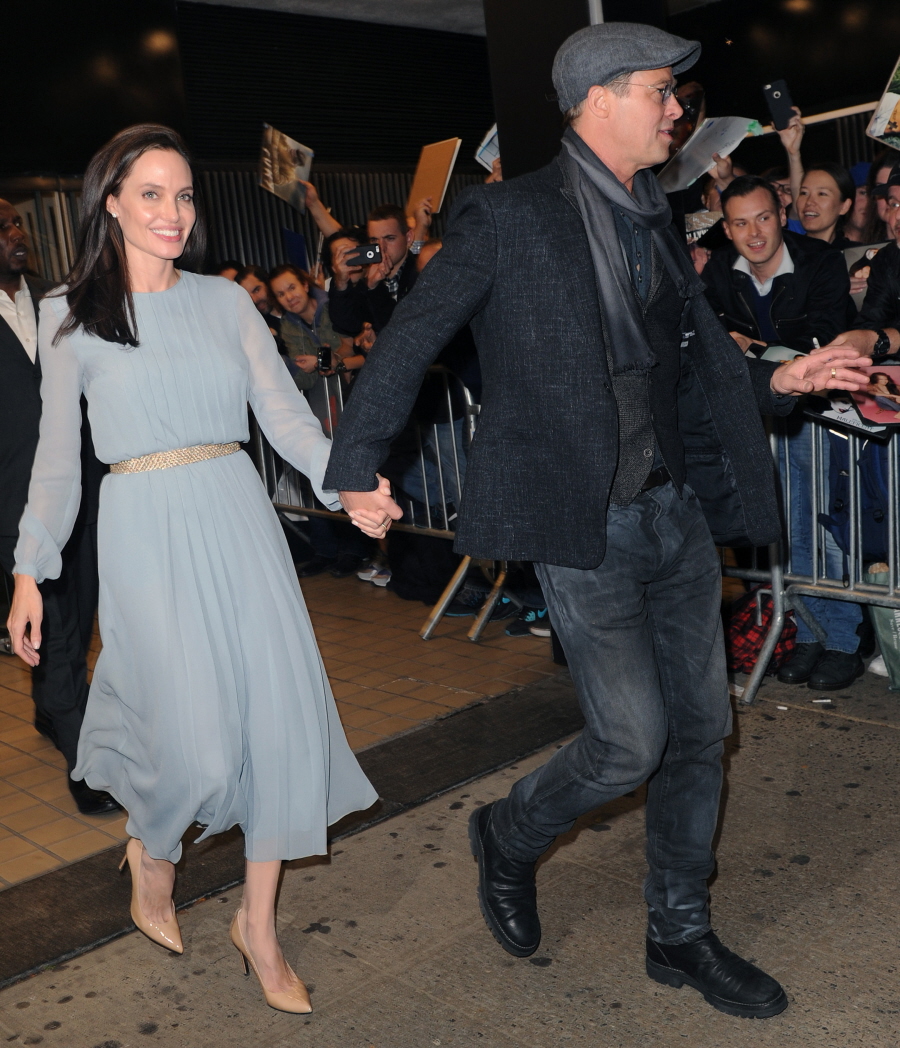 I'm pretty excited that the Brangelina Drought is over. I was Brangelina-Parched. Angelina has a new interview with The New York Times, the paper of record and one of her favorite outlets. It's funny to me that Angelina truly saved her best quotes for the NYT, as opposed to Vogue. Vogue would have bent over backwards to accommodate Angelina's every wish to frame certain issues in certain ways, but maybe that's the point – Angelina doesn't need a media outlet to "frame" any issue for her. She can speak for herself. And while she wouldn't say one word about Amy Pascal and Scott Rudin to Vogue, she actually discusses the whole situation with the NYT, the paper of record. You can read the full NYT piece here. Highlights:
Her expectations for 'By the Sea': "I know some people are going to hate it. Some are going to like it. But it was important to me to feel like an artist again."

Whether getting married changed anything: "It was just a nice thing. For me, the big moment was when [we] signed the [joint adoption] papers for Maddox and Zahara. That was a decision to parent together, to commit to being a part of each other's lives for the rest of my life. So [marriage] wasn't close in comparison. In a way, it was very casual… The ceremony was in France, but we had to do things legally in California. One day I was in the edit room, and [Brad] was doing something and an assistant said, "You have to sign some papers." So we came back and between meetings we were told, "Here's your license." Then someone said, "The judge is outside." We both said, "What do you mean, the judge is outside?" Then the judge came in, this lovely guy, and at some point, Brad said, "Shouldn't we be standing up?" The judge said, "No." Then suddenly we realized we were married, in the most unceremonial way possible."

At first, she didn't want to star in 'By the Sea': "There were lots of scenes I wanted to change or cut. I realized it was going to be me [naked] in that bathtub. But I told myself, put all of that aside. Like, you can't change or cut this scene because you've had a mastectomy, or because we're married and people are going to analyze this or that. That would be cheating."

On sexism & being one of the few prominent female directors: "I just think that sometimes people in the business focus on the fact that you're a minority. I don't want people saying, "Should we get a female director?" I want to hear, "Should we get a great director for this movie?" But I'm the first female director that Brad's ever worked with. That doesn't seem right when you think about it…Sexism is part of every industry and must be addressed. But I try not to focus on the negative but the positive side of what we can bring. I want to support other women because of the opportunities I've had — and I've had a lot of opportunities. What I try as a female director is to do the best job I can and in the meantime bring attention to as many other female directors and writers as I can. Right now I am producing "The Breadwinner," an animated film about Afghanistan. Nora Twomey is the director."

On Brad's experience being directed by a woman/his wife: "I'm not just a woman, but a writer-director. We're also husband and wife. I think it was doubly hard. We know certain things about each other. At first it was a little uncomfortable. You want to be careful what button you press and what you don't. At the same time, he later said he felt like he could be the most open in his acting, because he trusted I was genuinely there to help him give the best performance."

The Sony Hack emails: "I didn't read any of them….Someone told me. There are certain things that bother me and certain things that don't. Personal attacks on me? I think I'm just so used to it. Honestly, my first instinct was that I was worried about Amy. I had someone call her and ask if she was O.K. Not because I'm a saint, but because I think we have to look at the bigger picture. She's got kids. I knew it was going to unravel for her."

Whether she would ever do a rom-com: "I love comedies. But I'm never asked to do anything even self-mocking. I tried to do comedy when I was younger. It didn't work. I don't think I'm very funny."
The Sony Hack answer is… whoa. She loaded a lot into just a few sentences. I think my favorite quote now is "Not because I'm a saint, but because I think we have to look at the bigger picture." Damn, Angie! Way to give your detractors a wink. But I love that Angelina heard about the emails and Angie "had someone call" Pascal. As in, Angelina wasn't going to call Pascal herself. Because the emails really were that bad.
At the end of the interview, she's asked if she's worried that the audience will think By the Sea is a self-portrait, and Angelina says that she and Brad don't share the particular "issues" with their characters but it is "true" that "we have terrible fights, are imperfect, have insecurities and can be depressed and emotional… We have problems, arguments. We are two very human, flawed people." Which means that at least one time, in real life, Brad really has cried and stormed out of the house while the Leg of Doom cackled at the window.
PS… The ID on the blue dress is Luisa Beccaria. We have even more photos of Brangelina for another post, so no threadjacking!
Photos courtesy of Getty, WENN & Fame/Flynet.