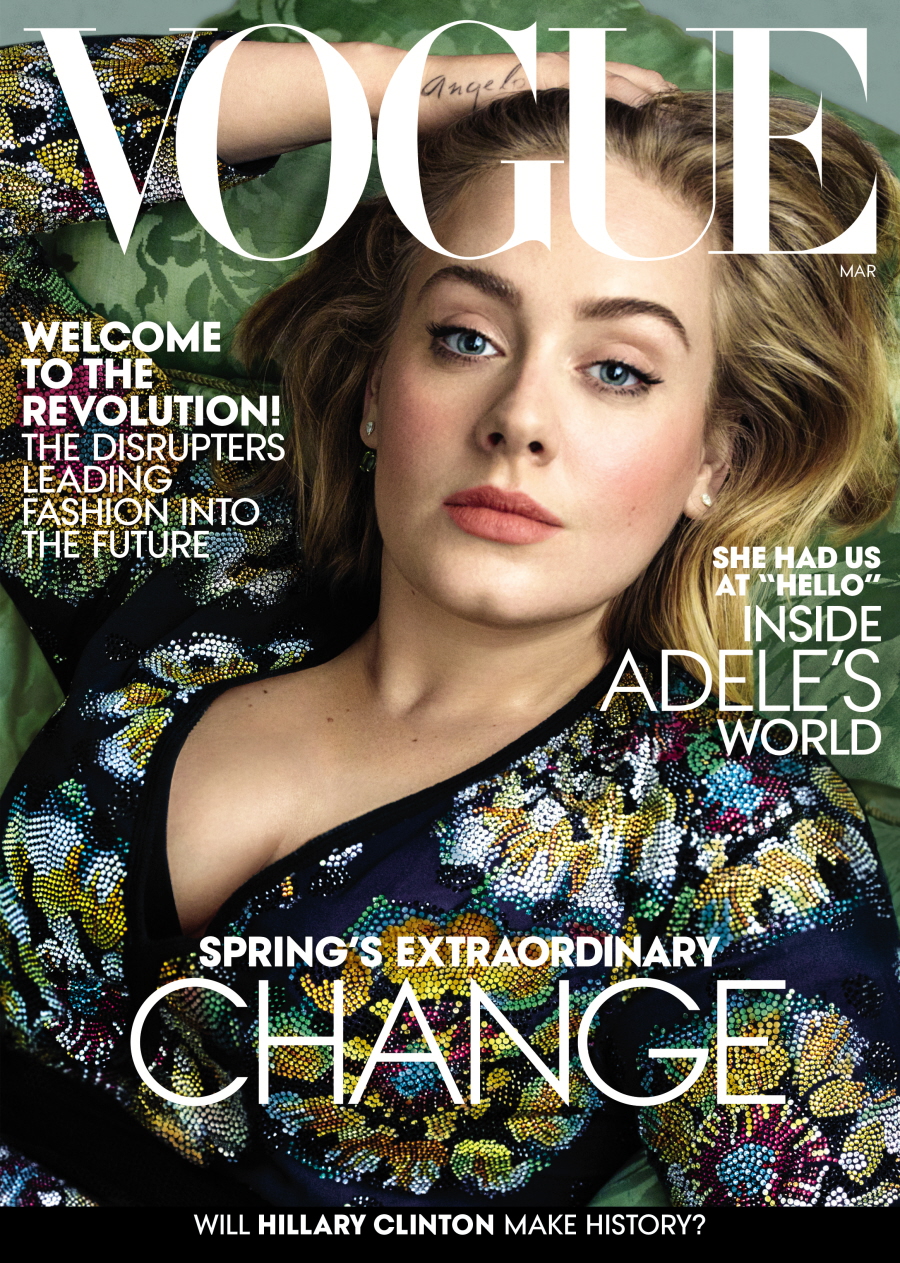 Adele is the cover lady for the March issue of Vogue. I'm not mad about this AT ALL. This is Adele's second American Vogue cover – her first was in 2012, following her throat surgery and her "comeback" at the Grammys that year. Adele will attend the Grammys this year too, to perform a song off her latest album. It's expected to be the one of the highlights of the evening. So… good timing for a Vogue cover. Adele didn't overdo the press for 25 – she did a handful of magazines, a handful of TV interviews, and it never felt like wall-to-wall media saturation. She doesn't need to do that, plus… she's actually not that controversial these days. She's happy, she's smart, she's talented. So, this Vogue piece is a nice read, but there's no real scandal here at all. Some highlights:
How she writes: Adele still writes her lyrics the old-fashioned way, in a notebook. The first thing she does is to annotate her age on the front page with a Sharpie pen. When it came time to write "25" on that page, Adele was brought up short. "I was just shocked that all of a sudden I was 25!" Adele says. "But actually, I like myself more than ever. I feel so comfortable in my own skin. I really like how I look, I like who I am, I like everyone that I surround myself with."

The two new men in Adele's life. Simon and Angelo have transformed it completely. They have eradicated the need for much of the drama that she used to thrive on. "I can't have any other junk in my head to worry about as well," she tells me. Angelo, meanwhile, "makes me very proud of myself. When I became a parent, I felt like I was truly living. I had a purpose, where before I didn't." Adele took time off to be with her new family before she even thought about putting her third album together. "My main thing is Mum, then it's me, then it's work," she says, adding, "I think I had to take the right amount of time off to let people miss me."

Adele is healthier than she has ever been. As well as the litany of foods and drink she has to avoid to protect her throat, has given up the Marlboro lights that she used to more or less chain-smoke, and has almost given up alcohol—this is the woman who admits that she could once put away a bottle of wine a day. "I was trying to get some stamina for my tour," she says, "so I lost a bit of weight. Now I fit into normal, off-the-shelf clothes—which is really a big problem for me!" she adds, laughing as she describes a newfound shopping habit.
I like that she says that she wanted people to miss her. I think she's being honest there – she went away because she wanted time, of course, and because it took her a while to get her album in order. But she also went away because she's never wanted everything to be all about Adele, all the time. She – like Beyonce – knows the value of withholding.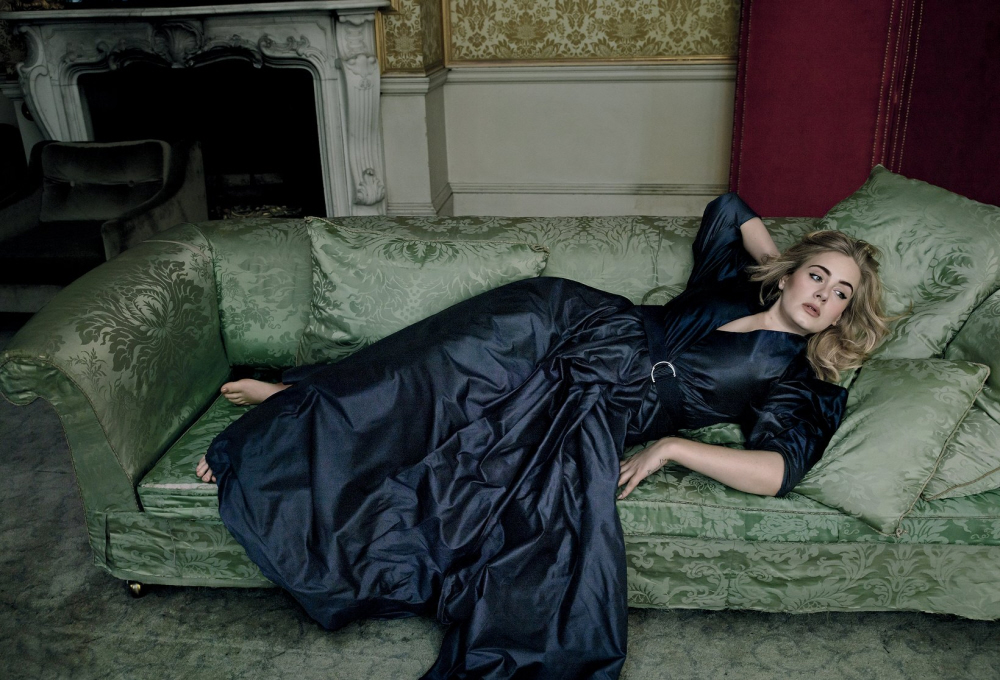 Photos courtesy of Annie Leibovitz /Vogue.