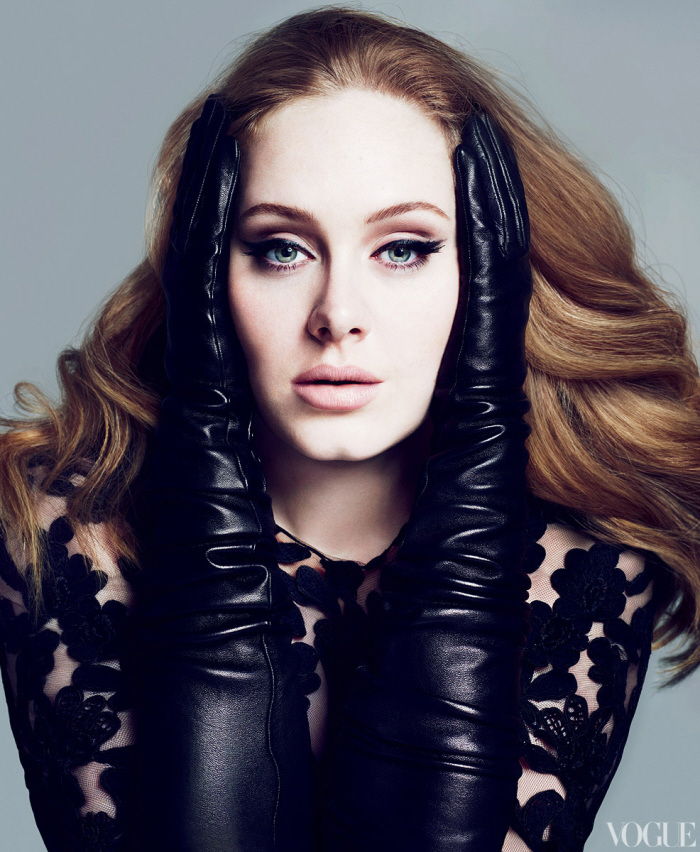 As we previewed yesterday, Adele covers the March issue of Vogue Magazine. I'm a little bit in love with Anna Wintour for going all-out for Adele in this issue. The March issue is always "The Power Issue" – and who has more "power" than Adele right now? This is a girl at her peak, and although I have my doubts about her hair (not ginger enough), I have to say that this photo shoot is gorgeous. Photographers Marcus Piggott & Mert Alas made Adele look gorgeous – she's already beautiful, but sometimes photographers don't know what to do with her. You can read Adele's full article & see the epic Vogue slideshow here. Here are some excerpts from her interview:
Adele occasionally smokes, but she's not drinking: Over the few days that I spend around Adele, I see her sneak a [cigarette] here and there. No one is perfect. But alcohol? For a once hard-drinking South London pub girl who has admitted that she has written some of her best songs after a few belts, I would have thought this might present something of a challenge. Not so much, it turns out. Adele hasn't had a drink since last June. She gave it up cold turkey right around her birthday (May 5) last year. "Don't like drinking anymore," she says in an accent that falls somewhere between Eliza Doolittle and David Beckham. "I think I got it out of my system. D'yaknowhaImean?"

Adele is LOUD: "I am quite loud and bolshie," she says (British slang for unruly and clamorous). "I'm a big personality. I walk into a room, big and tall and loud." Indeed. There is no doubt when Adele is in the building. The rule of thumb for protecting one's vocal cords, she tells me, is: If people are more than an arm's length away, you shouldn't talk to them. "But I am like, Wah! Wah! Wah!," she says, laughing. "It's really bad."

Adele and her throat problems: "I knew my voice was in trouble," she says, "and obviously I cried a lot. But crying is really bad for your vocal cords, too!" When word spread in the insular music industry that Adele had throat problems, other artists' managers began calling with the same piece of advice: Go see Steven Zeitels, M.D., in Boston, widely considered to be the preeminent throat surgeon in the world. (Indeed, he is currently working with Julie Andrews, trying to restore her pipes after a surgery by another doctor that diminished one of the great singing voices of all time.) Zeitels discovered a polyp on one of Adele's vocal cords that would require surgery. "When I met him I loved him," she says. "He made me feel safe."

Other singers helped her, including John Mayer: Her nerves were further calmed when other singers who have had throat surgery (some of them patients of Zeitels's) reached out. "John Mayer had it done at the same time as I did," says Adele, "and he really helped me be chilled out about it. Roger Daltrey's had loads of stuff done; Steven Tyler reached out; Elton John. Lots of artists have had problems with their voices, but you don't know about it. And they are still singing incredibly well in their 50s and 60s."

The sounds of silence: "I think I just needed to be silenced. And when you are silent, everyone else around you is silent. So the noise in my life just stopped. It was like I was floating in the sea for three weeks. It was brilliant. It was my body telling me to fix me. I had so much time to kind of go over things and get over things, which is amazing. I think if I hadn't had my voice trouble, I would never have broached those subjects with myself. Now I just feel really at peace. And really proud of myself. I've never fully appreciated the things that I've achieved until now. In fact, my entire life has changed in the last ten weeks. I've never been so happy, and I love it."

She hates the red carpet: "I hate the red carpet. I don't feel insecure, I just feel like, Oh, I don't want to do this. I literally get a stomach cramp. At the VMA's last year I felt really out of my comfort zone because there were so many superstars there. But that's been the case from day one. I never feel like, Oh, yeah, I should be here. And I was missing my best friend's hen night. So I was a bit bitter that I wasn't there, to be perfectly honest."

Performance style: "I definitely think that less is more," she says. "I don't think I could pull it off, doing an elaborate show. There are a couple of songs that are worthy of a few explosions and dancing teams and stuff like that. But I would feel really uncomfortable displaying my music like that. I just want to sing it. I don't want to perform with my body."

She's funny: "I was always the joker at school," she says. "But I didn't really realize I had a natural sense of humor until I started telling stories onstage. You get the timing down. Also, people laugh when I open my mouth anyway, even if I don't tell a joke, because they are laughing at my accent."

The man who inspired 21: The man whom 21 is largely about is ten years older than Adele and has somehow managed to remain anonymous—an admirable feat in this era of phone-hacking tabloid journalism. More recently, Adele has been singing a slightly different tune about Mr. Wrong. "You know, he was amazing. He was great. But it was never going to work. And for ages I was like, As if he deserves any f–king kudos for inspiring my record. But now, after some time, it only seems right that the person who so far has had the biggest impact on me—has now changed my life for f–king ever with this album—deserves a little credit. I can do things that I never dreamed I'd be able to do. If I hadn't met him, I think I'd still be that little girl I was when I was eighteen. And the best thing is, I now know what I want for myself and from someone else. I didn't know what I wanted before."

What would her exes say about her? She yelps, "Oh, my God!" And then thinks for a moment. "I love a bit of drama. That's a bad thing. I can flip really quickly. I am not bipolar, but I go from 'Oh, my God, I love you' to 'Get the f-ck out of my house!' really quickly. And I never sit there and talk about it. I give them the silent treatment. They're like, 'Tell me what I've done so I can say sorry!' What else? It used to be that I loved a drink a bit too much. But I don't drink no more. The good things: I am attentive. I will do anything for my man. I am a good cook. I'm funny. Always want to have sex." She cracks up. "Well, most girls don't!"

She wants to be a wife: "Come on! I'm wifey material! I'm great. No one's got to be brave. It's not like, 'You f$ me over and I'm going to write a record and make you the most hated man in the world.' I am never writing a breakup record again, by the way. I'm done with being a bitter witch."

Her new boyfriend: "He's wonderful," Adele tells me later. "And he's proud of me, but he don't care about what I do or what other people think. He looks after me. I don't think I would have gotten through the recovery for my surgery if it hadn't been for him."

She's into bears: One hopes this works out for Adele, a girl who seems to have a thing for older, bearish, manly men. (One day, when I ask her what her London apartment is like, she says, "It's a bit of a cream dream. My favorite kind of interior is the entire look of the movie It's Complicated." She levels me with a look. "I love Alec Baldwin. Oh, my God, I've got the biggest crush on him in that film. He's so sexy.") For someone so young, Adele seems to have a powerful urge to settle down and start a family of her own. Indeed, in three interviews, it is the topic that comes up the most. One day, I ask about her future. "I am f–king off for four or five years," she says. "If I am constantly working, my relationships fail. So at least now I can have enough time to write a happy record. And be in love and be happy. And then I don't know what I'll do. Get married. Have some kids. Plant a nice vegetable patch."
[From Vogue]
There's a lot more in the Vogue piece – lots of stuff about her absent father, what movies she loves (she likes gritty New York films with Al Pacino, anything directed by Martin Scorsese), how much she loves Beyonce, what inspires her songs and whether she'll ever end up an actress. Throughout the piece, Adele comes across as strikingly self-aware, almost eerily so. This is a girl who knows herself very, very well, her strengths and her weaknesses. She's also hilarious and very emotional and so, so young. Gah! I worry about her sometimes, but she'll be okay, won't she?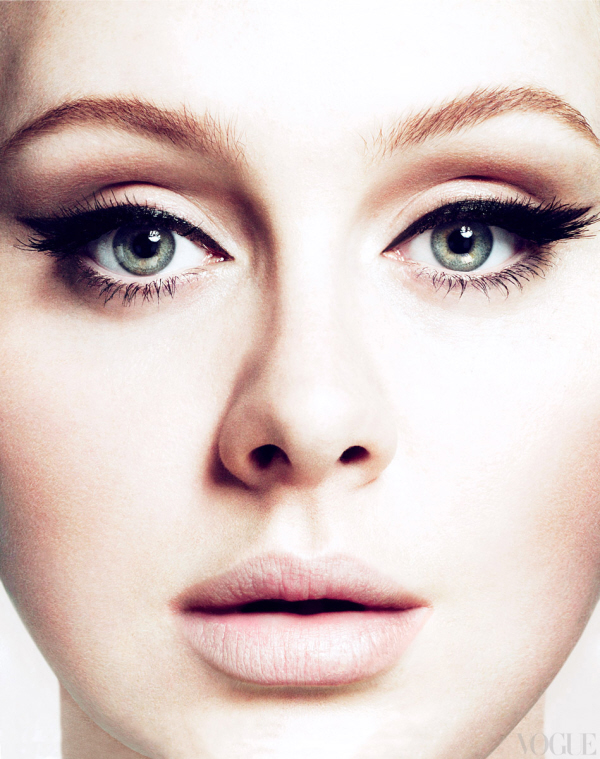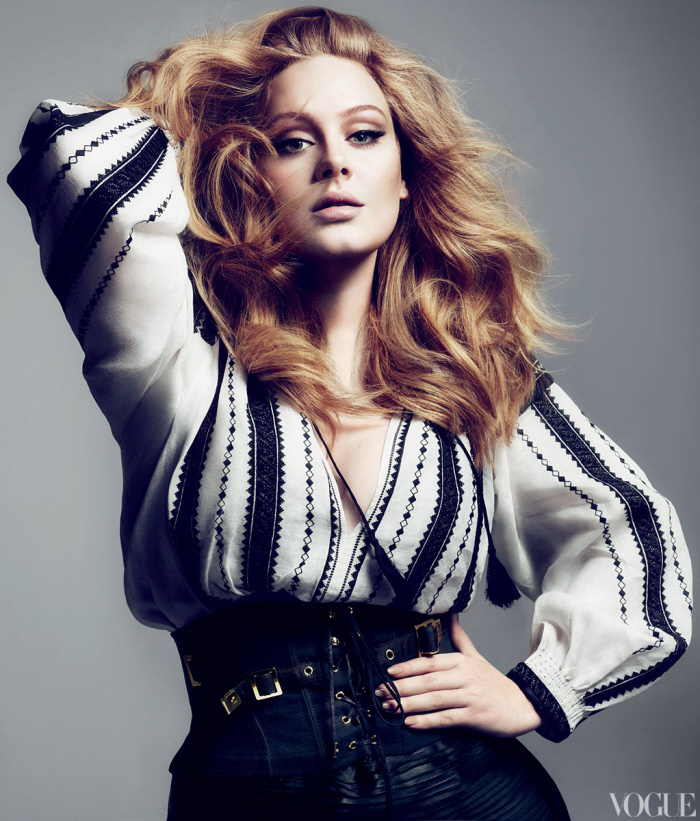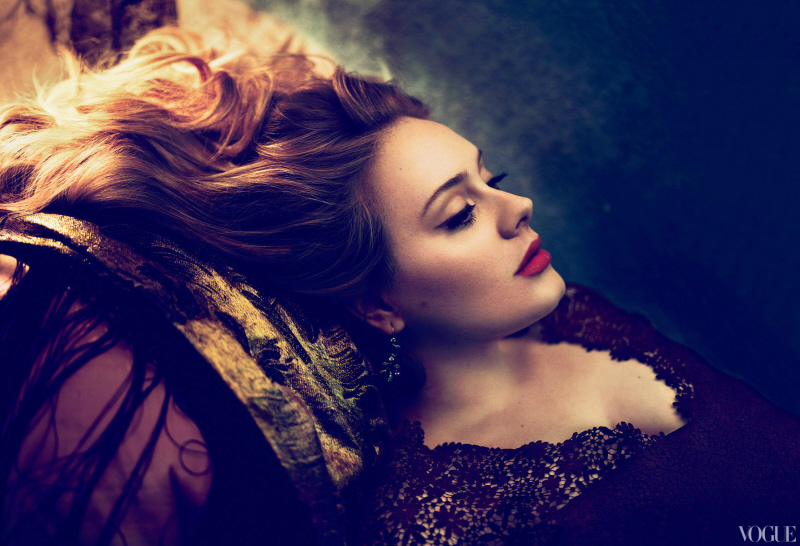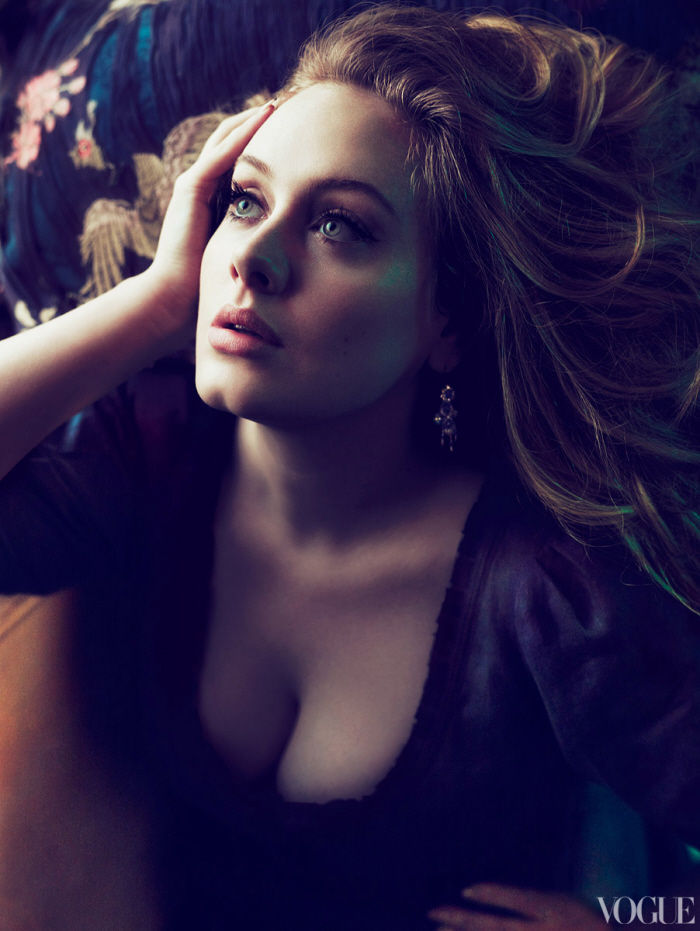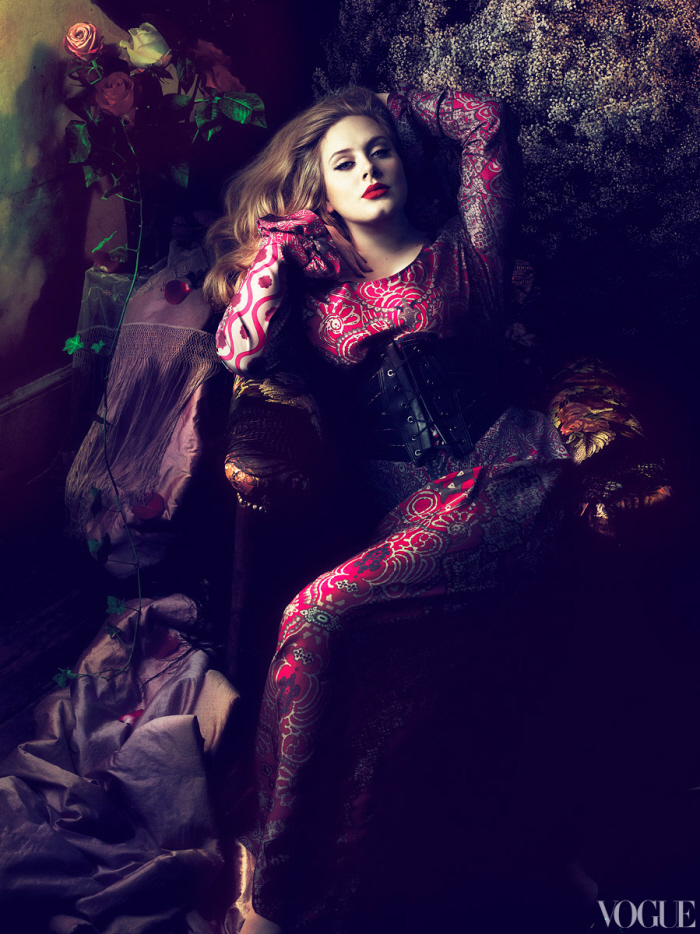 Photos courtesy of Marcus & Mert/VOGUE.