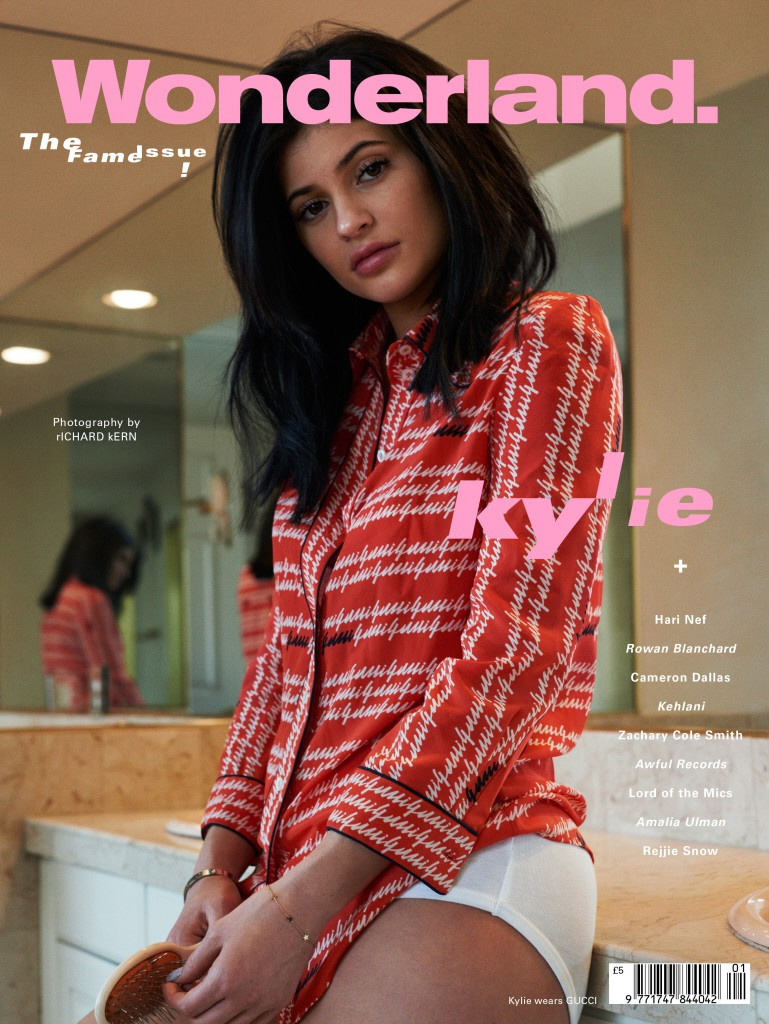 Kylie Jenner covers the latest issue of Wonderland. I actually like this cover shot for some reason – this Gucci top looks cute on Kylie, and Kylie's face doesn't look as crazy as it usually does. The editorial has a very early-'90s vibe, like the ghost of Sassy Magazine. Which I love, because that was MY childhood. As for the interview, Kylie is as vapid as always. I sort of feel sorry for her – there was literally no one in her life, no one in her family, telling her to focus on her education or telling her that she should aspire to be anything other than "reality star" and "Instagram model." Some highlights from the interview:
Whether she got a boob job or nose job. "People think that I've had everything done. I thought it was going to chill down when I said: 'OK, I admit it, I got my lips done, I never lied, I just wasn't telling the whole truth.' And then people took that and were like, 'Oh well, if she got her lips done she probably got everything done'. People don't realize I just turned 18, so there's no way my mom [Kris Jenner] would ever let me undergo a nose job or a boob job."

She's a victim of bullying: "Growing up, I've heard the worst things anyone could ever say about me and bullying was such a big part of my life, with the whole entire world judging me and stuff. So I started to look towards people with, like, I think, bigger, more real issues than I have. They inspire me because I was like, 'I'm getting bullied all the time, but they're just haters and [these people] deal with real-life issues'."

She's ready to "retire": She says "Kylie Jenner on Instagram" is her "alter ego" and "It's not that I don't want to do it … Yeah, actually I kind of just don't want to do it any more. Honestly. But I've always been like that. I want to be a businesswoman and be behind-the-scenes. Kylie Jenner needs to retire."

Caitlyn's transition: "I mean, obviously I knew about it my whole life, but it was never admitted to and then when it was all said and done, I honestly just wanted to not be lied to … I'm OK with everything, as long as everyone's honest." She says she still calls Caitlyn "dad" and "I could call her Mum, I'm not against it, I'm just saying it's not correct."
Whenever Kylie talks about wanting to "retire" or "take a break" from social media, I'm reminded once again: this was all she was ever encouraged to do. She has nothing to fall back on. And I don't mean that in a financial way – Kylie is already wealthier than I will ever be, and she's good at the family business of being a dumb famewhore for money. But that wasn't her choice, it was presented to her as fait accompli as a child. Would she even know how to exist if she wasn't Kylie Jenner On Instagram? As for the rumors of her plastic surgery… um, she's had a ton of work done on her face. And I'm pretty sure she got a boob job, all of which was done before she turned 18. Saying "my mom wouldn't let me" makes no sense. Also: the whole "I'm bullied constantly by jelly haters" thing comes from her mother.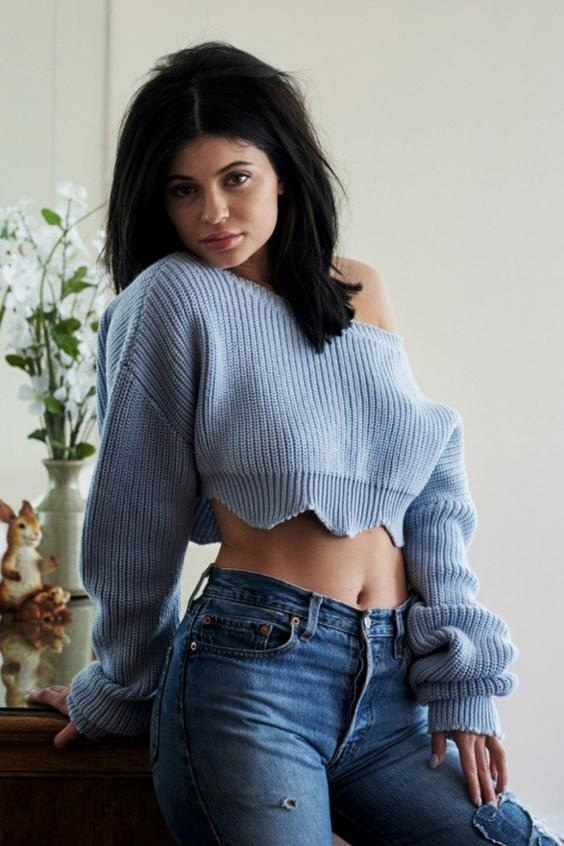 Photos courtesy of Richard Kern/Wonderland.