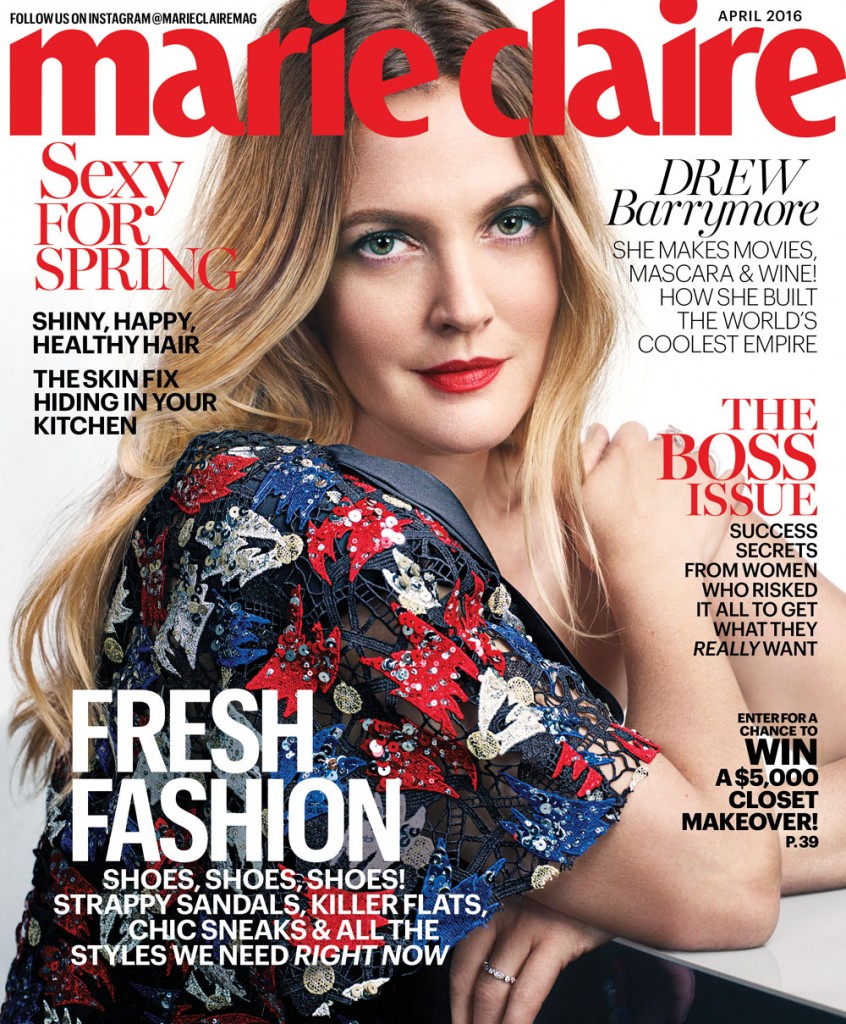 Drew Barrymore covers the upcoming issue of Marie Claire. I guess she's promoting her Flower beauty line, available at Walmart, because they have a video with Drew promoting her new lipstain product. (Sidenote: I feel like I never buy lipstick anymore, I have so many and usually end up using just one or two shades until they're down to nubs.)
Drew has parlayed her fame into this beauty line and a wine line, but unlike a lot of other celebrities shilling products she's not doing pap walks constantly (see: Reese Witherspoon, Jessica Alba) nor is she constantly on social media. She uses Instagram judiciously, and she admits to Marie Claire that she's not very good at promoting herself. She also makes it sound like she's a busy mom who doesn't take time to put herself together usually. I get it, but for someone who runs a beauty line her makeup is usually overdone and amateur-looking, even on the red carpet. I'm sorry to throw so much shade but I'm really into makeup. Taking 10 minutes to do you makeup with the right products and tools can make a huge difference in a look. (She does look lovely in the editorial for Marie Claire though.)
Here's some of what Drew told Marie Claire, and it's kind of cute the way she explained her friendship with Cameron Diaz:
On fame and celebrity friendship: "I've never felt comfortable with this, sort of, camaraderie of famous people. I've known Poo Poo [Cameron Diaz] since I was 14 years old. We just happened to know each other before her career started, and I was working in a coffeehouse trying to refigure out my life. So in a weird way, it doesn't even count with us."

On making an effort: "I went to parent's night, and I wore some lipstick and concealer, and I thought the people at school looked at me kind of differently. I normally come with acne, and Ugg boots, and I thought they were like, 'Oh that's nice, she made a little bit of an effort.'"

On trying to do it all: "I really had to tell myself, You can do everything, but you will have to do them at different moments. And you can do a lot in the same moment, but you can't do everything in the same moment. It was a good lesson that you will just have to prioritize and put some things over here for a little while."

On being self-taught: "It was prompted a little bit by a fear of I don't want to end up being 25 and not having ever educated myself in any way."

On self-promotion: "I try really hard to keep my Instagram personal and sweet, and use it in a way to engage with people so that I can talk about work stuff, but [self promotion] is so not who I am."
We've talked before about how Drew is noncontroversial and kind of boring frankly, but that's a nice change compared to so many other celebrities, and compared to the drama of her childhood. Remember when she married Tom Green? That was her second marriage and it was way back in 2001. So things have changed for her quite a bit.
As for what she said about "camaraderie of famous people," I can't imagine how phony and insular it must seem, but I also wouldn't mind experiencing it for a while, if only to go to a few parties and see how they live! I would be into the novelty for a while before reality sets in. It's got to be hard to know who your friends are when you're wealthy and famous, but I wish I had those kind of problems.
Here's another photo from Drew's photoshoot.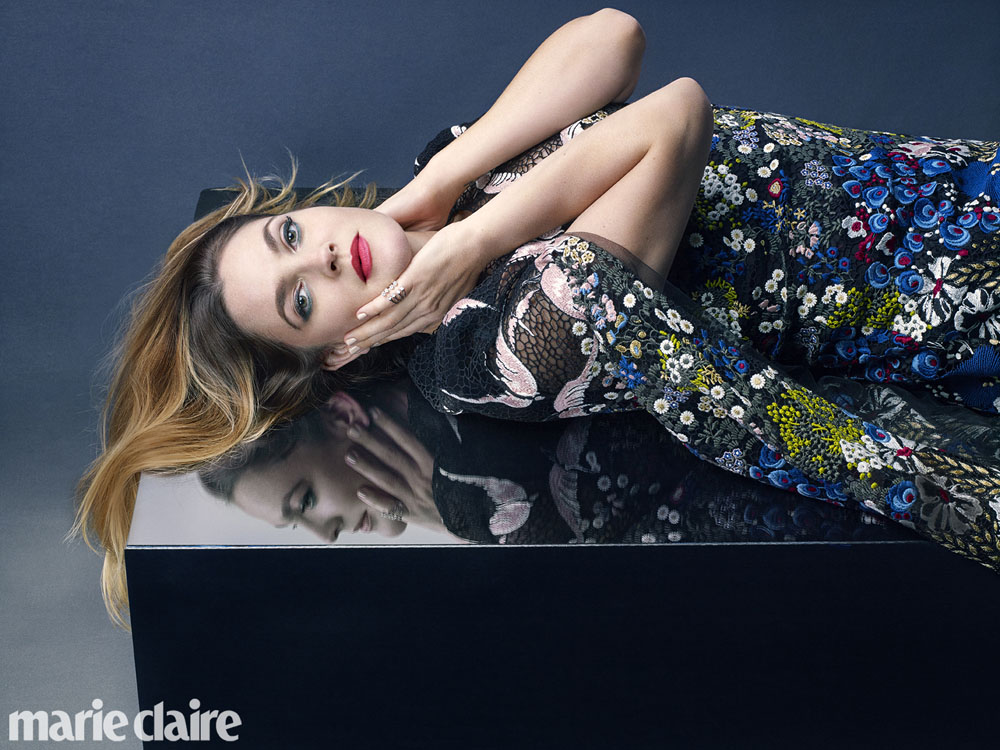 Photos credit: David Slijper and Getty Images