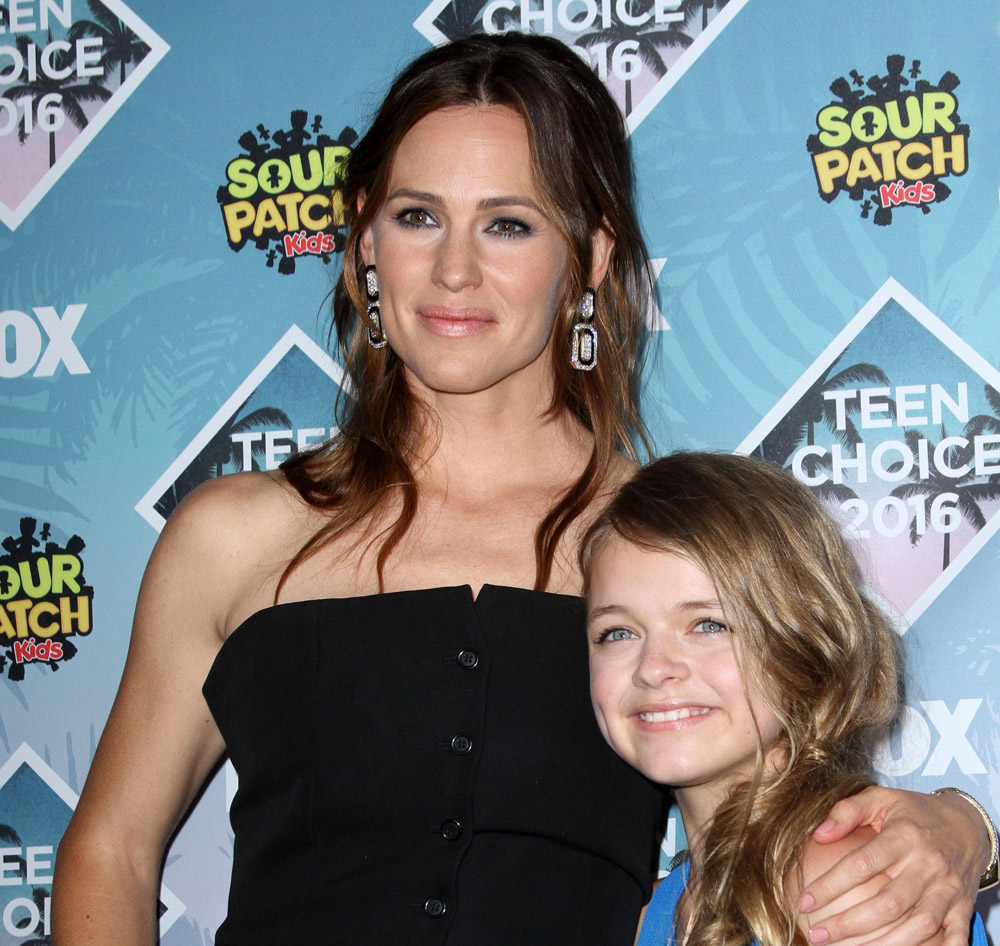 Jennifer Garner attended the Teen Choice Awards last night in a black strapless sleeveless suit (it looks like a jumpsuit at first but it's not) with buttons down the front. She's worn black jumpsuits several times on the red carpet and she loves a black outfit. This look is saved by her styling and jewelry. I really like her bold black and rhinestone (or maybe they're real) mod earrings and bracelet.
Garner was at the TCAs with her Miracles from Heaven costar, Kiley Rogers, where they won Choice Drama Movie. (A full list of winners is here.) Garner gave a nice acceptance speech about the impact of the movie, which told the true story of a young child being saved from a digestive disorder after a fall from a tree. She ended with a message for sick kids "All the kids who are in a hospital waiting for a miracle, don't give up hope!" You can read more of her speech on People.com.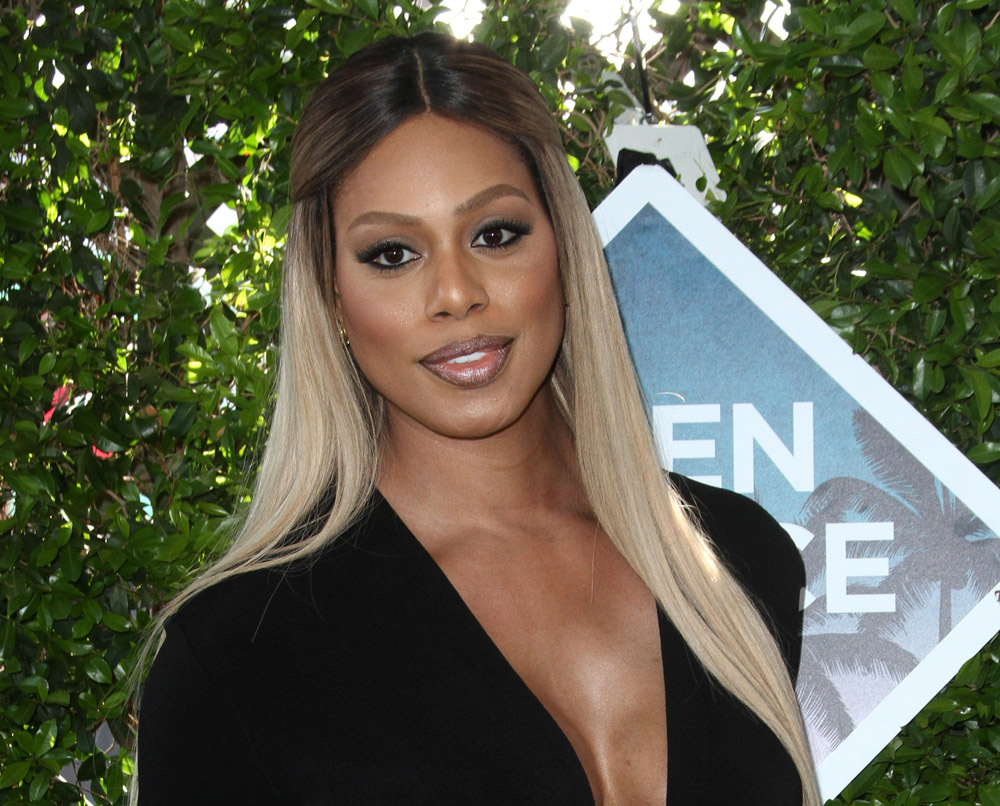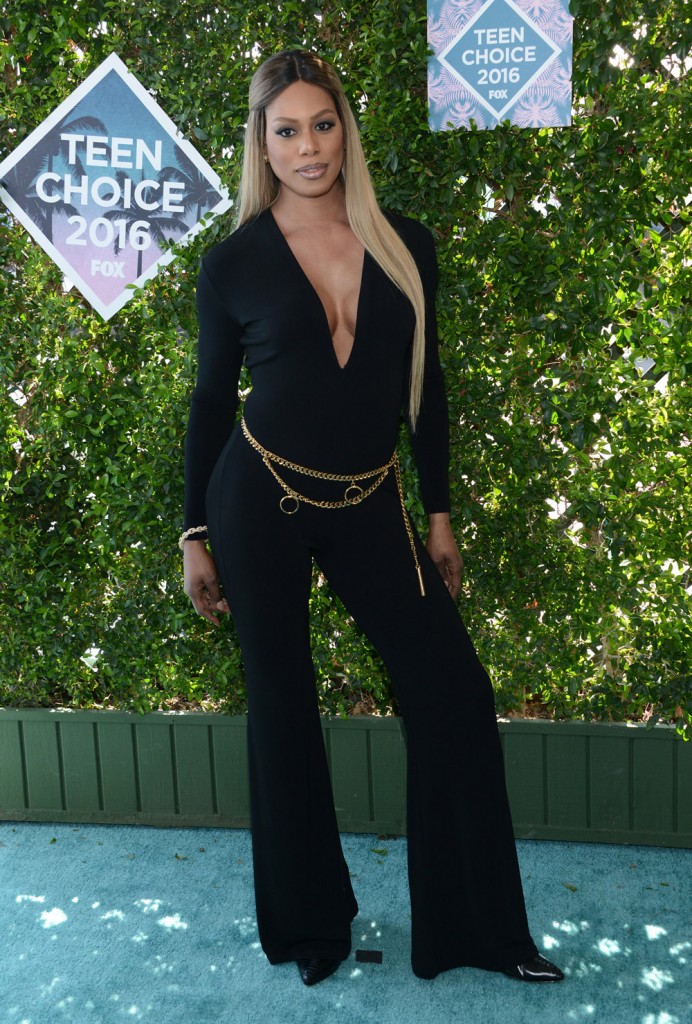 Laverne Cox was also all in black, in a v-neck Michael Costello jumpsuit with a Chloe belt. This is another case of an decent outfit elevated with pretty styling, although I don't know if I like her hair that long length. Laverne and her Rocky Horror costar, Victoria Justice (who was also co-hosting along with John Cena) sprayed Cena with water bottles on stage as they discussed the plot of the show. Laverne retweeted a gif of that moment. The Rocky Horror Picture Show, which is a TV film remake of the 1975 classic (it isn't being broadcast live like so many other musical remakes), will air on October 20th.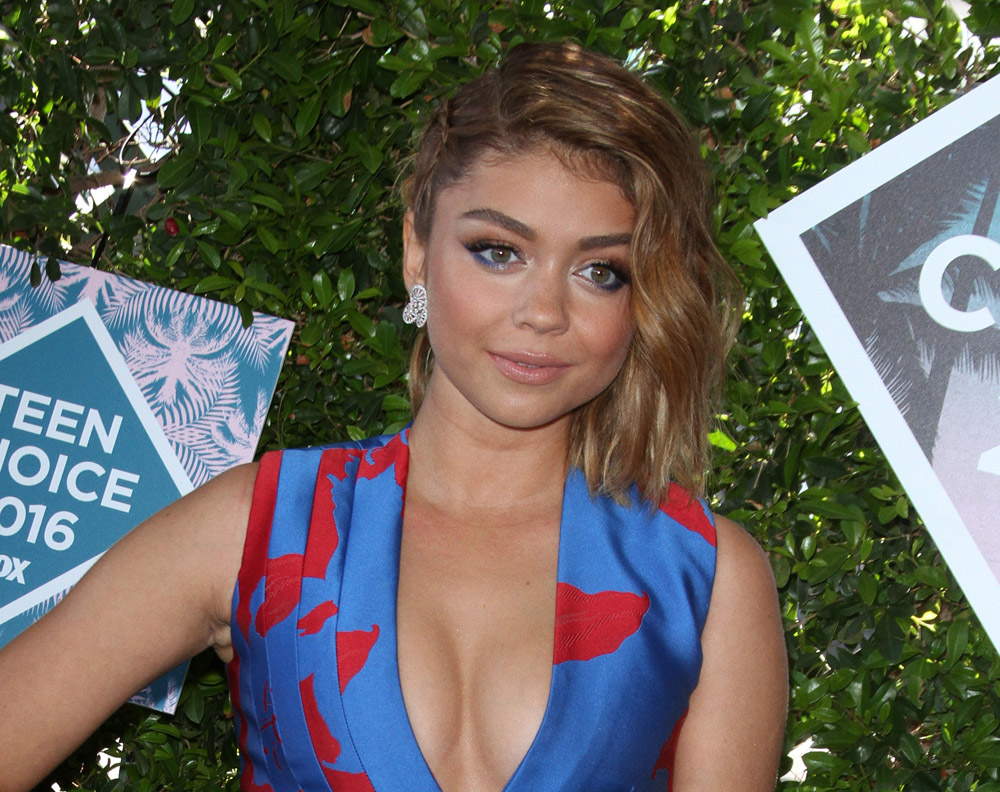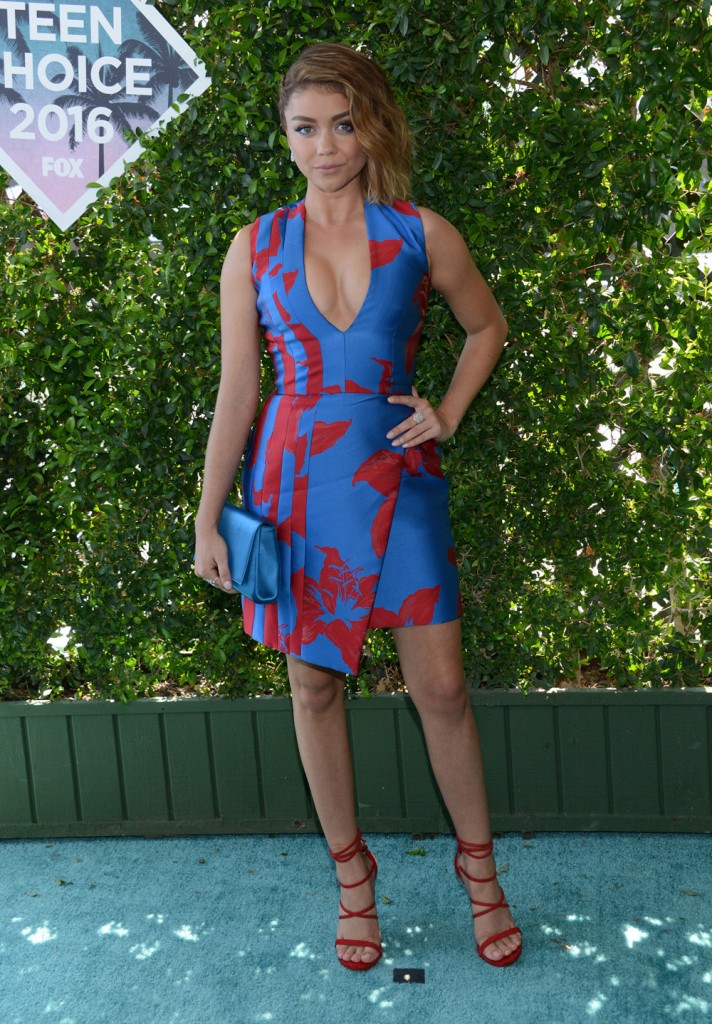 Here's Sarah Hyland representing Modern Familyin J Mendel. There's something off about this dress, like it needs to be let out a little in the bodice. It also looks like it's made with very heavy fabric, as if it's a dress for the winter that someone cut short. Maybe I'm just being thrown off by the pleating. I do like the bright blue and red print.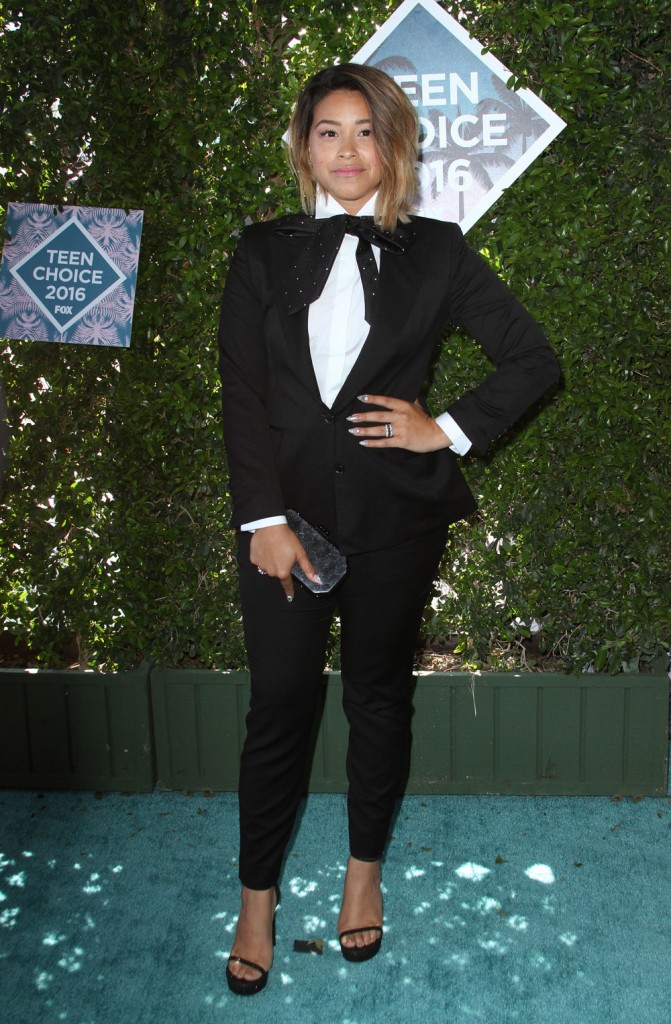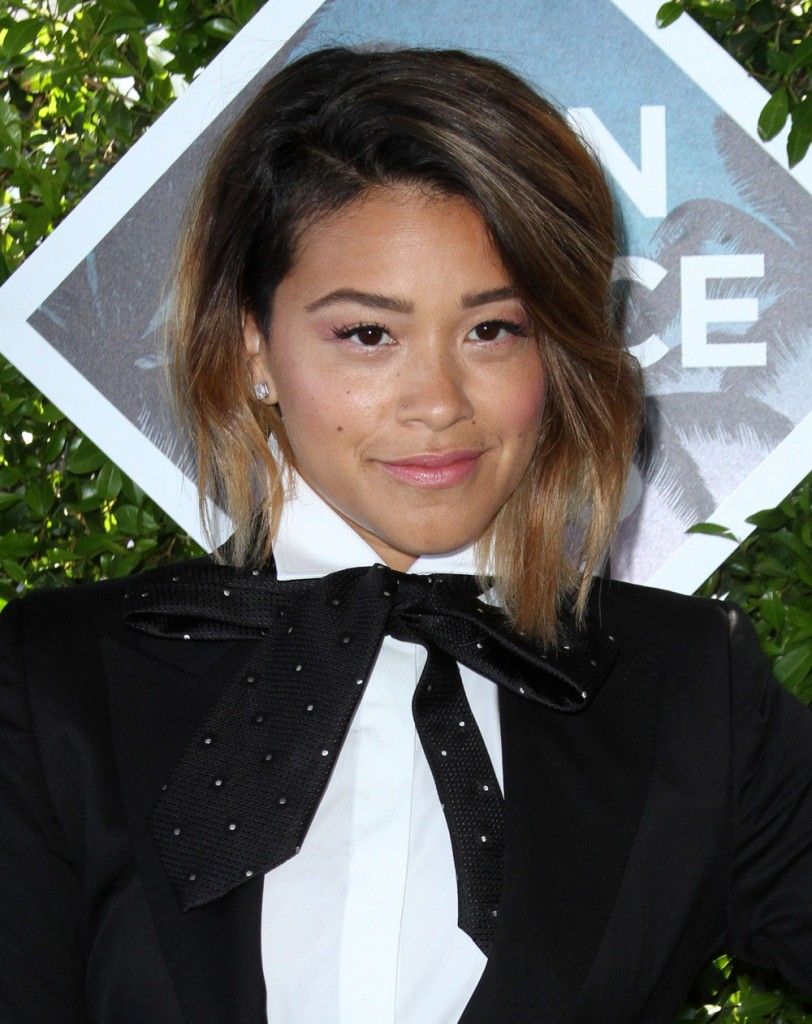 Gina Rodriguez looks so different that I didn't recognize her at first! She cut her hair short and shaved the underside for a role and then she went an ombre blonde color. She was in a Cielo black suit with a goofy polka dot tie. I think that's actually a man's tie which someone fashioned into a bow. Why would anyone do that to her? She's also wearing very understated makeup. This whole look is wrong. Gina was up for Choice TV Actress: Comedy, which went to Candace Cameron Bure, for some reason.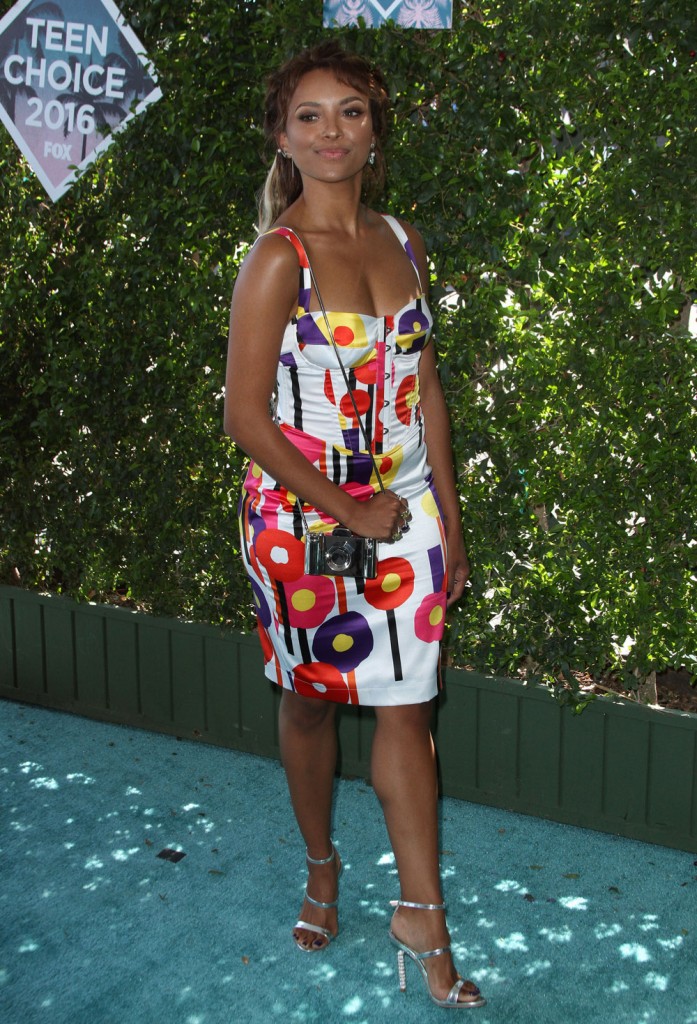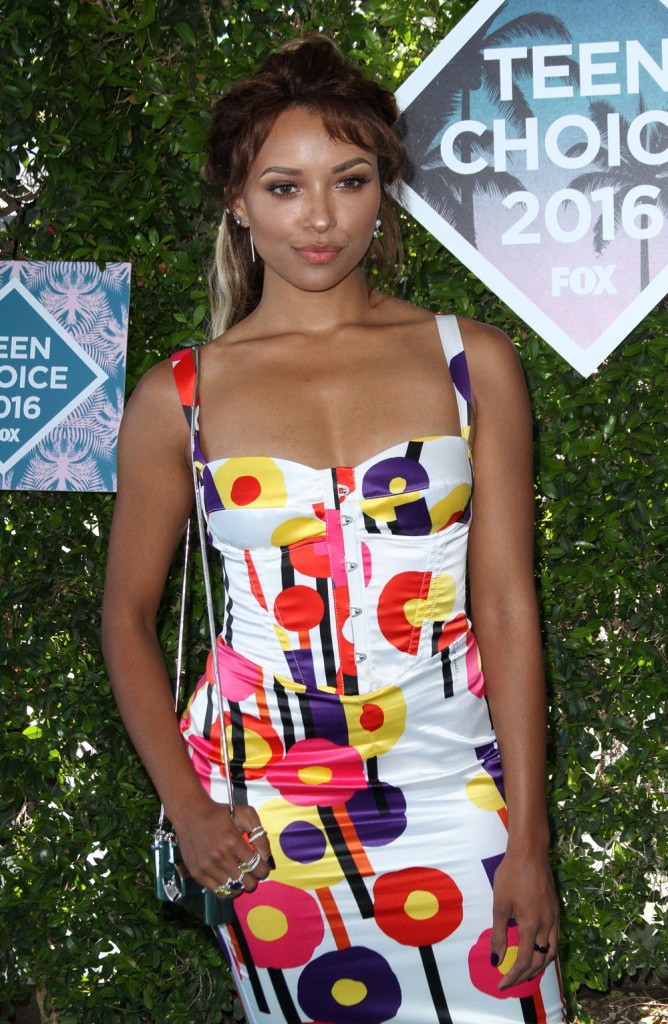 Kat Graham was in a kicky little white dress with a fitted bodice and an allover graphic floral print. I don't have a designer ID on this, but it vaguely looks like Dolce & Gabbana. I really like to see what Kat is wearing, this is a great summer look for this event and is bold without looking cheap.
photos credit: WENN.com, Fame and Getty