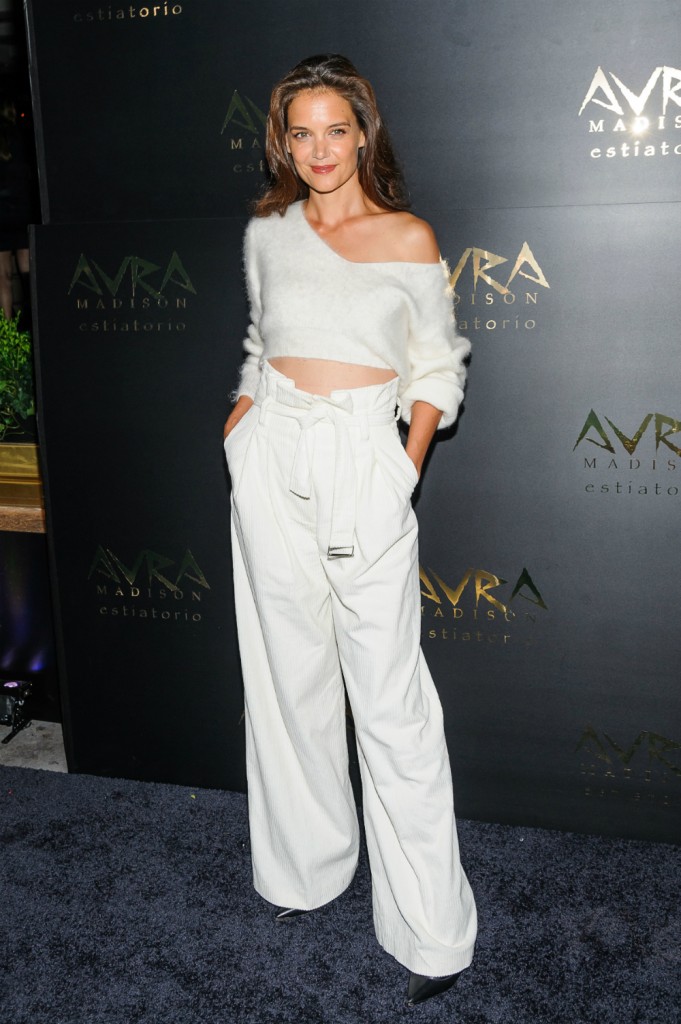 Much like Tom Cruise, we haven't seen much of Katie's Holmes' daughter Suri lately. Fortunately, Katie shared some photos of her mother Kathleen's surprise birthday party over the weekend that feature the now ten-year-old Suri:
Gah, those photos are gorgeous, aren't they? Did anyone else audibly "aaaaw" upon seeing them? That last one warms even my cold, cynical heart. Kudos to the photographer for capturing so much feeling. Katie also shared Suri in full celebration mode:
Even without their outfits on display, you can tell that both ladies were likely beyond fashionable. So is Suri taking sartorial advice from her mother? Nope. Katie told US Weekly that Suri's style is all her own.
Holmes recently opened up to Us Weekly about Suri's style insisting she doesn't take any cues from her fashionable mama.

"No, absolutely not," she said at the Cartier Fifth Avenue Mansion's New York Fashion Week reopening on Wednesday, September 7. "She has her own [sense of style]."

However Holmes said she has picked up a valuable fashion and beauty tip from her own mom, Kathleen.

"[She taught me that] being true to yourself is beautiful," the Dawson's Creek alum told Us.
My daughter has very definite opinions on her look and does not care for my fashion input either. We had a disagreement over a shirt the other day that I said didn't match what she was wearing. She argued that even though the patterns were competing, the main color in the shirt was picked up in one of the stripes on the skirt and therefore, went perfectly. She's nine.
In other Katie news, RadarOnline claims that Katie only has one year left on the "silence" clause of her divorce settlement to Tom. Supposedly, a stipulation was built into the settlement that said Katie couldn't talk about Tom, Scientology or do anything to embarrass him – like date publicly. If this is true, does that mean that 2017 will finally be the year Katie and Jamie Foxx step out together? Get married? I hope so. I doubt Katie will ever overtly say anything about Scientology but maybe Jamie could work in a few not-so-veiled references in his wedding toast?
Related stories
Featured Links
-
17 times Ellen made her guests uncomfortable [Buzzfeed]
-
Things from the 80s that don't make sense anymore [Pajiba]
-
Oprah's awkward interview with Sally Field [Just Jared]
-
Wendy Williams is single again [Dlisted]
-
Photos from the 2016 MTV Movie Awards [Go Fug Yourself]
-
Critics Choice Awards stole the Golden Globes air date [Seriously? OMG]
-
Heidi Klum is so extra [Red Carpet Fashion Awards]
-
Cast of Twilight then and now [Hollywood Life]
You can follow any responses to this entry through the RSS 2.0 feed.