People Magazine was the only celebrity weekly to put out an edition on the Brad and Angelina split this week (it's actually dated for next week but they released it earlier) when every other print outlet missed the news. People's original edition this week has a cover interview with Michael Strahan, Kelly Ripa's former cohost on Live who has since moved to Good Morning America. Michael left Live in April after four years, only informing Kelly that he was leaving until right before he was set to make an announcement on the air. He had been in talks with producers about his exit for weeks, but he was told by higher-ups not to discuss it with Kelly. Kelly definitely said her piece about her cohost's abrupt departure. She left earlier than scheduled for a vacation (which may have been a negotiation tactic), and she remained somewhat classy but made it clear in her return speech that she wasn't properly informed about Michael's exit. She also did a somewhat dishy People Magazine cover interview, revealing how she and the staff were treated at Live and how it was not ok.
Now it's Michael's turn to talk to People, and like Kelly he got candid about Live and about his personal life. I was impressed with how he explained staying close with his kids following splits with two different wives. I'm sure there's more to that story, but he explained it well. His children, 11 year-old twin daughters Isabella and Sophia and college students Tanita, 24, and Michael Jr., 22, also participated in the photoshoot with him.
People: In 1992 Strahan married Wanda Hutchins, and they had two children. When they separated, Hutchins and the kids remained in Germany.
I think a lot of times when you split, people assume that the mother is supposed to take responsibility for the kids. But from day one, it was very important for me to be active, to be a part of their life. I was constantly on planes and phones. And it's very hard – of course it's hard with them being in Germany. But one thing I learned is, you make time for what you want to make time for.

People: In 1999, Strahan got remarried, to Jean Muggli, but shortly after they welcomed twins Isabella and Sophia in 2004, the pair split amid ugly tabloid allegations.
It wasn't like, "Okay, we split, now I'm gonna write a check and send it to your mom every month, and Daddy will see you down the road…" Getting divorced is probably one of the toughest things I've ever gone through, but I learned a lot about myself. When you're a single father with 4-month-old kids, and you gotta be with them all the time, it taught me that there's nothing to be afraid of. I can do it. I look back on that as one of the most fulfilling times of my life. I look at my kids now, and I know it paid off in my relationship with them.

On his departure from Live
Toward the end of it all, we didn't really communicate that much. I kinda looked at it like, "It was what it was." I come from a business where you have to collaborate. The show as going well? We're all winning. That's all that matters to me. At one point I think we were friends. I don't know what happened at the end. I learned a lot from her though.

On the negative coverage of his departure
The most disappointing thing to me was that I was painted as the bad guy, because I value the way I carry myself. I don't want people to see me as "Oh, he just ran out, just left them there." That's just not true. On air all I could do was control myself. In football… one day you're the greatest player they've ever seen, then the next game you're the worst. But I got older in that business, and I said, "Hey it doesn't matter what their opinion is. All I know is I'm doing my best, and I'm giving it everything I have." I've been in stadiums with 80,000 people calling me all different kinds of things. No big deal.

Why he doesn't discuss his dating life
As you get older, you wanna spend your life with somebody. I never close the door on that. But I don't talk about dating anymore. It baffles me to see people where everything is so public.
[From People Magazine, print edition and online]
Strahan refused to talk about his romantic life but we know he's been dating a woman who is in her late 20s. He's 44. He was last engaged to Eddie Murphy's ex, Nicole Murphy, and that breakup was messy so his reluctance to go public may have something to do with that.
In terms of the Live drama, I get both sides of this. I thought that Kelly was well within her rights to make it known that she was not informed or treated fairly at Live, and I also thought that she dragged it out and pulled some childish moves. Just watching the show during Michael's last two weeks though I thought they got along fine. You really couldn't tell that they weren't communicating off screen as Michael suggests here (and as was reported around that time). Ultimately though I think the blame lies behind the scenes in the producers who orchestrated this and left Kelly out of the loop. It's like a lot of workplace conflicts, the people who do the work (which is very relative in this case but go with me) get blamed for just following orders from management.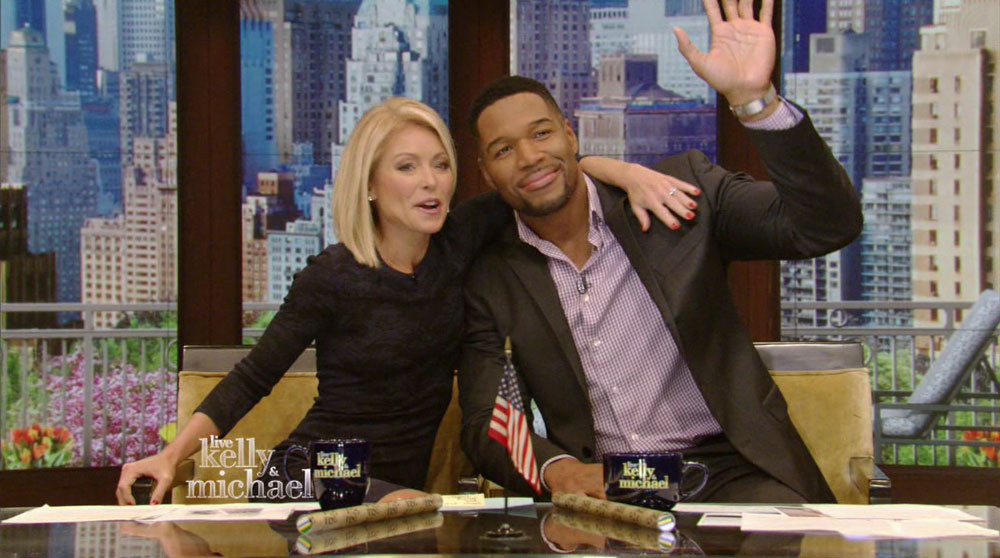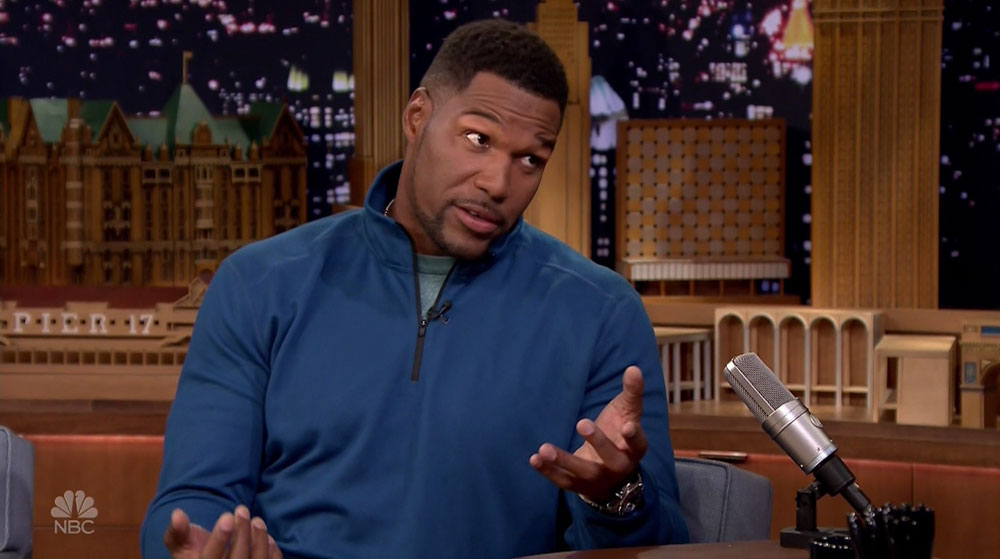 photos credit: Getty, People and WENN.com