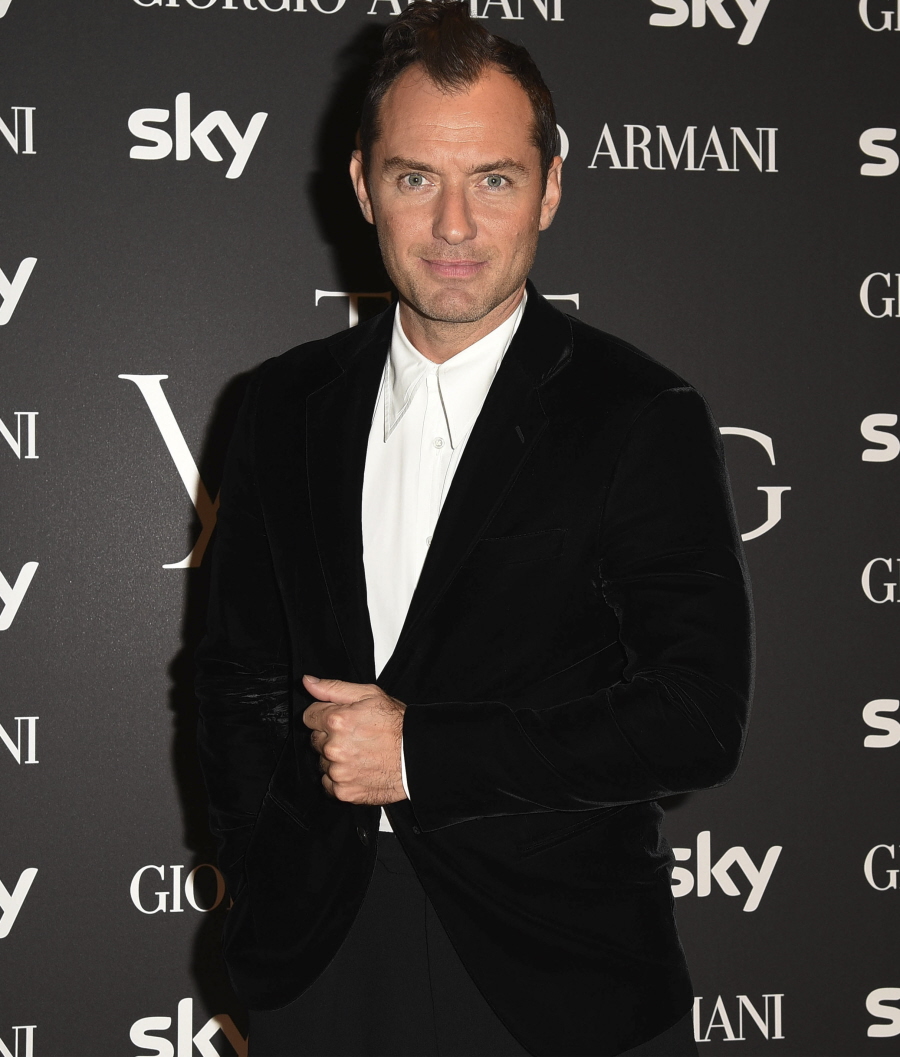 Here are some photos from this past weekend's Rome premiere and premiere-party for The Young Pope, the new ITV series starring Jude Law as a terrible young fictional pope. The story is supposed to be like House of Cards-goes-to-the-Vatican, wherein everyone loves the handsome young pope but it turns out he holds the same terrible, arch-conservative ideas as everybody else in the Vatican. To promote the series, Jude gave a really interesting interview to the Telegraph, which you can read here. He chats about the role, filming in Italy, the paparazzi and more. The best section is where he's talking about Brexit, I think. Some highlights:
The Vatican approves of this series: "It isn't trying to shock. It would be more shocking if Lenny was having rent boys up to the Vatican and smoking pot. But he's not. He's a conservative. In fact, he's a prude. He's homophobic, he's anti-divorce, he's anti-abortion and all those things are in the scriptures. He's standing up for things we know are questionable within the rules. It's more about a man trying to rein in and understand his own crisis of faith."

His own religious beliefs: 'I went through this phase, I remember, sort of dipping into Buddhism and spirituality, if you know what I mean. But it's very interesting, our relationship with the Church, even if you're not religious. One aspect of it that I really took away from this experience was its theatricality. It's like the birthplace of theatre, with its love of costumes and scriptures and lights and sets.'

Conservative faith anywhere is terrifying: 'There is something terrifying about conservative faith, as we all know, as we are all experiencing and seeing. I think it's important not to lose our heads. But at the same time, it's certainly moving in a direction that I find distasteful and uncomfortable. Anything that divides as opposed to bringing us together is worrying."

How he feels post-Brexit: "I had a couple of weeks of serious depression post-Brexit, if I'm honest. I was stunned that I clearly lived somewhere where I didn't know what half the population felt. And initially, there was a sense of anger at that, then I thought: "This is actually a sad situation, this is something we have to do something about." How do we understand and reshape this country? How do we move forward? If it becomes an "us and them" situation, it will only underline the problems we already have. I had to reflect on the fact that the country felt so divided, more of a sense of, "Good Lord!" I don't think anyone saw it coming and it felt suddenly like I was alienated in my own country. I didn't understand what the country was obviously feeling and going through, that it was in such an extreme state, and that upset me. I think being British is something I've always held dear. Certainly being a Londoner. I'm not a great patriot, but I'm certainly someone who feels English out there on the international market. And it just left me feeling confused, I suppose. Separated somehow.'

Whether he thinks of leaving Britain: 'Yeah, that's always flashing through my brain. But I never have. In my early 30s, late 20s, when my marriage and my family were very young, I remember discussing uprooting and going travelling. We always get a bit disgruntled about where we live for a while, but then in reality, where would I go? Maybe in the next 20 or 30 years I'll find somewhere. At the moment, I'm thinking of moving out of London rather than out of Great Britain. We'll see; it's not going to happen at the moment. The kids are still at school.'
It's interesting how the Brexit debacle has mimicked the Donald Trump phenomenon in America. I think most of us understood that when we elected Barack Obama in 2008, of course there was going to be a backlash because that's the political/social reality. But who among us could have predicted that the backlash to eight years of a moderate-progressive Democratic presidency would be the unhinged monster Donald Trump? That's what moderate-progressive people feel in Britain about Brexit: "do I even know my own country?" and "I thought we were better than this as a nation."
Also: I will give Jude $10 if he stops wearing drop-crotch parachute pants.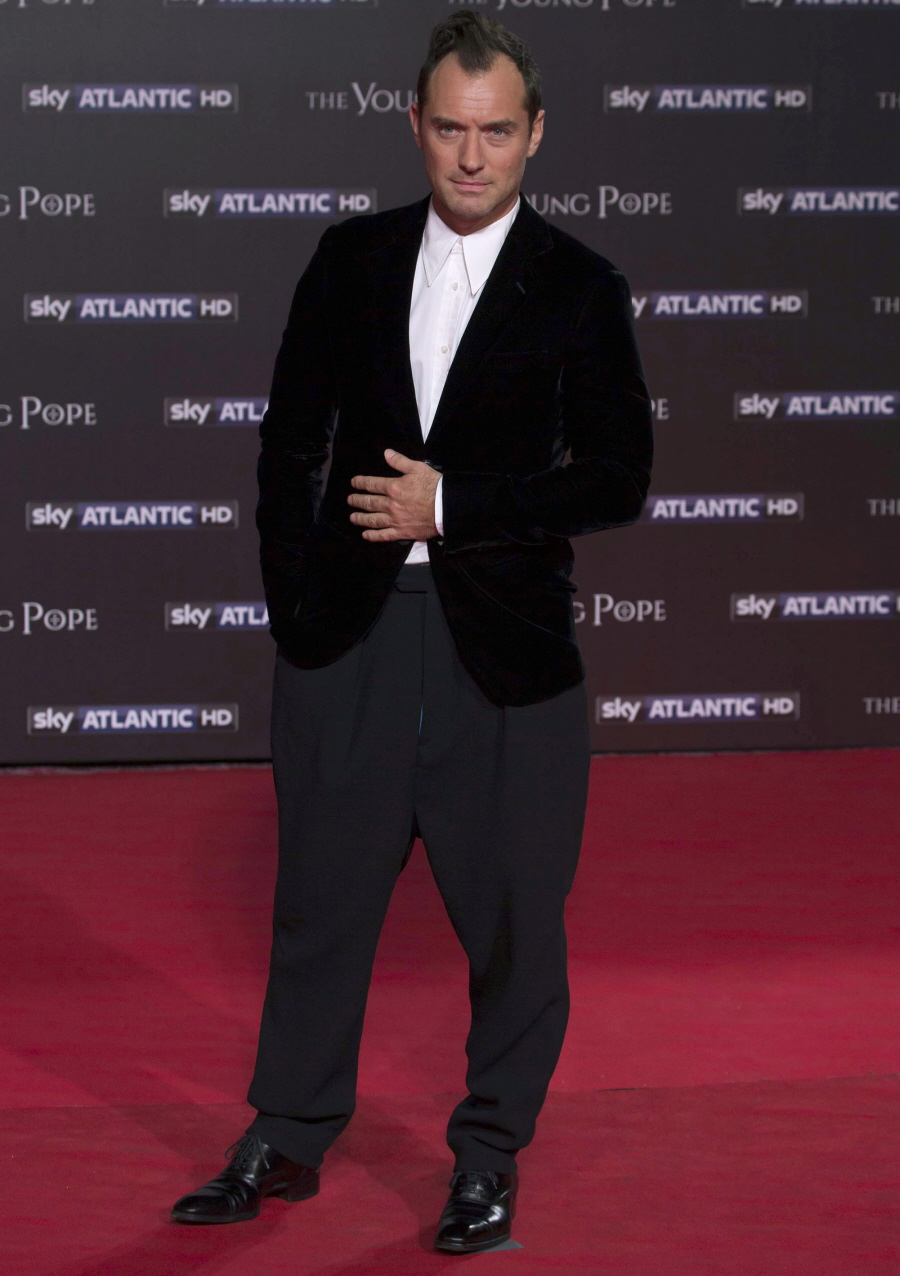 Photos courtesy of Fame/Flynet.