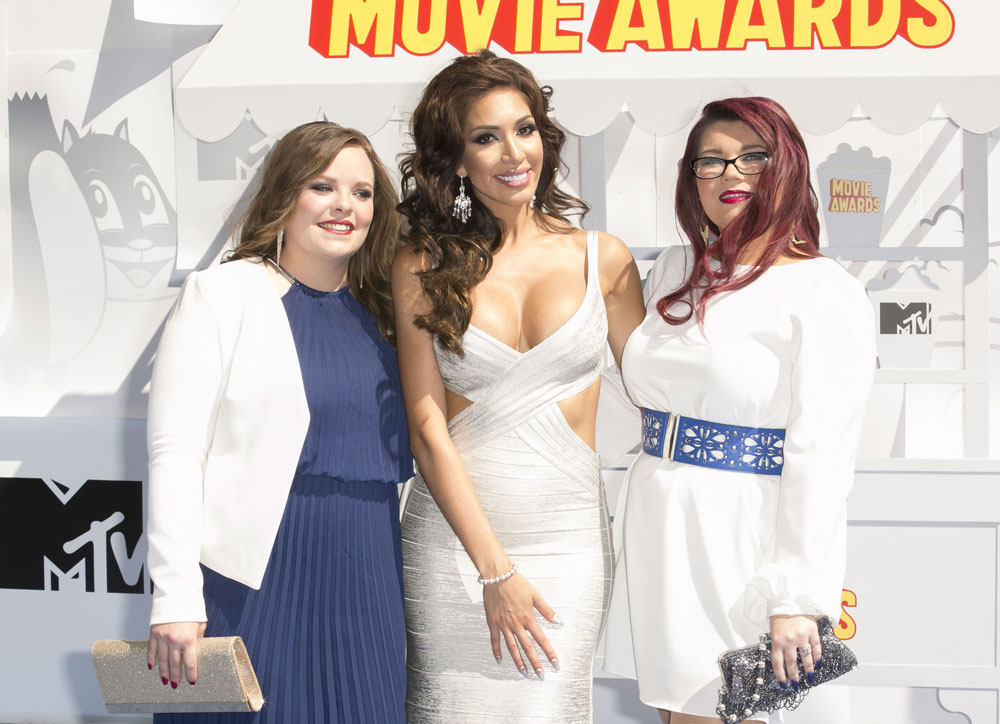 Catelynn Lowell, Farrah Abraham and Amber Portwood in 2015
The Teen Mom castmembers, OG and Teen Mom 2, often do idiotic things, make poor life choices and fight with each other and their significant others. Some of them have real problems, like arrests, drug issues, various breakups and partners in jail. We ignore them in terms of coverage for the most part, although I do read the articles at Reality Tea and try to keep up with what they're doing.
Teen Mom OG's Amber Portwood went to jail for 17 months, from 2012 to 2013, after voluntarily accepting a five year sentence for violating probation by failing a drug test. She was on probation for abusing her baby's father, Gary Shirley, after being caught on tape hitting him. She really did try to change her life, took anger management classes and achieved sobriety from what I've heard. (I haven't watched Teen Mom past the first two seasons though.) Amber, 26, is currently engaged to a very sketchy character 19 years older than she is named Matt Baier. Baier has around eight children from various women, and the children range in age from eight to 25. He owes significant child support and at least one of his children's mothers has spoken out about how emotionally manipulative he is. Amber has defended Matt and seems to have bought his lies. Luckily she's put off marrying him though, blaming "internet bullies" for her decision.
You've surely heard of Farrah Abraham. She's arguably the most famous Teen Mom because she did an explicit professional sex tape, she makes extremely questionable parenting decisions for her daugher Sophia, 7, and she often says and does idiotic things. Anyway Farrah has an on-off relationship with a guy named Simon Saran whom she describes as "unstable." Simon has trashed Farrah's costars and he's posted naked photos of Farrah on Snapchat.
Both of these women are dating real winners, is what I'm saying. And at a Teen Mom OG reunion Farrah defended her boyfriend for calling Amber's boyfriend a pedophile. Then Farrah's dad and Amber's boyfriend stepped in, there was some kind of scuffle between them, Farrah dared Amber to hit her and Amber tried but didn't land the punch. This happened at a taping on Saturday and we only know about it from eyewitnesses because the video has not been released yet. You know it's coming.
Farrah Abraham and Amber Portwood got into a physical fight during a taping of the Teen Mom OG reunion on Saturday, a source confirms to E! News. According to The Mr. Real Housewife blog, the incident took place after Dr. Drew Pinsky brought up comments Farrah's boyfriend Simon Saran allegedly made off-camera about Amber's fiancé Matt Baier.

"All was going well during the reunion. Farrah was taping her segment and Simon's comments about other cast members came up," an insider told The Mr. Real Housewife blog. "When Dr. Drew mentioned Simon had called Matt a pedophile, it seemed like he was heading in the direction of an apology, claiming it was all in fun…However, Farrah piped in and said well he does kind of look like a pedophile."

At this point, "Amber stormed onstage and started yelling at Farrah," a source tells the reality TV site. Farrah's father, Michael, reportedly came onto the stage and got between his daughter and Amber. Then, according to The Real Mr. Housewife blog, Matt came onstage and got in between his fiancé and Farrah's father.

This is when, according to the blog, "things took a physical turn." One audience member reports seeing Michael "flying into the audience" after a confrontation with Matt. Farrah "was yelling at Amber to punch her," one eyewitness claims, adding that "Amber tried and just missed hitting Farrah…"

In response to one fan asking about the reunion scuffle, Amber tweeted: "Matt went out there to get me [to] not fight…her dad got in my face so Matt got…in the middle and Michael choked him so Matt knocked him on his ass. While…Simon sat on the couch the whole time lol…"

Farrah tweeted a screenshot of a text with "Larry Mtv," adding, "Thanks Larry &the 3 stooges I'm always working non stop and got sick but still showed up & set still wasn't ready for me- vile jealous liars"
Farrah's boyfriend Simon went on quite the Twitter spree himself. "Amber, you should work on your aim," he wrote. "And Matt should have come after me. Pussy"

Simon even attempted to sum up the taping in under 140 characters, tweeting, "Recap of reunion: @amberportwood trotting around like a hippo. Matt and another senior citizen in a small scuffle. #teenmomog"
How trashy is Farrah's boyfriend for those tweets afterwards? This sounds more like Jerry Springer than MTV, but so many of these reality show reunion episodes veer into Springer territory, and I'm thinking more of the Real Housewives than Teen Mom. Part of me feels bad for Amber for taking the bait from Farrah, if only because I dislike Farrah for so thoroughly saturating the media with her bullsh-t. Amber has an abusive past though and she should not have engaged or become violent, there's no excuse for that. Team no one except their kids, who did not sign up to make their moms famous for having them young.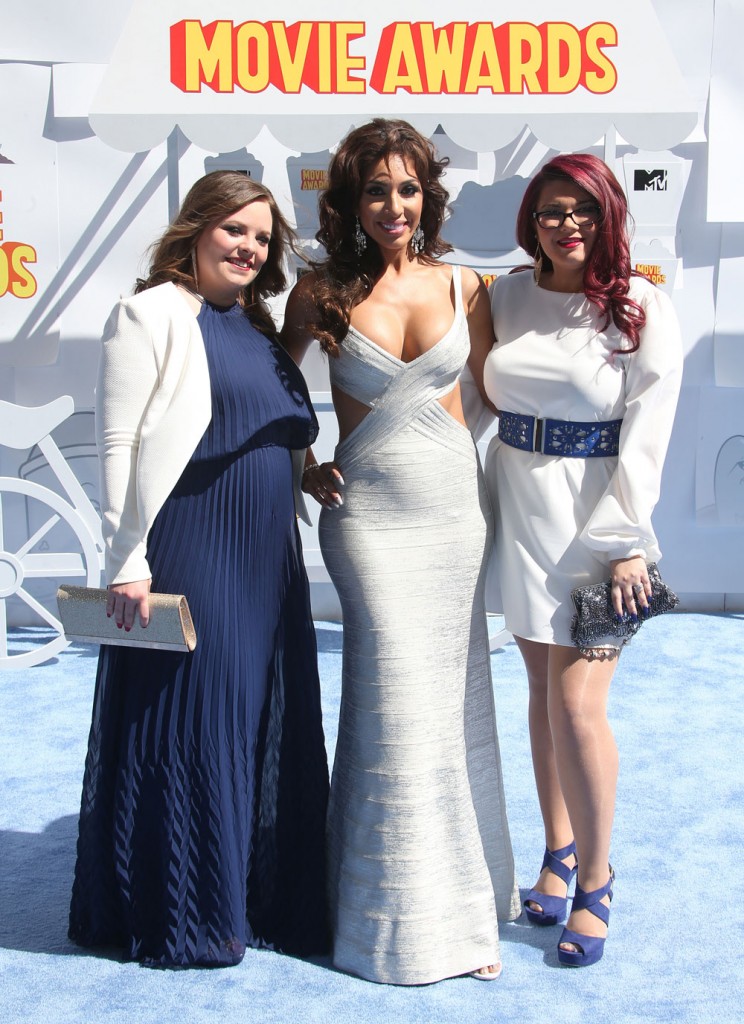 photos credit: WENN, Getty and via Instagram