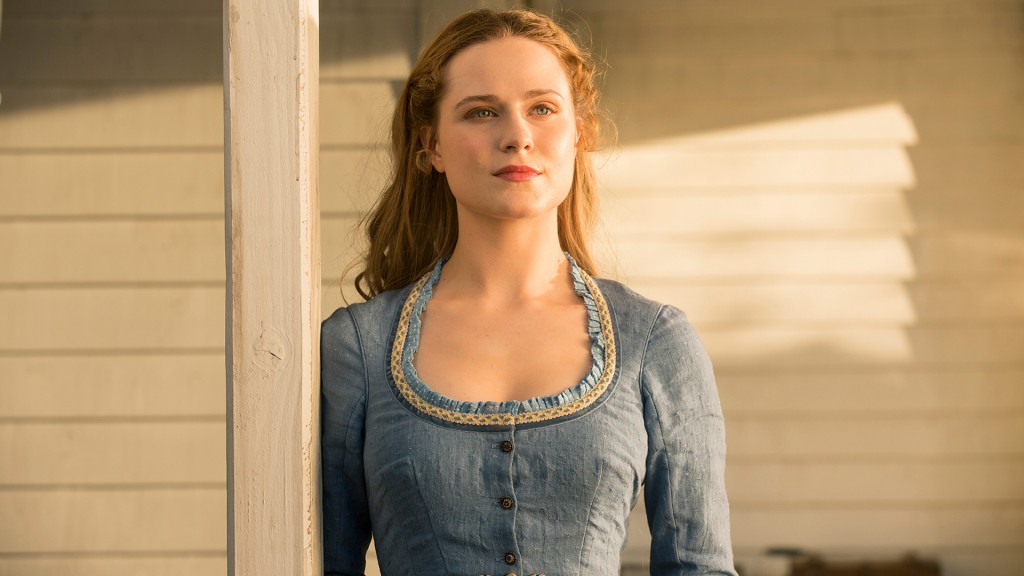 Mild spoilers for Westworld follow
I took the advice of those of you who were urging me to watch Westworld and marathoned it over the weekend. The show is unlike anything I've ever seen, with so many layers to the interactions between the hosts, or the robots who work in the wild west-themed park, and the humans who visit and work there. It's really hard not to get addicted to the show, so if you're considering watching Westworld do it now before you lose an entire weekend. There are so many excellent performances that you get lost in the story and start to take the debauchery and violence for granted. There were think pieces last week about the host with his head caved in, but it didn't even phase me, nor did the orgy scenes in the new border town of Pariah. After a while you just kind of accept that there are different rules in Westworld. Apparently it was a bit of a shock to the actors who were filming those scenes. Evan Rachel Wood has an interview with The Hollywood Reporter in which she talks about the evolution of her character, Dolores, and how it was to sit naked in front of her creator, Dr. Robert Ford, played by Anthony Hopkins. There seems to be a whole backstory between Delores and Ford. Rachel tells THR that she tried to figure out what it could be by studying Hopkins's demeanor during those scenes, but that she couldn't get a read on him.
Episode five is a big one for Dolores, starting with her arrival in Pariah. What does she make of the town?
I think what we're starting to notice, especially in this episode, is she is improvising. She's really breaking code. She's speaking in a less damsel, Disney princess-type of way, and more like a philosophical stoner. (Laughs.) She's suddenly asking different questions about her reality, and she's also making sense of it very quickly, and in an evolved way. Like, when she sees Pariah, she doesn't freak out; she says, "It's beautiful in its own way." Because it's almost what the world looks like when it's not pretending. It's just an honest world. She's also obviously starting to hear things that she would normally be programmed not to …

And seeing things, as well.
Yes. She's seeing things and talking to the voice, which is getting louder and stronger. I think she's scared about what's happening, but she's compelled to see where this is going to take her. And we also saw Dolores and Robert Ford (Anthony Hopkins) have a scene together for the very first time this season.

What are some of your memories of shooting those scenes?
It was breathtaking. Because obviously I was so excited to know what it's like to do a scene with Anthony Hopkins. But it wasn't just a scene. It was an empty glass box, and I sat on a stool, naked, and Anthony Hopkins was five inches away from my face. It was such an intense scene, and especially for Ford. I feel like it's the first time we've really seen him vulnerable and scared, without all the answers. There's 30 years of history between him and Dolores that we still don't quite understand, and I'm still trying to figure out exactly what's going on in that scene, and who they are to one another, and why he's so scared.

The scene ends on a great note, as Dolores asks Ford: "Are we friends?" And he very chillingly replies, "I wouldn't say that at all." So what are they?
It could mean so many things. They could be enemies, or not. When Anthony and I did that scene, he did every single take differently. I thought I might be able to get clues from his performance, and then it changed every time. So I was like, "Aw, man! It could be anything!" He blew me away with his acting. Of course, we all know Anthony Hopkins is one of the greatest performers of our time, but seeing him in person and seeing those subtleties and seeing them change every take was just like watching Da Vinci paint. It reminded me why I love what I do. It was unbelievable. I even forgot I was naked! It was that good!

What was your experience shooting the scenes at the sex party in Pariah?
It was so crazy. It was one of the craziest days of shooting I've ever had in my entire life. I just kept having to go into a corner, put my earphones on, and try to zone out, because I also had to sit there and not really react to what I was seeing, and it was… people were painted gold and red, and there were orgies, and we had no warning. We just walked on set and there it was. (Laughs.) Jimmi Simpson and I just kind of clung to each other.
Mild speculative spoilers
She's so thoughtful about her work and about Westworld and you never once doubt that she's an automaton coming into consciousness. EWR is selling the hell out of this show and she has another interview with Huffington Post where she gets incredibly excited talking about how intense it gets in episode five and beyond. I especially liked her character's arc in episode five, where she picked up a gun and decided to no longer be the damsel in distress.
I'm only just delving into this show and have realized that there are all sorts of theories about what's really going on with Dolores and with the various characters. There's a theory that seems to hold some weight that there are two versions of Dolores, and that's why she keeps seeing herself. That would also explain how the bandit who was killed by The Man in Black, Lawrence, turns up as El Lazlo so soon afterwards. There's another theory that we're looking at different timelines and that two of the human characters are actually the same person at different phases of their life. I'm not going to get into that but you can read about both of those theories on Huffington Post. I hope the second one is not true.
Also, there are SO MANY talented actors on this show. I love Thandie Newton and I want to see more of Rodrigo Santoro. Ed Harris is perfect as the Man in Black and it goes without saying that Anthony Hopkins slays.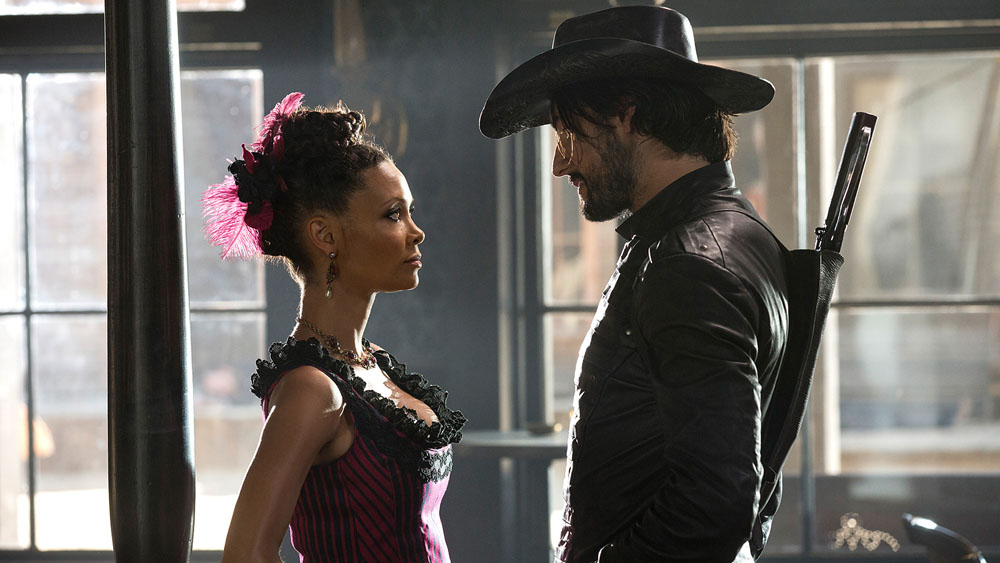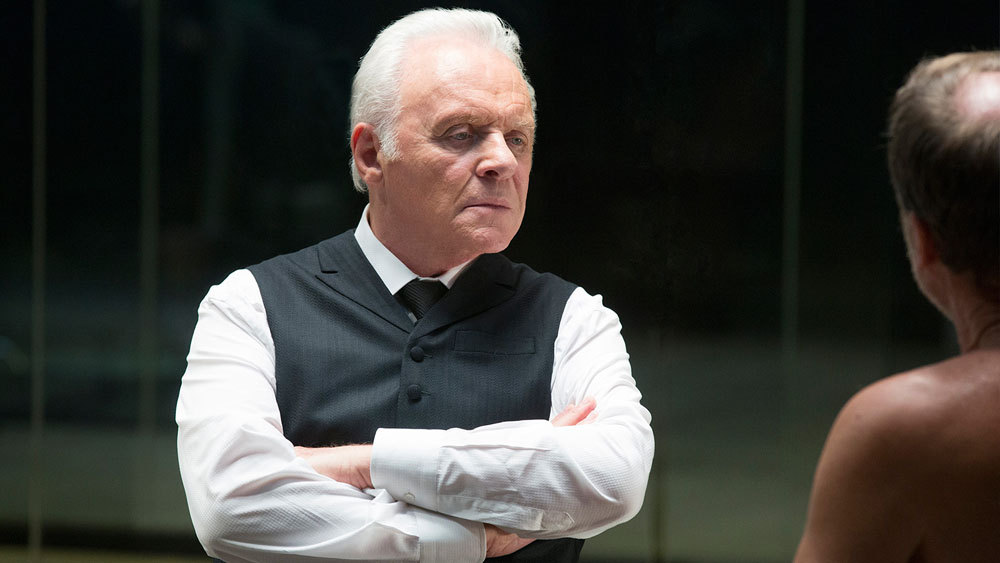 photos credit: HBO