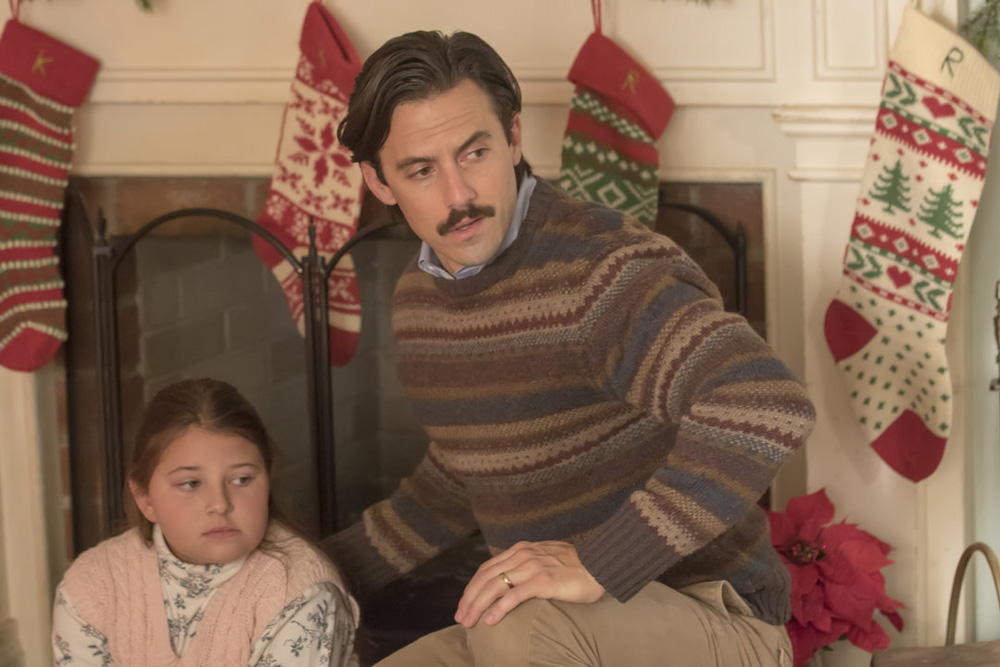 Warning: Spoilers ahead for the winter finale of This is Us
Yesterday, I talked about how I loved This is Us, and not only because of Milo Ventimiglia's tush. Well, the winter finale, with the foreboding title "Last Christmas," definitely packed a gut punch. On the lighter side, Kevin played the role of boyfriend at Sloane's Hanukkah dinner and decided to use his own money to help produce her play – with her as the star (instead of bitter Oiivia) and…well, that's about it. Oh, and Miguel IS Clark Griswold when it comes to Christmas decor.
The other story lines weren't quite as merry and bright. In flashback land, we find out that Dr. K, who delivered Kate and Kevin and was responsible for Randall's adoption, is on the verge of death after a car accident (but survives), Rebecca comes reluctantly to the terms that she might be at least partially responsible for Kate's relationship with food (and that there's a lot about her daughter that she doesn't know), Randall encounters a suicidal co-worker (and buys a boat, which is a fate worse than death, believe me), William is gay (who saw THAT coming?) and, most tragically, right after reconciling with Kate on Christmas Eve, Toby (not Toby!) collapses in a heap on the floor and is whisked to the hospital. And yes, this all happened in the span of 42 minutes. Merry Christmas!
Chris Sullivan, who plays Toby, talked to People about his character's turn of events. When asked how he was feeling, he replied, "Oh, man. #PrayForToby." He said he found out about his character's heart attack earlier on in the shooting of the season, but asserted that no matter what happened to Toby, the show's creative team will handle it skillfully, stating:
It is a bold and tricky storytelling move that only the writers' room of This Is Us could handle. Any actor becomes concerned when the writing staff starts having them collapse over coffee tables, but I have faith in our creative team that they will tell the best version of the story that there is to tell.
When asked if his character was dead or alive, Chris responded, "Well, I'd say he's definitely one or the other. You know what I mean?" And, while Chris also didn't give a definitive answer when asked whether or not he's been filming scenes for upcoming episodes of the show, he recently tweeted this photo from the Paramount lot, where the show is filmed.
#Paramount #ThisIsUs pic.twitter.com/V7up3bA54o

— Chris Sullivan (@SullivanTweet) December 6, 2016
What a lovely photo…wait? Clouds? Is that supposed to represent heaven? Where Toby might be next season? Oh, I hope not.
Okay, let's see what the Manny has to say about the cliffhanger. US Magazine spoke to Kevin, a/k/a the hunky Justin Hartley, who said he didn't see the shocking twist coming, adding, "Every single episode is like that for me. I'm like, 'Welp, didn't see that coming!' I don't know if I'm stupid or what, but I'm always shocked by their storytelling. It blows my mind." As for his character's romantic future, it seems like signs are pointing at "Klone" and not "Olivin" (sorry, those names don't lend themselves well to the couple name generator). On his character's story act, Justin said,
Kevin is continuing down this path where he's looking for love and all that kind of stuff, but then something happens, someone comes back into his life and he's trying to figure out that situation, and then maybe someone else comes back into his life! I think Kevin realizes who it is that he's longing for, and it's one of those things that This Is Us kind of does where it's like, man, that was right there the whole time, but you just didn't see it. And you sort of experience it with Kevin, which is one of the things I love about our show, when the character is experiencing something, as an audience member you're kind of going through it with them, and I kind of love that sort of team work of our storytelling.
I hope the means he ends up with Sloane. They make a great couple. But so do Randall and Beth…and Kate and Toby…I hope! They just can't kill off Toby. I love the relationship between him and Kate and I really want to see Kate happy, especially on the verge of her gastric bypass surgery and the (hopeful) start of a new life for her. And now we have to wait to find out what happens until the show comes back on January 10.
For the record, this "winter finale" stuff is complete BS. The time of year I have a little surplus time to watch TV and every one of my favorite shows goes on break. End rant. Oh, and thanks for the cliffhanger, This is Us! I feel like I just got coal in my stocking. #PrayForToby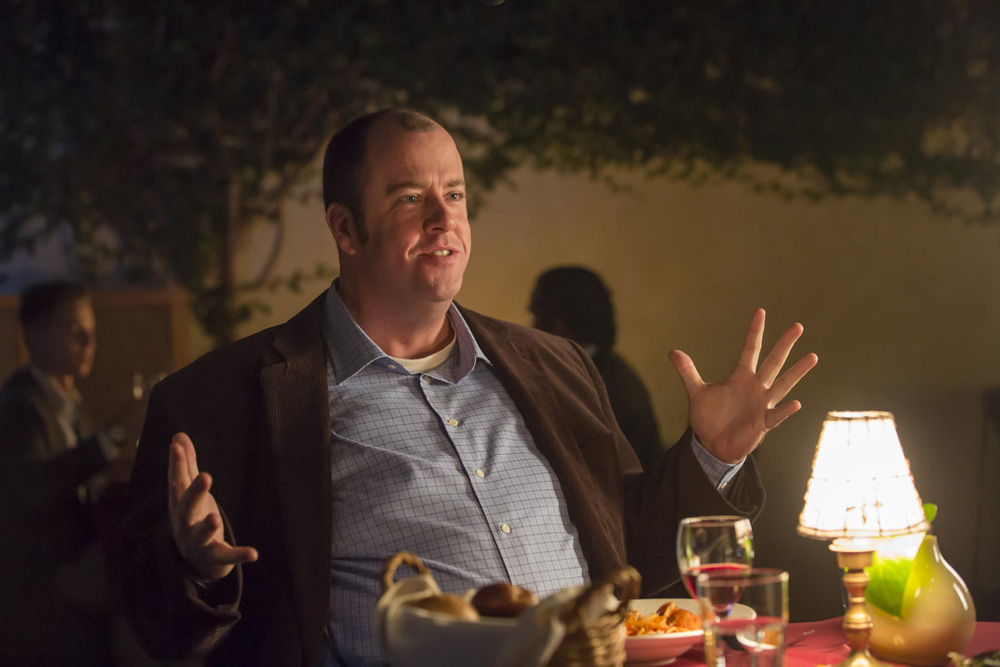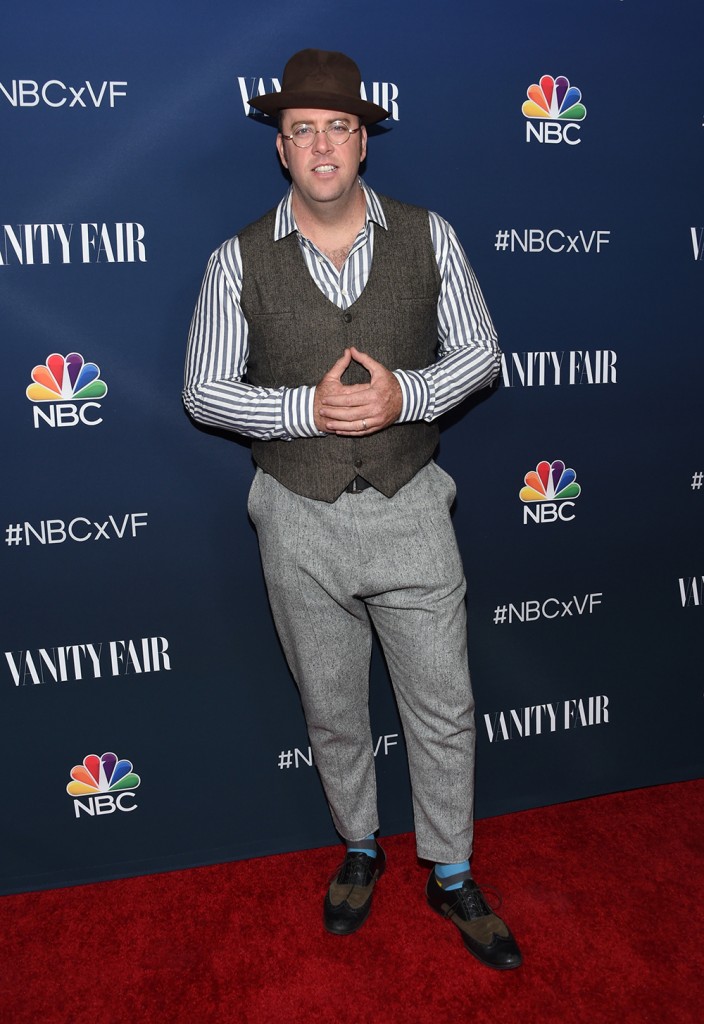 Photo credit: Getty Images, WENN.com, NBC, Fame Flynet