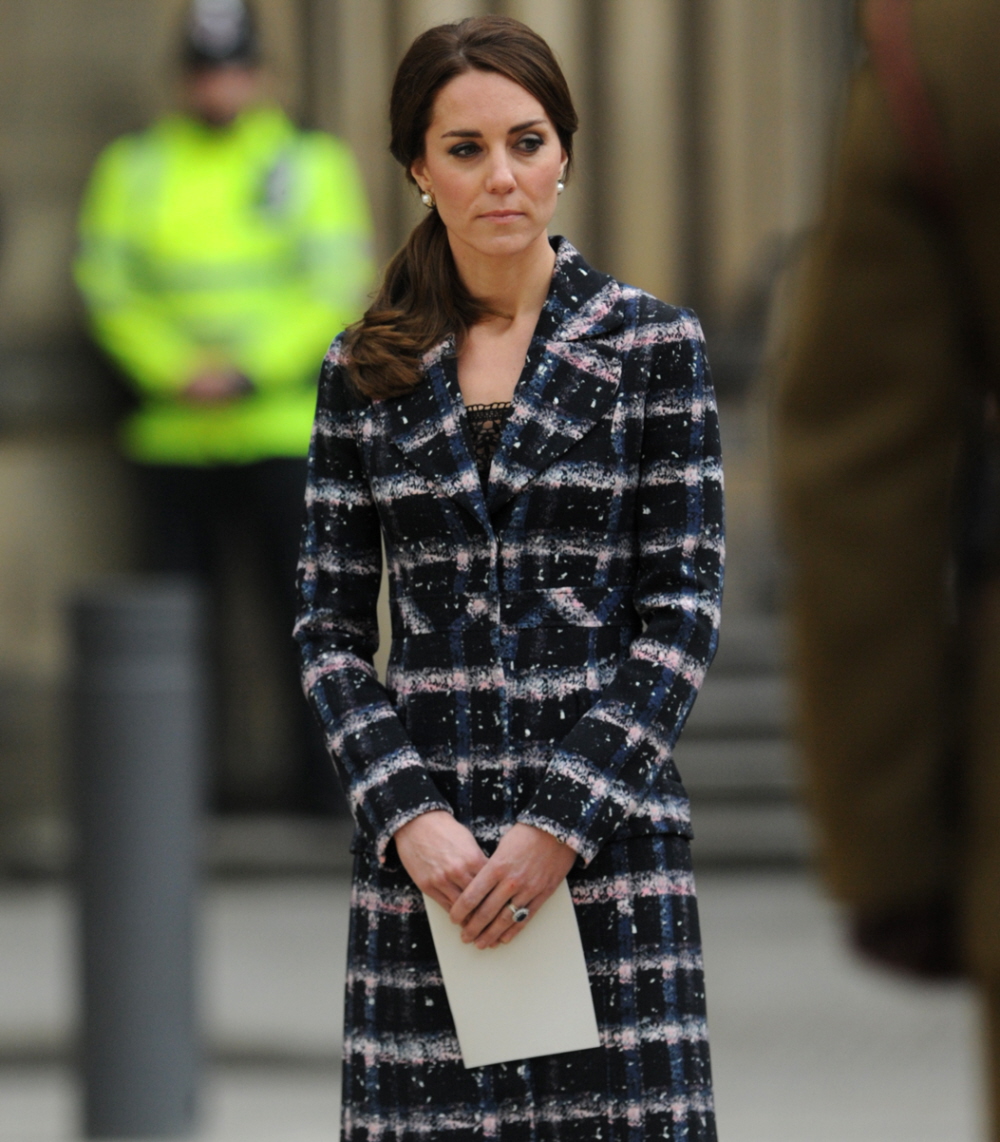 Everyone – every single person – has little nervous tics and self-soothing mechanisms for when they're bored/uncomfortable/nervous. Mine include: biting my lips, pursing my lips, playing with my hair, putting my hands on my hips, bouncing my leg and playing with my nails. I'm basically really lucky that I work at home because I'm sure my habits would drive coworkers up the wall. Considering the Duchess of Cambridge is a public figure and has been for more than six years, we've become pretty familiar with her nervous tics too. She touches her hair, she bares her teeth, she purses her lips, and in one of her most famous self-soothing habits, she clutches her crotch. She usually is carrying a clutch purse, but even when she's not, her hands still instinctively go to her crotch, almost as if she's patting down her lady parts. Well, for some reason, the Daily Mail decided to write a story about WHY Kate does this, and they actually spoke to "experts" about it. What the experts say is… bewildering.
She's rarely seen on an official engagement without a small box clutch, often carried in front of her with both hands, and now etiquette experts have revealed that the Duchess of Cambridge's favoured handbag is down to more than just a fashionable choice. Recently, the founder of Beaumont Etiquette Myka Meier told Good Housekeeping that the way the Duchess 'holds her bag in front of her in both hands when shaking hands might be awkward'.

But now MailOnline's expert in all things mannerly William Hanson says that the Kate is going about things the wrong way by using her handbag as a shield.

'The Duchess of Cambridge may well prefer not to shake hands with certain people – but there are other ways to achieve this, as used by The Queen and other members of the royal family, than opting for a clutch over a bag with a strap,' he told FEMAIL. 'It is protocol that you do not extend your hand to any member of the royal family (blood royal or those who have married in to the family) unless their hand extends first. With more experience, The Duchess of Cambridge will soon realise that she needn't be too nice, extend and shake hands with everyone. A courteous smile at those whom she does not have time to shake hands will suffice.'

He suggests Kate should look to her father-in-law or her husband's grandfather for inspiration on how to carry herself.

'Male royalty, such as The Duke of Edinburgh, often walk down line-ups with their hands clasped behind their backs, which although technically not correct, they can get away with due to their elevated position,' he said. 'Another good way to avoid unwanted hands.'

However, Grant Harrold a former butler to Prince Charles and the Duchess of Cornwall, believes that Kate has adopted her signature pose as it's an elegant posture, rather than out of any desire to avoid handshakes.

'The Duchess of Cambridge is often seen adapting a pose with her hands clasped in front of her with or without a clutch bag,' he explained. 'This gesture is adapted by confident people and it is popular with presidents, government minsters and heads of state when they are standing in public. I personally believe she has adopted this with a clutch bag for her official engagements, however she has also been seen with other handbags over the shoulder or arm at informal engagements. Technically the Duchess is setting a new trend for future generations of Royals and fashion followers alike. Royals do indeed set trends as history shows: The bottom button of the Gentleman's waistcoat left undone thanks to King Edward VII. History states he accidentally left it undone but it became the fashionable thing to do, even into the 21st Century. The Late Diana, Princess of Wales also set trends with her wonderful dress-code with beautifully coordinated handbags and shoes….the Duchess is a wonderful example of what I teach people with regards to posture as not only does she do it with elegance but her flawless posture is something we should all aspire to.'
First of all, Kate has awful posture. I suspect that she's trying to mimic the aristocratic "slouch" favored by true aristos like Isabella Gough-Calthorpe and Jecca Craig (although Isabella seems to have great posture in the photos I've seen). In the end, Kate's slouch just looks hunched and uncomfortable. As for the analysis of Kate's ulterior motives for carrying a clutch bag and how this is all some high-level positioning for handshakes… possibly, but I doubt it. I think it's more like what I said – it's her nervous tic, her self-soothing mechanism. Psychologically, it's interesting that she radiates the vibe of "protect the biscuit," but I suspect Kate also thinks the stance is girlish and makes her appear coy and child-like. Also: it would be hilarious if Kate tried to walk around with her hands behind her back like Prince Philip. Can you imagine??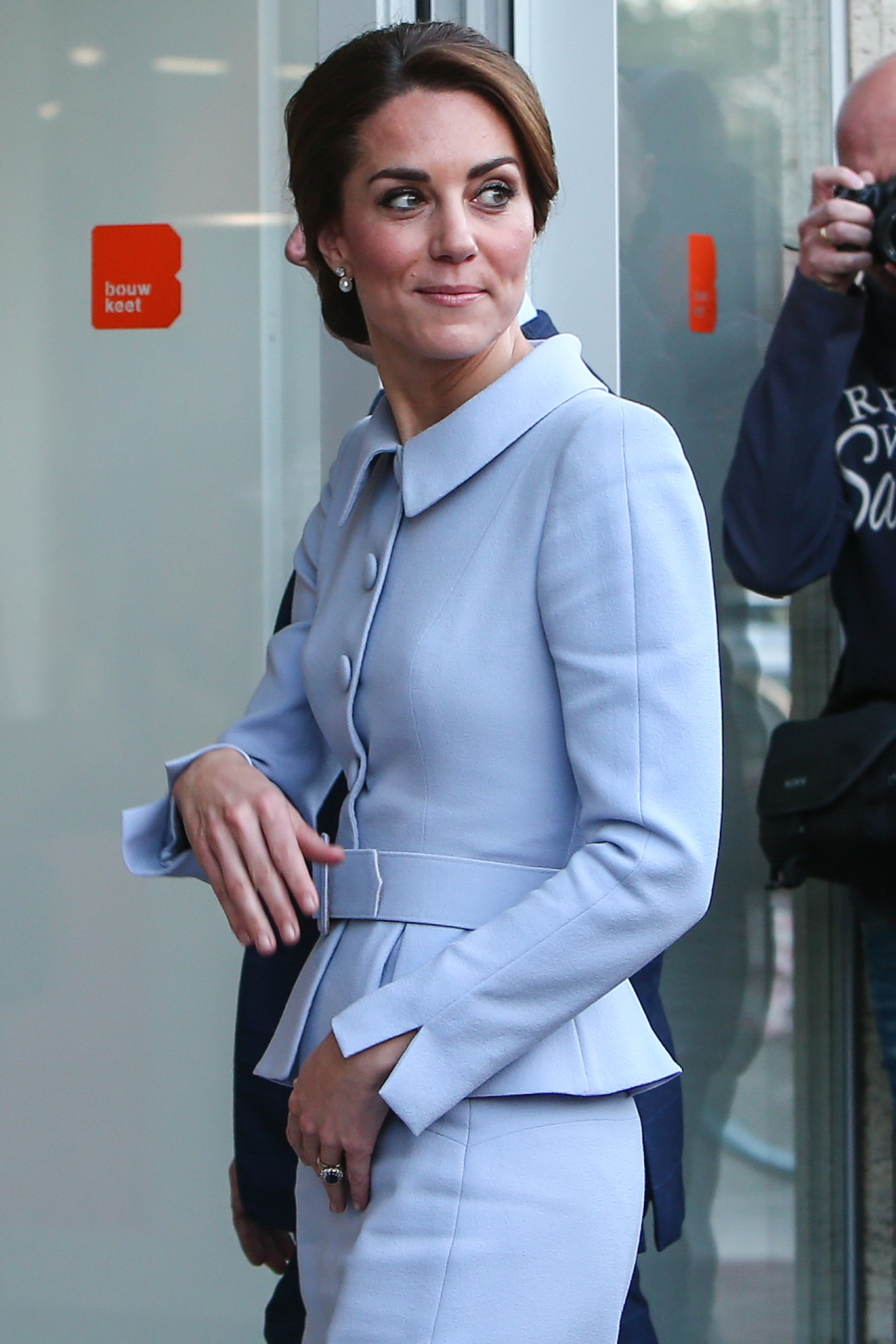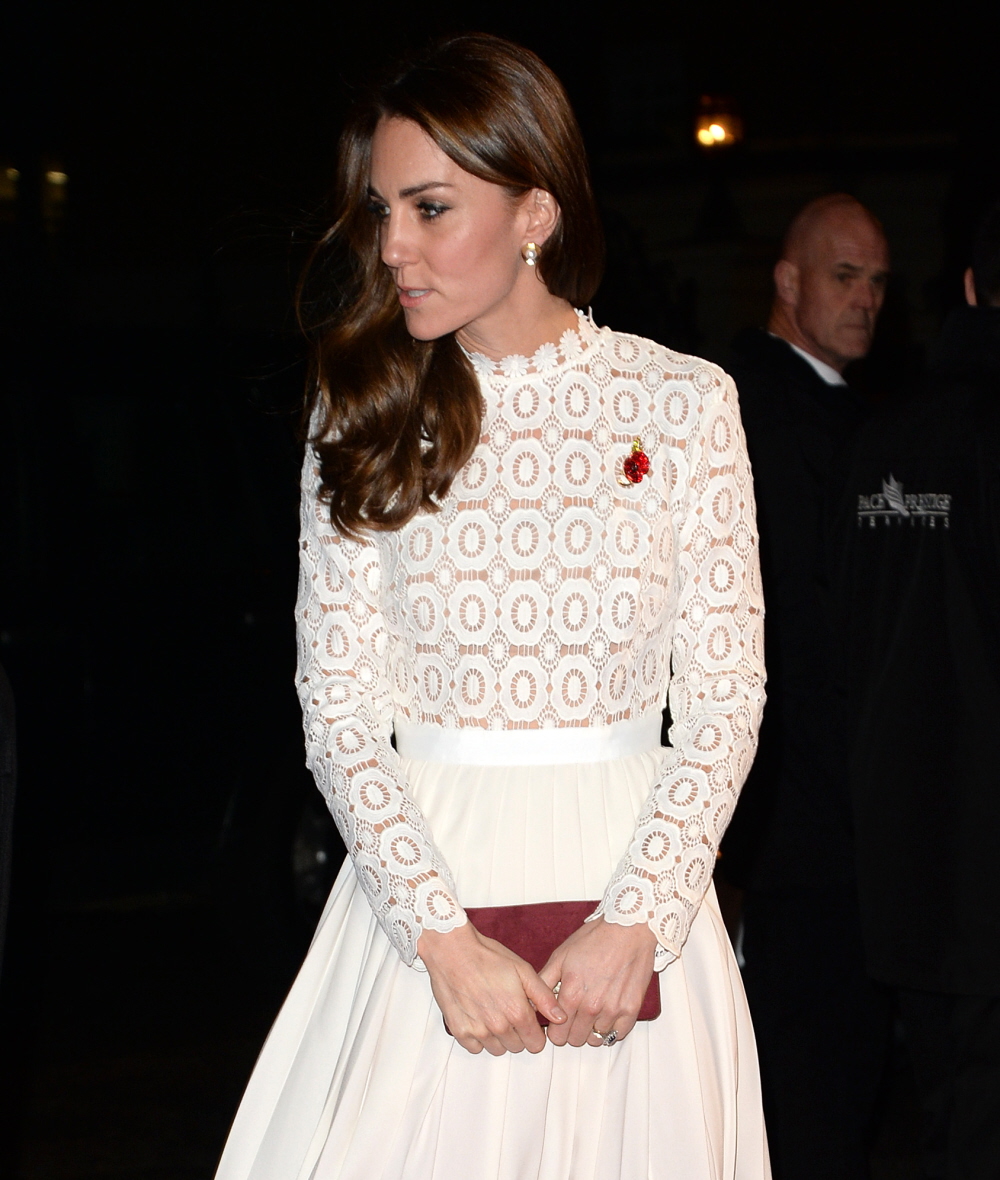 Photos courtesy of WENN.