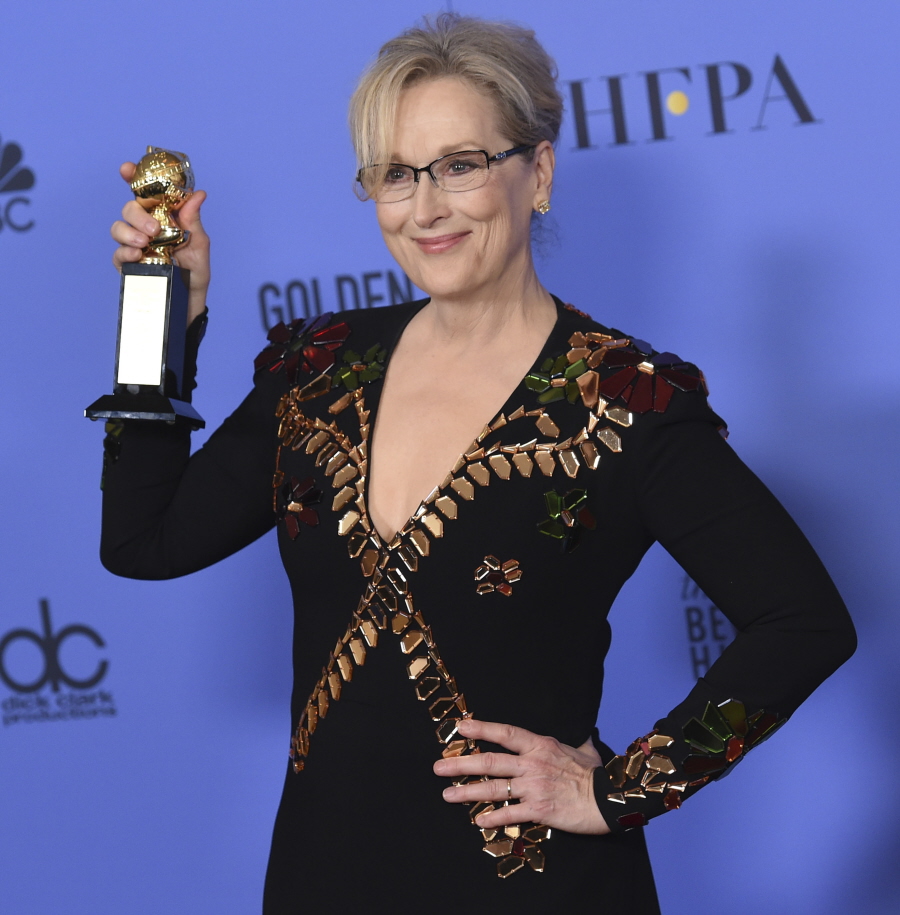 I have to say, now that we're 30-some-odd hours removed from the Golden Globes, I was pleasantly surprised by how this year's telecast was so newsworthy and dramatic. We've had a bad run over the past few years of really subdued, unsurprising, undramatic and uninspired awards shows. But between the surprise wins (Aaron Taylor Johnson, Isabelle Huppert), the surprise presenters (Brad Pitt), the memes (#HiddenFences) and Meryl Streep throwing down the f—king gauntlet, this year's Globes was a great, interesting show. And you know it was a great show because we're probably going to be talking about it all week, mostly because of Meryl. There are a million stories adjacent to Meryl's fiery-yet-classy speech, so let's get to it.
Meryl got to Donald Trump. Vulture had a great write-up about how President Baby Fists has always been obsessed with Hollywood and how Hollywood's protests against him have actually gotten under his skin. There's nothing really new here, just a well-written piece about how Baby Fists is a thin-skinned child who throws tantrums when the "cool kids" hate him.
"Celebrities should stay out of politics." That's what the Deplorables are crying about now, that HOW DARE Hollywood people have sh-t to say about President Baby Fists. There's a huge amount of cognitive dissonance, right? Trump had the most name-recognition of all the potential candidates because he was (guess what?) a TV star.
The Committee to Protect Journalists. Meryl name-dropped CPJ in her speech and while the non-profit hasn't been flooded with donations, they've gotten more donations in the past 36 hours than they ever have before. Typically, they would have gotten about five donations on an average Sunday night. On Globes Sunday, they got about 700 donations.
Trump used to love Meryl. In a 2015 interview with the Hollywood Reporter, he was asked about his favorite actresses. He said: "Julia Roberts is terrific, and many others. Meryl Streep is excellent; she's a fine person, too. The problem is I'll name three or four or five and then the hundred that I know will be insulted, and I don't mean to insult them."
Celebrities are defending Meryl. For much of Monday, the hashtag #ThingsTrumpThinksAreOverrated was trending after Trump called Meryl "overrated." Many celebrities were taking part, and many celebrities tweeted their love to Meryl in general. But one of Meryl's oldest and closest friends chose to write her an open letter of support – Robert DeNiro wrote to Meryl:
Meryl –

What you said was great. It needed to be said, and you said it beautifully. I have so much respect for you that you did it while the world was celebrating your achievements. I share your sentiments about punks and bullies. Enough is enough. You, with your elegance and intelligence, have a powerful voice – one that inspires others to speak up as they should so their voices will be heard too. It is so important that we ALL speak up.

We love you.
Bob
Aw. They need to make another movie together. That was sweet.
Anyway, obviously… we should all #StandWithStreep.
Photos courtesy of Getty, Fame/Flynet.