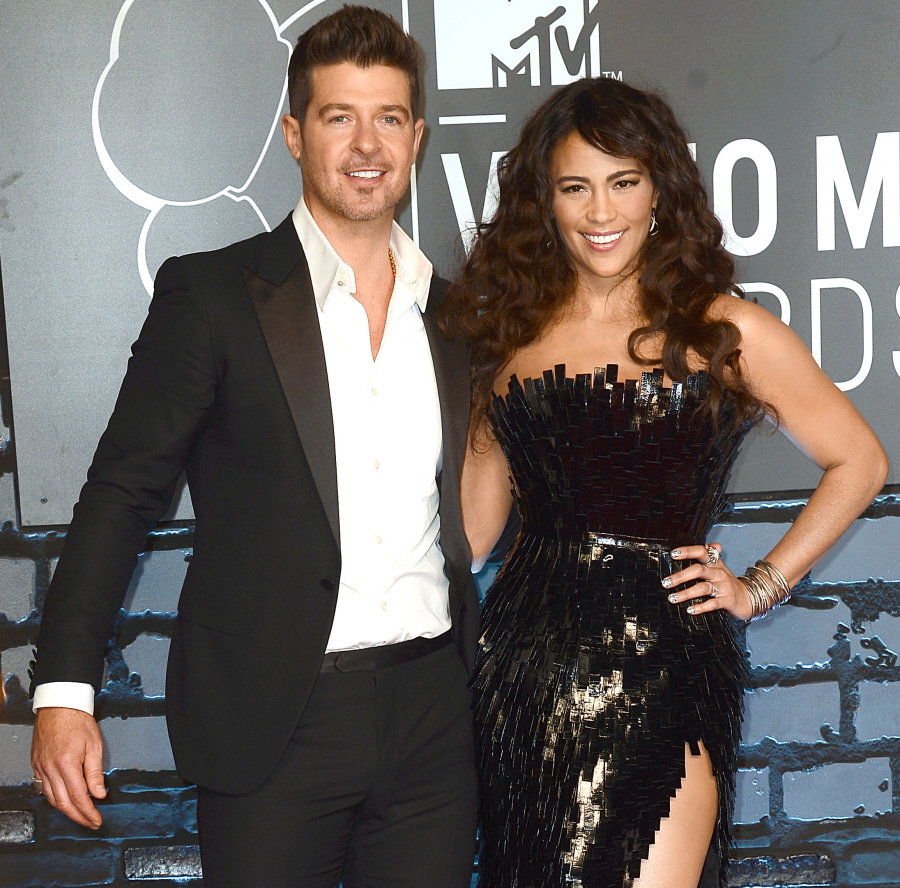 On Friday, we learned that Paula Patton and Robin Thicke have been embroiled in a very nasty custody fight for months now. It's been undercover for a while, but everything seems to have exploded in the past week or so. Paula's side says that Thicke is a drug user and that he's been spanking and punching their son Julian. Thicke's side says Paula is making it up, coaches Julian on what to say, and that she's just mad that she wasn't invited to Alan Thicke's funeral. The lawyers are involved, school officials are witnesses, and therapists are trying to figure out what happened. So far, the judge hasn't ended Thicke's custodial rights, which meant that Robin was due to see his son last Thursday, only Paula didn't let Julian go to his dad's house. So the cops were called and everything has just gotten messier:
One day after an L.A. judge rejected Paula Patton's request to limit ex-husband Robin Thicke's joint custody of their 6-year-old son, Julian, the dispute between the former couple is becoming increasingly fraught. A representative for the Los Angeles Sheriff's Department's Lost Hills station confirms to PEOPLE that law enforcement officials were dispatched to Patton's Calabasas home Friday morning after Julian didn't arrive at school. He had missed his visitation with Thicke the evening before. The representative referred to the incident as "a non-event" but said "it involved a child not wanting to go with someone."

Court documents obtained by PEOPLE show that Patton texted Thicke to tell him she was picking up their son on Thursday, Jan. 5, despite it being Thicke's custodial time. "Paula sent someone to school to intercept Julian, in violation of the custody orders," Thicke's lawyer, Angela Pierce di Donato, tells PEOPLE, adding that "she did not return him to school today."

Thicke's lawyer says the singer is concerned about Julian's well-being. "Julian only shows any evidence of emotional harm when questioned by Paula or in her presence," says Pierce di Donato. Counters a source familiar with the situation, "Julian has made it clear he does not feel safe in his father's presence, a fact confirmed today by the Malibu Sheriff's Department determination — with Mr. Thicke present — that the child needed to remain with his mother."

The source close to the situation responds: "It is well-documented in court declarations, not only by the mother, but by two school officials as well as the child's nanny, that there are allegations of abusive behavior by Mr. Thicke. To be clear, it was concern by school officials, not Ms. Patton, that led DCFS to initiate their ongoing investigation into allegations of abuse by the father. Despite Mr. Thicke's intent to smear her as a mother, Ms. Patton must do everything in her power to protect her son."
That People article is really long and detailed and features extensive comments from Thicke's lawyer, who basically says over and over that Paula is coaching Julian and that Paula is in violation of their custodial agreement and that Paula is the one at fault here. But I think the quote about how the school triggered the DCFS investigation is really telling, right? I dare say it's a situation comparable to Angelina Jolie's situation – when a third party initiated the DCFS investigation against the father, the mothers in both situations are doing what they can to protect their children and limit their kids' exposure to the father under investigation. Then again, I think it's really odd that the judge keeps denying Paula's requests to limit Thicke's access to Julian, given the ongoing investigations into Thicke's alleged conduct.
Photos courtesy of Instagram, WENN.