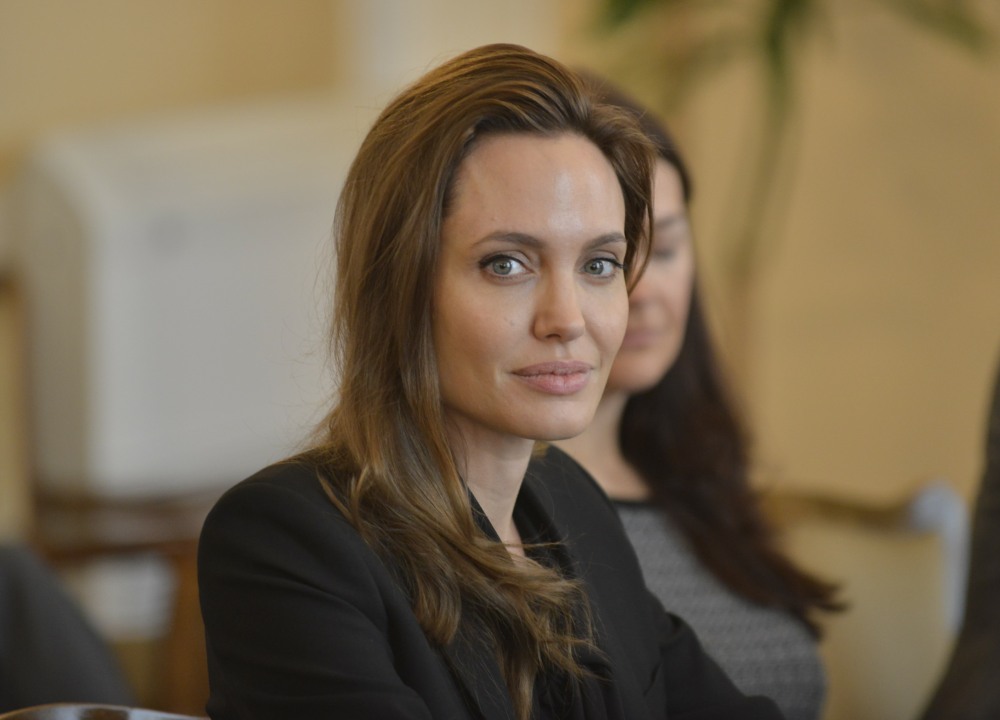 Did you know that Donald Trump had a long history of negging Angelina Jolie? It's true. He talked sh-t about her for years. He mostly criticized her beauty and her work with the United Nations High Commission on Refugees, dismissing Jolie like this: "Angelina Jolie is sort of amazing because everyone thinks she's like this great beauty. And I'm not saying she's an unattractive woman, but she's not beauty, by any stretch of the imagination. And now she's like a representative of the United Nations and world peace on hunger and all of this crap." Because in Baby Fists' mind, the worst thing that could ever happen to a woman is that he does not find her attractive.
Through the years, Jolie has never addressed Trump directly, or Trump's comments about her directly. In 2016, she gave a series of speeches – like her BBC speech, and her address at the State Department – where she discussed the ongoing refugee crises and the rising tide of intolerance and hate speech directed specifically at Muslim refugees. Many people have been blasting her for not coming out, guns blazing, just after Emperor Baby Fists' Muslim Ban executive order was issued. To criticize her for not reacting within a 24-hour media cycle seems like a misinterpretation of Jolie's work with the UNHCR, and how she sees herself working within the system. So she waited, thought about what she wanted to say, and wrote it all down for an op-ed in the New York Times – you can read the full piece here. Some highlights:
The Muslim ban fuels extremism: "Implying Muslims are less worthy of protection" inadvertently fuels extremism. In which case, she believes the response to Trump's ban "must be measured and should be based on facts, not fear. "'America is committed to the world because so much of the world is inside America,' in the words of Ronald Reagan. If we divide people beyond our borders, we divide ourselves."

Fear versus strength: "Acting out of fear is not our way. Targeting the weakest does not show strength. It is simply not true that our borders are overrun or that refugees are admitted to the United States without close scrutiny. And in fact only a minuscule fraction — less than 1 percent — of all refugees in the world are ever resettled in the United States or any other country. There are more than 65 million refugees and displaced people worldwide."

How refugees come to this country: "Refugees are in fact subject to the highest level of screening of any category of traveler to the United States. This includes months of interviews, and security checks carried out by the F.B.I., the National Counterterrorism Center, the Department of Homeland Security and the State Department…. The truth is that even if the numbers of refugees we take in are small, and we do the bare minimum, we do it to uphold the United Nations conventions and standards we fought so hard to build after World War II, for the sake of our own security."

What happens if we deny entry to one particular religious group: "We are playing with fire," she says, risking "a free-for-all in which even more refugees are denied a home, guaranteeing more instability, hatred and violence." Jolie also strikes down the notion that refugees granted access to the U.S. are inherently dangerous, noting "only the most vulnerable people are put forward for resettlement in the first place: survivors of torture, and women and children at risk or who might not survive without urgent, specialized medical assistance. "

Her personal story: "As the mother of six children, who were all born in foreign lands and are proud American citizens, I very much want our country to be safe for them, and all our nation's children. But I also want to know that refugee children who qualify for asylum will always have a chance to plead their case to a compassionate America. And that we can manage our security without writing off citizens of entire countries — even babies — as unsafe to visit our country by virtue of geography or religion."
Yep, pretty much. I feel like I'm bad at gossip because whenever I read one of Angelina's speeches or essays about her work with refugees, all I can think to say is "word" and "what she said." The Muslim ban doesn't make us safer. It makes us look like petty, hateful a–holes. We're revictimizing refugees escaping horrendous conditions, and we're banning the people who want to come to this country to become doctors, nurses, professors, scientists and tech wizards.
I'm already imagining Trump's tweets about this. It will be all about Angelina's looks and personality, I bet.
Photos courtesy of WENN, Getty.