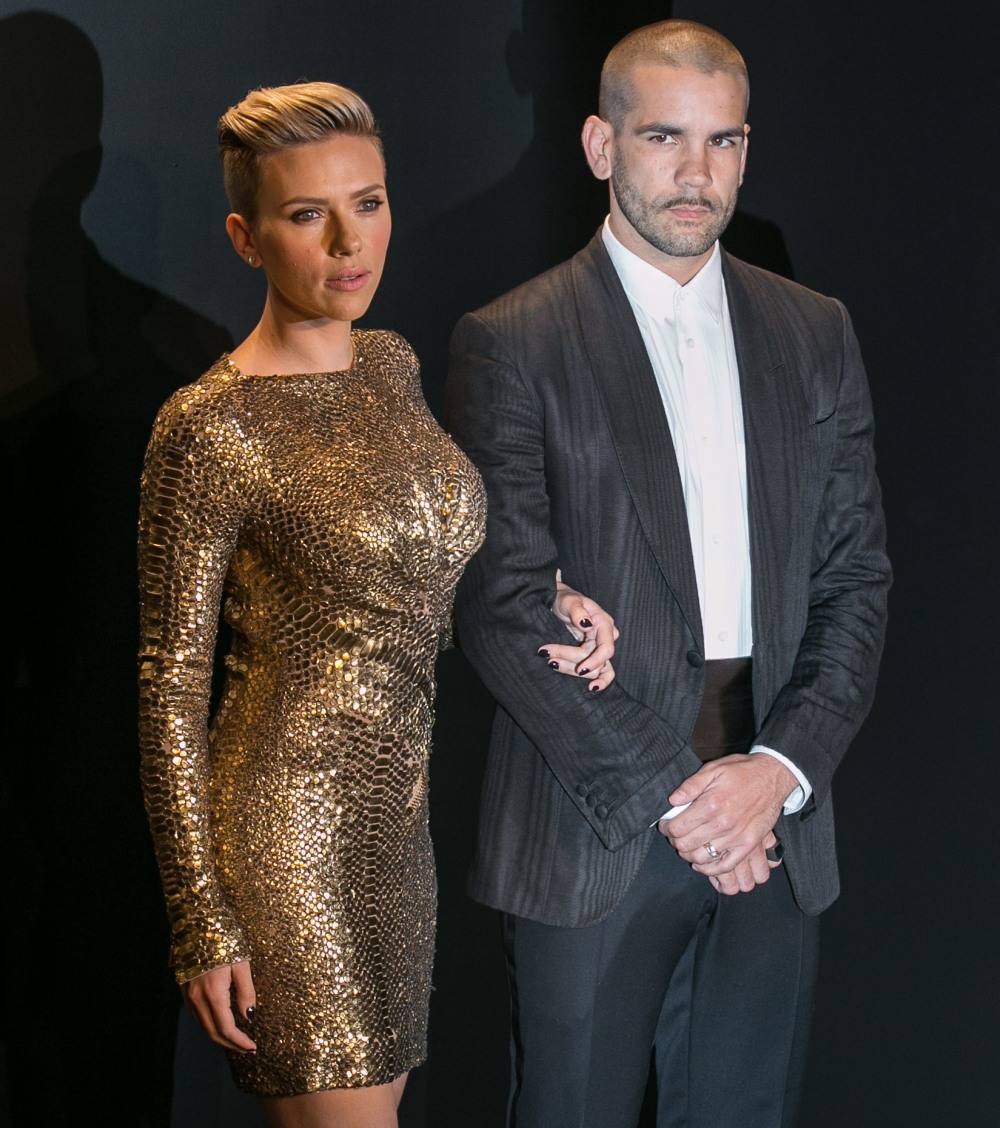 Back in January, we learned that Scarlett Johansson and her French husband Romain Dauriac were dunzo. It did not come as a shock to anyone because A) the thing with Romain always seemed so weird, B) ScarJo cycles through men pretty quickly (#respect), and C) there was widespread tabloid reporting that they were on the rocks. Still, everything seemed very civilized. ScarJo and Romain stepped out together the same day as their split confirmation, and there was very little post-split drama or gossip. But some-odd six weeks later, there's drama. And it could get seriously ugly. Much like the Jolie-Pitt divorce, it seems like both parties are gearing up for a major fight over custody of their daughter Rose. First, Page Six reported this exclusively Wednesday morning:
Actress Scarlett Johansson has filed for divorce from her French husband Romain Dauriac and is gearing up for a nasty custody battle, The Post has learned. "The Avengers" actress sued Dauriac in Manhattan Supreme Court Tuesday saying that their marriage is "irretrievably broken." She's also asking a judge to give her primary custody of their 3-year-old daughter, Rose Dorothy Dauriac.

The father's attorney, Harold Mayerson, said his client plans to fight the request.

"He would like to move to France with his daughter and Ms. Johansson does a lot of traveling," Mayerson explained. "It will be an interesting process," he said of the unfolding divorce drama, declining to comment further.

After the breakup the parents had an informal co-parenting agreement where they each spent every other week with Rose.

"She would take the child on these trips like when she shooting in New Zealand," a source close to the case said. Johansson temporarily moved to the island last year to film her latest sci-fi flick "Ghost in the Shell." But then Johansson wanted to switch to a shorter schedule where she had Rose for three days and then Dauriac took her for two days.

"The kid was bouncing back and forth," the source said. "It can't work because [Johansson] travels so much," the source said. When Dauriac protested that his life was starting to revolve around Johansson's schedule, he was told by her lawyer that "this is what they do in Hollywood," the source said.
After the NY Post reported that, ScarJo spoke to E! News directly – and somewhat haughtily – and said: "As a devoted mother and private person, and with complete awareness that my daughter will one day be old enough to read the news about herself, I would only like to say that I will never, ever be commenting on the dissolution of my marriage. Out of respect for my desires as a parent and out of respect for all working moms, it is with kindness that I ask other parties involved and the media to do the same. Thank you." If your eye started twitching with the very idea that Scarlett would call up E! News to talk about how private she is, you're not alone. But ScarJo had to say something, because Romain's lawyer Harold Mayerson is already going to the media and pleading his client's case in the public sphere. This is what he said to E!
"Under the laws of the United States, thankfully men and women are treated the same in reference to custody," Hal Mayerson said. "There are many cases where the fathers do a lot of traveling, and if they were to raise this same issue, you would you laugh. You can't hide behind a suit or a dress—it's what's in the best interest of the child."

Hal argued that Romain "is the primary custodial parent," adding, "He wants her to be involved with her daughter, desperately, but you can't have schedules switching all the time. How do you explain that to a child? She's allowed to have her career, and there will be a certain degree of flexibility—but not to suit her schedule or Mr. Dauriac's. It will be one that suits the child."

As for Scarlett's desire to keep the custody battle in the family, Hal said, "People should have respect for their privacy, but she filed in the court system. She did. If she wants to continue to fight in the court system, she can't blame Mr. Dauriac for doing anything. She raised the issue."

Hal seemed confident he'll secure a victory for Romain. "If the court decides it's in the best interest of the child to be flying on a plane or changing their schedule all the time then I'm going to find a new business," he told E! News. "It's not fair to the kids or to the other parent."
Well, well. It's not that I'm enjoying a custody battle – I am not and custody battles are a bitch to cover – it's that I am sort of enjoying the fact that ScarJo can't breeze through this with her bohemian attitude, like she's so much more evolved than everybody else. She's going to have to buckle up and really fight, because it sounds like Romain is going for the jugular.
Oh, and Romain did issue a statement to People Mag too, because it seems like he's a really quick study. He basically says that ScarJo should drop the formal divorce filing and negotiate their split privately. Hm.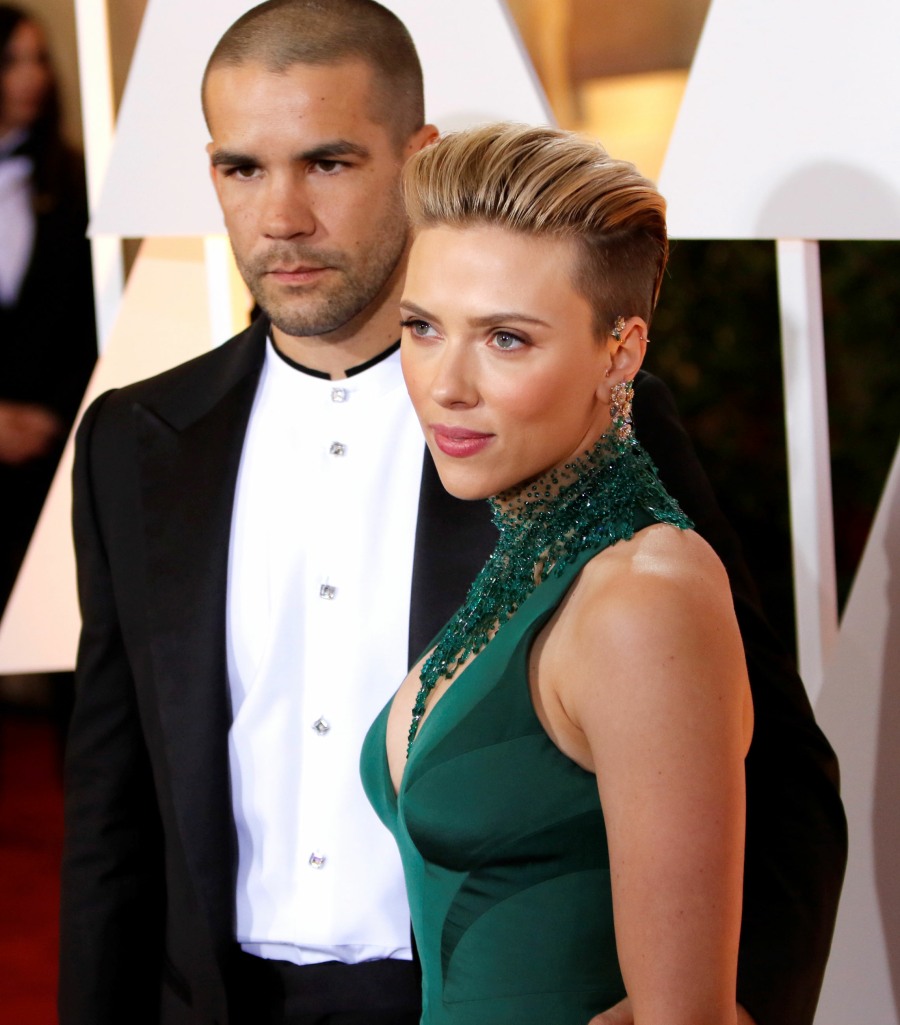 Photos courtesy of WENN.