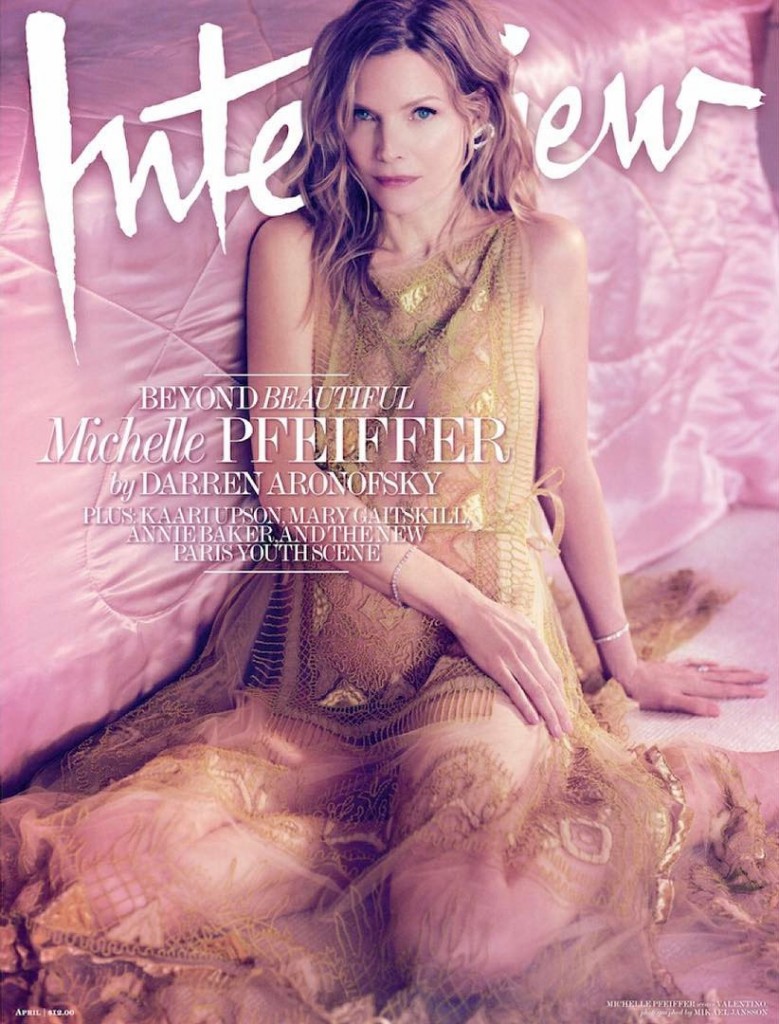 Michelle Pfeiffer is covering Interview magazine in a gold lace Valentino gown. Most outlets are focusing on her quotes about why she left Hollywood for a while, and the fact that she's ready to come back. Michelle, 58, has four films coming out this year and her IMDB shows a four year gap, between 2013 to now. In the early 2000s she wasn't working much either, and in Interview she reveals that's by design because her first priority was being a mother. She said that she was "got so picky" about where and when she would work that she was "unhirable." She says she's ready to work now though. Her editorial with Interview is beautiful and features evocative photos in retro hotel scenes. The fashion is very 90s and we're reminded of Pfeiffer's heyday. The interview was conducted by director Darren Aronofsky, whom she worked with on Mother!, also starring Jennifer Lawrence and Javier Bardem and out this fall.
On how she became interested in film
I'm from Orange County, Southern California, and couldn't have been more removed from the entertainment business. In fact, I didn't really even go to the movies much. My mother didn't drive. My father couldn't be bothered. So, I didn't really go anywhere. But what I did do is I would stay up really late watching old movies on television. I can't even tell you what they were because I was so young. But I remember watching what they were doing and saying to myself, "I can do that."

How she started acting
In high school I took theater to avoid taking an English course because I was terrible in English. And all of the kids in the theater department were thought of as being the strange kids on campus. But I felt right at home, which meant, I suppose, that I was one of those strange kids on campus. But nobody told me. And I loved it. I ditched every other class but that one.
She was working at a supermarket but wanted to be an actress
I was really embarrassed because I thought everybody would think I was being ridiculous and arrogant.

She hates being interviewed because she feels like a fraud
I have this constant fear that I'm a fraud and that I'm going to be found out. I just got this e-mail from Steve Kloves who wrote and directed The Fabulous Baker Boys [1989], and he said, "How's it going on Murder on the Orient Express?" which I just finished with Kenneth Branagh. And I said, "Oh, you know me. I feel like I'm ruining his movie." Because the first week into shooting Baker Boys, I said the same thing to Steve: "I think I'm doing a terrible job in this."

I think that's because I started working fairly quickly and I wasn't ready. I didn't have any formal training. I didn't come from Juilliard. I was just getting by and learning in front of the world. So I've always had this feeling that one day they're going to find out that I'm really a fraud, that I really don't know what I'm doing.
It's hard to fathom that Michelle Pfeiffer would feel like a fraud but she does. She was sublime in Dangerous Liaisons and was nominated for an Academy Award for Best Support Actress for that role. She's won a Golden Globe and BAFTA and has been nominated two other times for an Oscar, for Best Actress for The Fabulous Baker Boys in 1989 and Love Field in 1992. All of those accolades and success haven't changed her opinion of herself. I remember when Michelle was at the Oscars introducing Jeff Bridges for his nomination in 2010, when he won Best Actor for Crazy Heart. She opened by putting herself down, by saying that the makeup artist on Fabulous Baker Boys had to remove her flaws and paint them onto Jeff's nose. It was shocking and memorable because she's such a gorgeous person and yet it didn't seem disingenuous, it was like she really believed it. I guess a lot of women have impostor syndrome and feel "less than." We just heard Viola Davis talk about it and apparently one of the ways that people who have it cope with their feelings of inadequacy is to put themselves down, so that other people won't call them out on being confident. This of course makes it worse for them because they're reinforcing their negative beliefs. When I talk negatively to myself I try to imagine I'm a friend and if I would say such terrible things to a friend and I realize that no, I would be much nicer to friends and to strangers. It helps.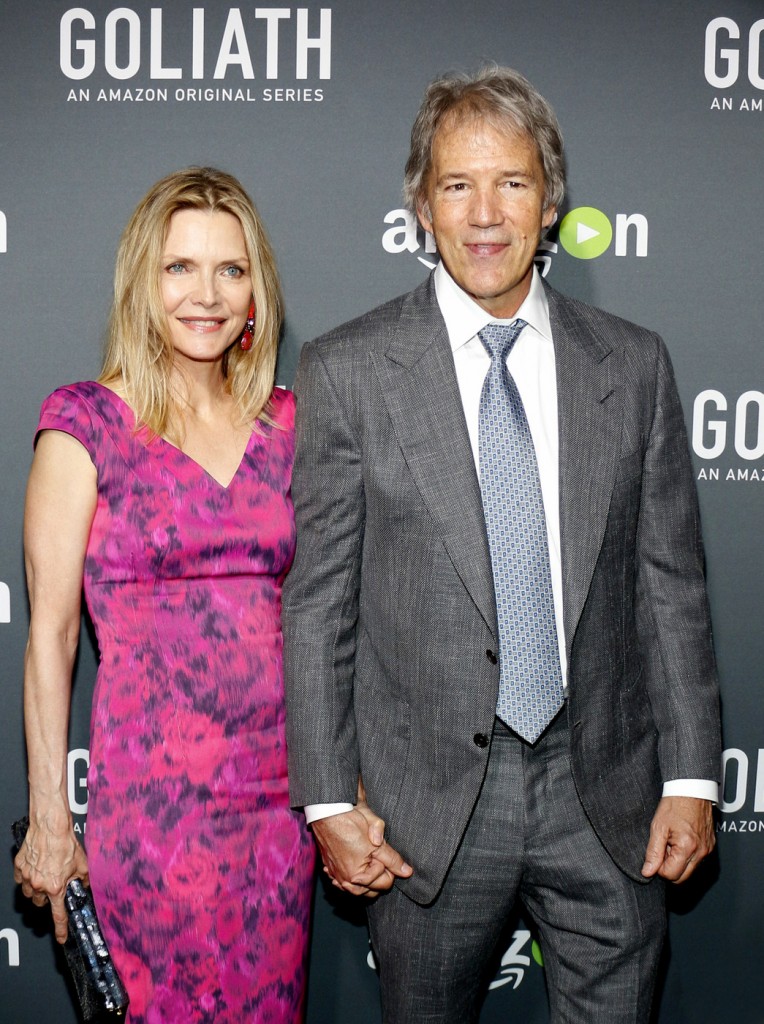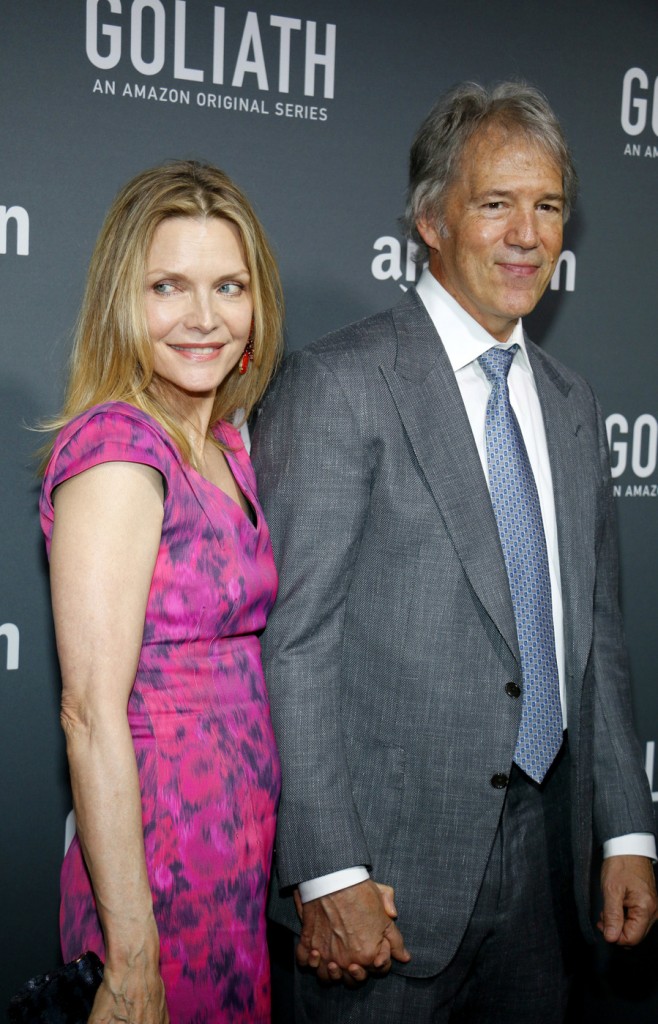 Photos credit: Pacific Coast News, Interview Magazine